Tired of the same old dinner-and-a-movie routine for your date nights? You're not alone! The popularity of escape rooms has skyrocketed in recent years, with couples looking for unique ways to spice up their evenings.
In this comprehensive guide, we'll explore the pros, cons, and everything in between of choosing an escape room for your next date night. Buckle up, lovebirds! It's about to get crazy interesting.
What Are Escape Rooms?
An escape room as a date night activity is a live, immersive experience where you and your partner are "locked" in a themed room and must solve a series of puzzles and riddles to escape within a set time limit, usually around 60 minutes.
Escape rooms have various themes and difficulty levels, from pirate adventures and sci-fi to murder mysteries and spooky haunted mansions.
Why Choosing an Escape Room is a Great Way to Spice Up Your Date Night?
Here's the kicker: escape rooms can help you learn more about your partner, challenge your teamwork skills, and provide a truly unforgettable experience.
You can celebrate anniversaries, special date nights, or anything as simple as a first or second date. Certain escape rooms also feature additional event rooms, and the staff even helps you to plan a surprise for your significant other.
Are you ready to explore escape rooms as a date night activity?
Explore birthday venues for children in Hyderabad.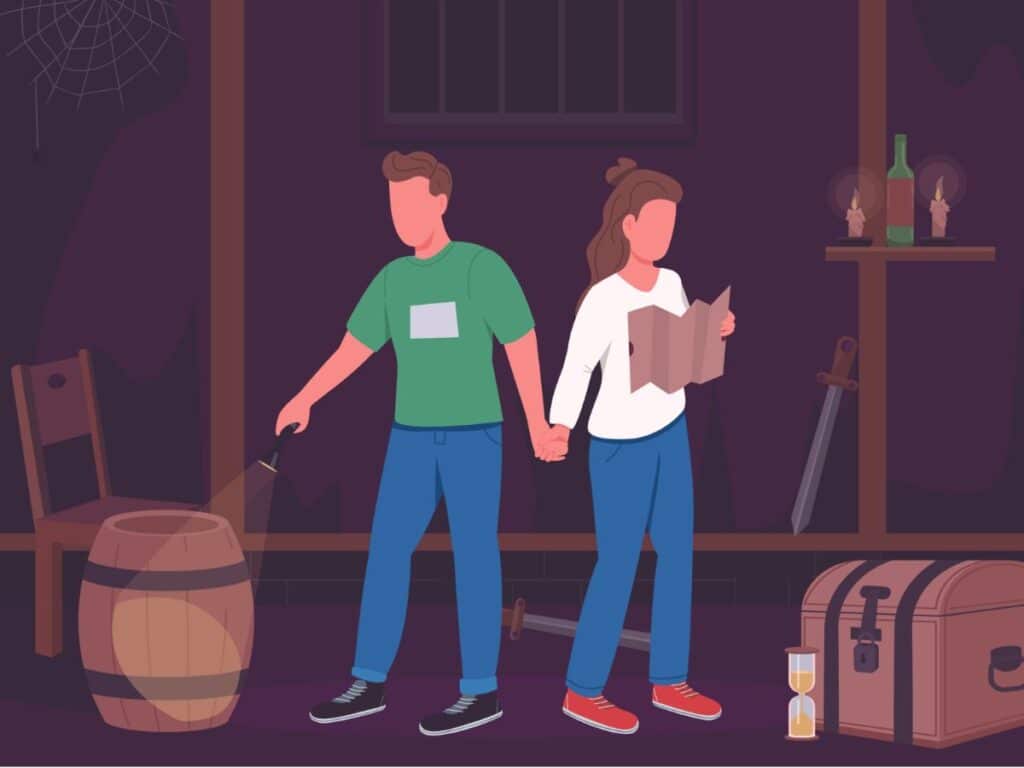 Pros of Choosing an Escape Room for Your Date Night
Team-building and Bonding Experience
Escape rooms are a fantastic way to strengthen your bond as a couple. You'll need to work together, think critically, and solve problems to make it out in time.
Creates Lasting Memories
The shared experience of tackling an escape room will create lasting memories you can cherish together.
Unique and Memorable Experience
Forget repetitive date nights. Escape rooms provide a one-of-a-kind experience that you and your partner will remember for years to come.
Fun, Challenging & Engaging Activity for Both Partners
Escape rooms cater to various interests and skill levels, making it an engaging activity for both partners . Plus, they're a blast!
Communication Enhancer
Good communication is key to a successful relationship. Escape rooms will put your communication skills to the test, helping you grow stronger as a couple.
Safe and Controlled Environment
You can rest assured that while the experience may be thrilling and suspenseful, it's completely safe and controlled.
Escape rooms as a date night activity strengthen the bond between partners, enhancing communication and engaging conversations other than awkward silence glances filled with small talk.
Team building activities for small-sized teams in Hyderabad.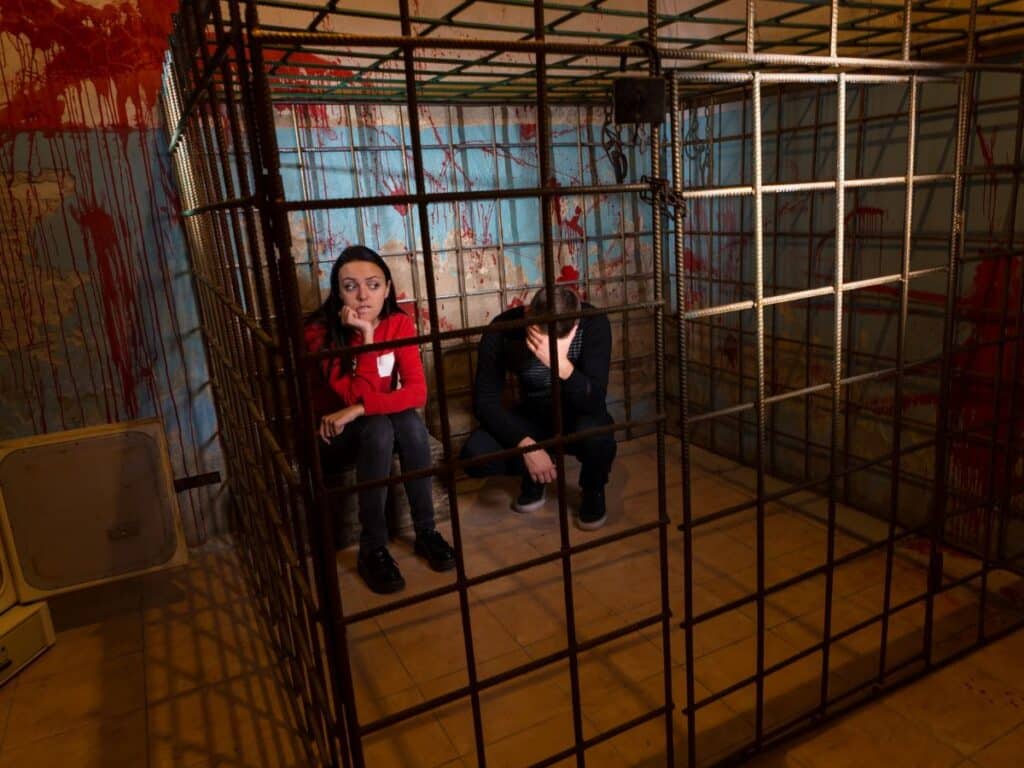 Cons of Choosing an Escape Room for Your Date Night
Not Suitable for Everyone
Escape rooms may not be ideal for those suffering from claustrophobia or mobility limitations. If you are pregnant, look into the particular escape room and check if they involve exercises you cannot handle.
Time-Sensitive Activity
With only 60 minutes on the clock, escape rooms can feel a bit rushed for some couples.
Potential for Stress and Frustration
High-pressure situations can lead to stress and frustration, which isn't everyone's cup of tea. Stress levels can vary, and some may find the experience too intense.
Cost-Intensive
Some escape rooms can be pricey, especially for a regular date night activity. But never with Lock N Escape, Hyderabad!
Planning Required
Escape rooms often require advance booking and planning, which may not be ideal for spontaneous date nights.
Escape rooms may not cater to individual preferences that might lead to discomfort or stress. But if you come with an open mind, escape rooms provide a much-needed active conversation starter for a date and remove the situation of simply sitting and talking about the mundane things in life.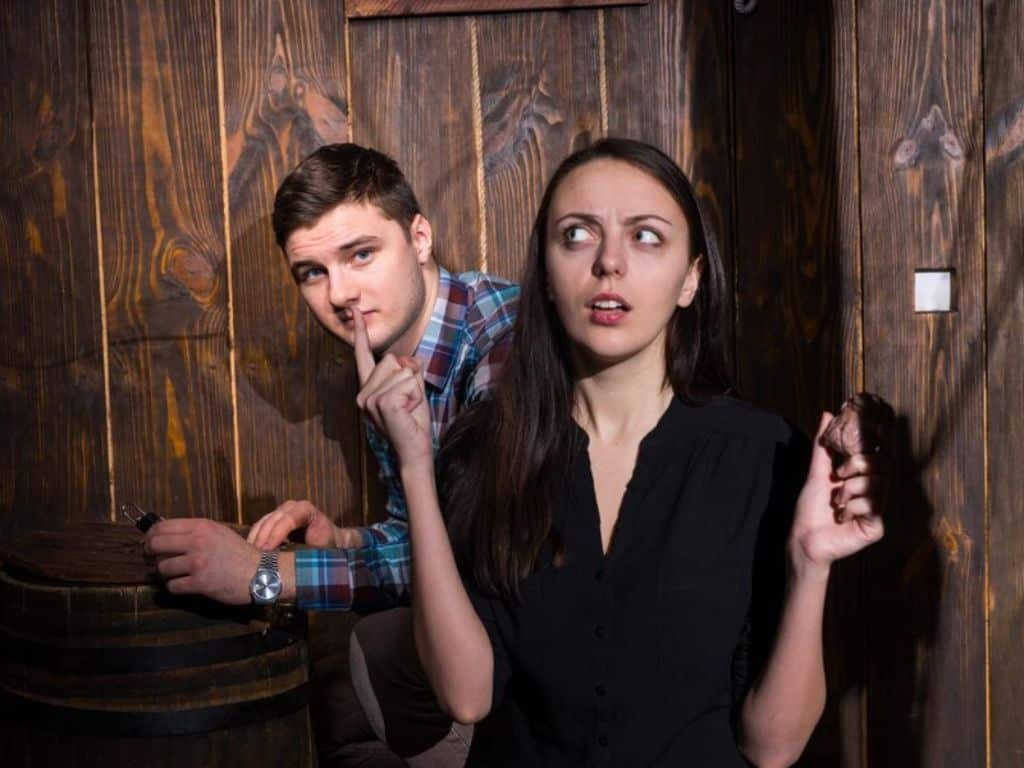 How to Choose the Right Escape Room for Your Date Night?
Choosing the right escape room for your date night can significantly impact your date's overall experience and enjoyment. Here are a few reasons why it's important to choose the right escape room for your date night –
Research and Read Reviews
Look for reputable escape rooms with positive reviews from fellow daters. At Lock N Escape Hyderabad, your needs are tailored to make your night extra special.
Consider the Theme and Difficulty Level
Choose a theme you and your partner will enjoy, and consider the difficulty level to ensure a fun and challenging experience.
Look for Special Features and Add-ons
Some escape rooms offer unique add-ons, like personalized clues or a post-game debriefing. Keep an eye out for these fun extras!
Research Different Escape Rooms in Your Area
Explore multiple escape rooms in your area to find the best fit for your interests and budget.
Check Pricing and Any Additional Fees or Restrictions Applicable to Booking the Room
Be aware of extra fees or restrictions when booking your escape room experience to avoid surprises.
Elevate your date night by carefully considering your partner's interests, the room's difficulty, and the overall experience. Unlock a world of adventure and shared memories, strengthening your bond with the perfect escape room.
Explore adventurous activities in Hyderabad.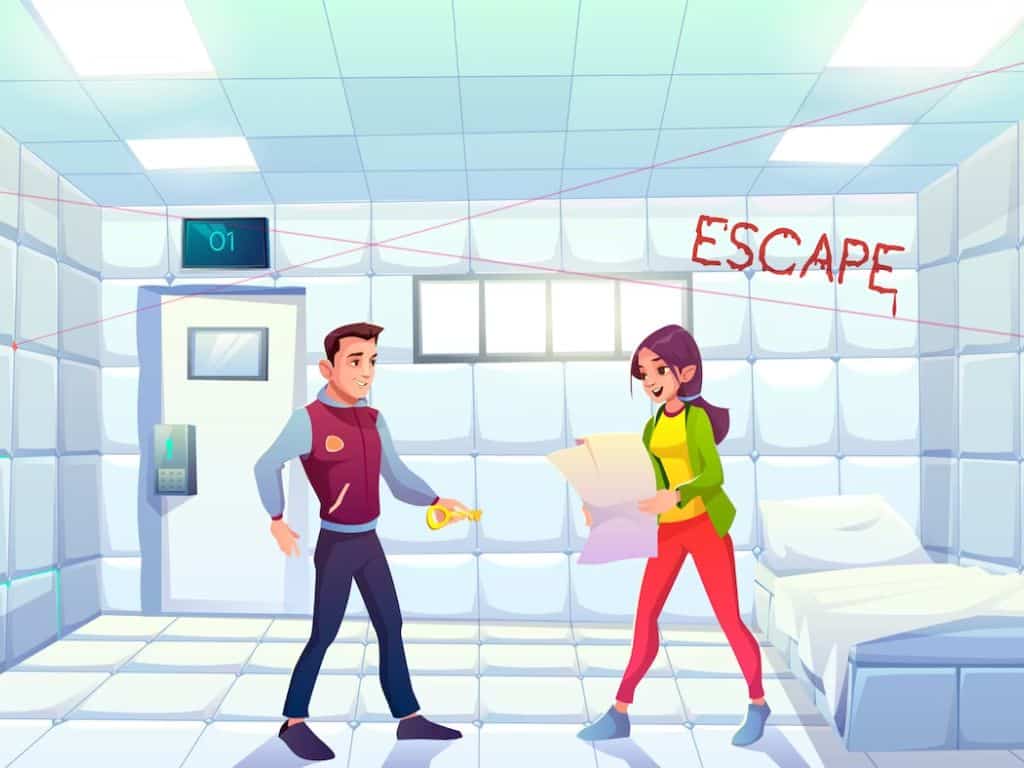 Finding Ways to Maximize Fun During Your Escape Room Date Night Experience
Discover the key to an unforgettable escape room date night with these clever strategies. Unlock the excitement as you and your partner solve puzzles, bond, and maximize fun together.
Come Prepared with a Strategy
Discuss your game plan beforehand to maximize your time in the escape room.
Split Up the Room and Take on Different Challenges
Divide and conquer! Tackle different puzzles simultaneously to maximize efficiency and cover more ground.
Keep an Open Mind and Find Creative Solutions
Don't be afraid to think outside the box. Creative problem-solving is key in escape rooms!
Celebrate Your Successes Together
Acknowledge and celebrate each completed puzzle to keep morale high and strengthen your bond.
Don't Get Too Stressed Out – Have Fun!
Remember, it's just a game! Keep a light-hearted attitude and enjoy the experience.
By following these simple strategies, your date night will prove to be fantastic. After the game, you can end the day with dinner and a few drinks!
Explore team building weekend getaways in Hyderabad.
Tips for a Successful Escape Room Date Night
With these simple tips, boost collaboration and enjoyment as you and your partner navigate puzzles and riddles side by side.
Arrive Early
Give yourself time to check in and settle before your game begins.
Listen to Instructions Carefully
Pay close attention to the game master's instructions to avoid misunderstandings.
Work Together and Communicate Effectively
Teamwork makes the dream work! Collaborate and communicate openly with your partner.
Don't be Afraid to Ask for Hints
If you're stuck, don't hesitate to ask for help. It's better to move forward than to waste precious time.
Have Fun and Enjoy the Experience
Most importantly, remember to enjoy the moment and make the most of your unique date night adventure!
Venues to celebrate birthdays in Hyderabad with friends.
Alternatives to Escape Rooms for Your Date Night
If you have tried escape rooms as a couple, then take your couple friends along next time! And if you want to explore more date night options, discover them below!
Virtual Escape Rooms
Enjoy the thrill of an escape room from the comfort of your home with a virtual escape room experience. You must solve an escape room virtually through an online session as the game master takes you around.
Puzzle Rooms
For a more laid-back experience, try a puzzle room where you can work on brain teasers and riddles at your own pace.
Board Game Cafes
Visit a board game cafe for a cozy night of friendly competition and delicious snacks.
Outdoor Scavenger Hunts
Take your adventure outdoors with a scavenger hunt or geocaching experience.
Head here for more date night activities in Hyderabad.
More things to do for couples in Hyderabad.
Benefits of Choosing an Escape Room for a Date Night
Not only does it offer a unique and immersive experience that can help foster teamwork and communication skills, but it can also create lasting memories and a sense of accomplishment upon successfully completing the challenge.
Additionally, escape rooms can help break up the monotony of traditional dinner and movie dates and offer couples an opportunity to step outside their comfort zones and try something new.
With the various themes and difficulty levels available, escape rooms can cater to various interests and preferences. Incorporating an escape room into a date night can add a fun and memorable twist to the typical dating experience.
If you are in Hyderabad, visit our facility at Lock N Escape on Aztec Towers, 3rd Floor, 6-3-249/6/1, Rd Number 1, beside Taj Krishna, Banjara Hills, Hyderabad, Telangana 500034. We also host corporate outings, team-building events, birthday parties, or any special event.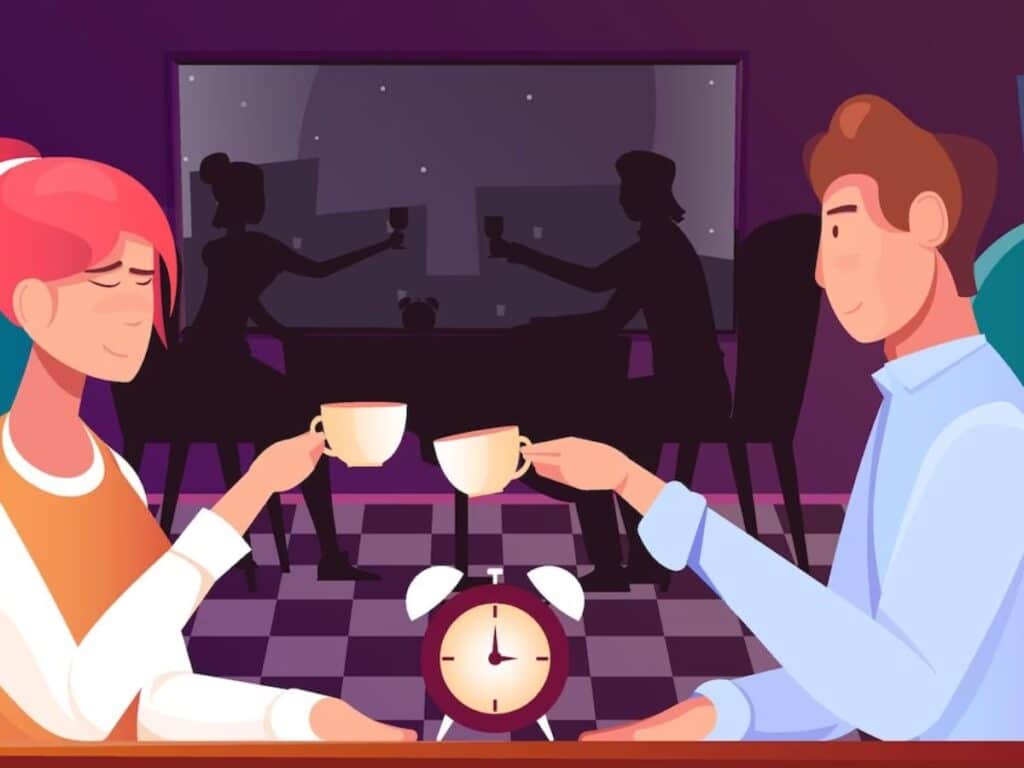 FREQUENTLY ASKED QUESTIONS
Are Escape Rooms Good for Dates?
Escape rooms are great for dates; they give you time to know each other and avoid awkward silence and nervousness. Whether you are going on a first date, a second date, or any other special date night, escape rooms are a fun and unique option for building connection and rapport. However, ensuring your date is comfortable with the idea and choosing an appropriate difficulty level is important. Communication and respect for each other's boundaries and preferences are key to a successful and enjoyable experience.
Are Escape Rooms Fun as a Couple?
Oh boy, you bet they are! Escape rooms can be a fantastic bonding experience for couples. Working together to solve puzzles and riddles will strengthen your communication and collaboration skills. Escape rooms are designed to be fun and engaging, so you'll both have a great time. Shared experiences like these create long-lasting memories you can reminisce about together. It's a unique way to break away from the usual dinner-and-a-movie routine.
Can 2 People do an Escape Room Alone?
Yes, a group of two people can play our escape room games.
Absolutely! Some rooms have fewer, more focused challenges tailored to smaller teams. Some venues allow you to adjust the difficulty based on the number of players. And private bookings can ensure it's just the two of you tackling the room without strangers joining in.
Can I Wear a Dress to an Escape Room?
Sure thing, but consider these tips for maximum comfort. Opt for a comfy dress. Choose something that allows you to move freely, as you might need to crawl, climb or reach for clues.
Wear leggings or shorts underneath. This will make it easier to move around without worrying about wardrobe malfunctions.
Closed-toe shoes. Leave the high heels at home and wear sneakers or flats for safety and ease of movement. Comfortable, loose clothes are recommended, which makes moving, and stretching easy while playing the games.
Can You Go to an Escape Room Alone?
Well, technically, yes, but there's a catch. Most escape rooms require at least two players, so you might need to join a group of other solo players or a team that's open to new members. Hence, look for solo-friendly rooms. Some venues offer rooms specifically designed for single players or have events catering to solo adventurers.
Should You Do an Escape Room on a First Date?
Why not? It might be the perfect icebreaker! It is a great idea for the first date as it will be exciting, thrilling, innovative, and different. Ultimately, it depends on your individual personality and preferences. If you both enjoy challenges and adventure, go for it! And if it goes well, you'll have a hilarious story to tell your friends.