Ideal team building activities for small-sized groups
Team building activities are a must to improve team members' bonding and morale. We got you covered with a list of fun and unique activities that will have your team laughing and bonding in no time. From office debates to laser tag and spelling bees to culinary experiences, there's something for everyone.
These group team building activities not only improve teamwork and communication, but they'll also create dope memories and promote positive vibes within the team. You'll be smiling and laughing all day; no boring vibes allowed! Whether you're looking for indoor or outdoor group team building activities or want some chill or active options, we got something for every squad. Gather up the team and get ready to have a blast!
These activities can be easily adapted for small groups and remote and in-person teams. So, whether you're working in an office or remotely, these team building activities will fit your squad's needs. Let's dive in and explore the fun-filled world of team building!
Team building activities for small sized groups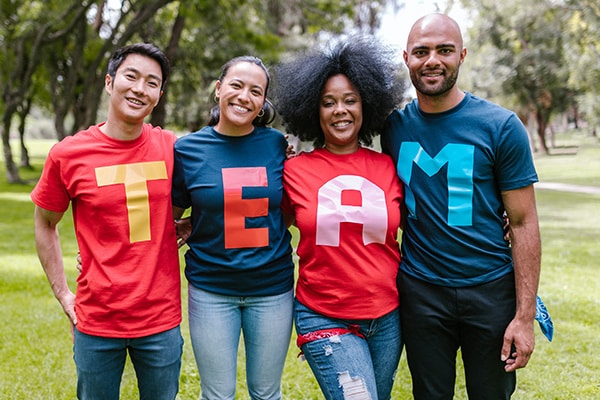 Group team building activities can effectively improve communication and collaboration among team members for small groups. Even with minimal equipment and few participants, these activities are highly useful.
Members in small teams need to have a strong understanding of each other and the ability to communicate to work together over the long term with optimum efficiency.
Office debates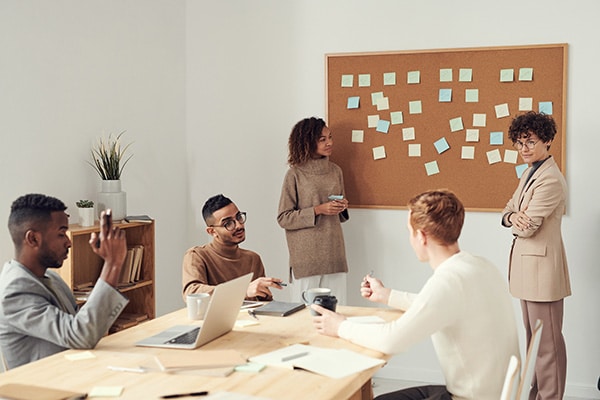 The goal of a debate is to get the participants talking and expressing their views without apprehension or fear of judgment. Debates are fun and can be great as group team building activities where teams or individuals present diverse perspectives on a given topic. It develops critical thinking and communication skills. Debate topics can be work-related or fun; it's all up to you. 
Team lunch
A team lunch is a chill way to improve camaraderie among team members and strengthen relationships. Team lunch is a simple but effective way to bring the squad together, where they get to know each other deeper. It's a way to bond outside the office and eat good food together. Eating together creates a sense of community and shared experience. It's an excellent opportunity to discuss work-related topics in a more relaxed atmosphere. 
Field day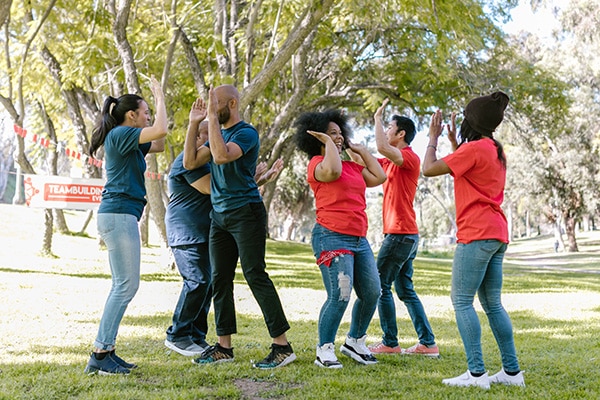 Field day is a fun outdoor team building activity with physical challenges and games. It improves teamwork, boosts morale, and creates a fun, inclusive experience. Afield day is a great way to get the team to bond and work together to overcome challenges. A surefire way to make your team feel more connected and energized! You should mix in some friendly competition and enjoy the outdoors as you go.
Murder Mystery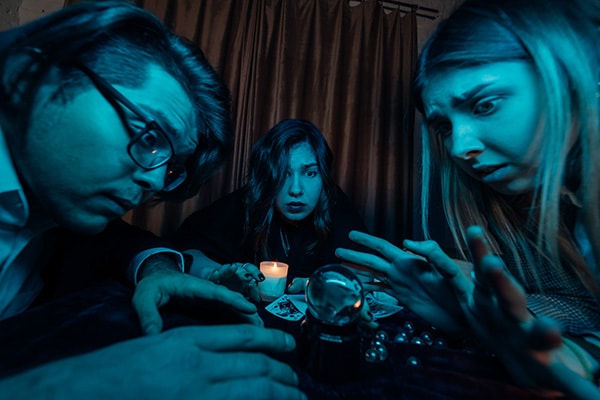 Playing Murder Mystery is a team building activity where the squad works together to solve a fictional murder mystery by gathering clues and evidence. It's like a real-life whodunit game, like an episode of 'Law and Order' but with your coworkers as the suspects! It's a great way to encourage problem-solving, teamwork, and communication skills among team members. 
Also, it's a fun way to break the monotonous workday and get the team members to connect on a deeper level – everyone loves being Sherlock and playing investigator for a day. A murder mystery game is a real crowd-pleaser; your team will love it, and maybe some will even reveal their acting talent.
Laser Tag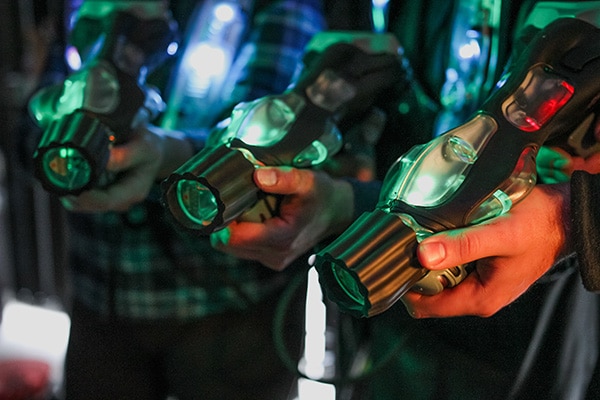 Laser Tag is one of the most exciting group team building activities that's super fun and competitive, like playing a real-life video game. It's an effective way to improve teamwork and boost morale among team members. Plus, who doesn't love running around with laser guns, feeling like a secret agent?  
It's an exciting way to break the monotony of the working day and inspire your team members to connect on a deeper level. The friendly competition and the thrill of the game will bring your team together. It'll also create a bonding experience that'll benefit you in the long run. When they bond stronger, they perform better and become more valuable for your enterprise.
Community service
Community service can be a great group team building activity that helps the team to give back to the community and help others. It develops a collective sense of purpose and a deeper connection with society.
Community services are excellent for team members as they work together towards a common goal. It also creates a sense of pride and accomplishment. It also breaks the workday's monotony and helps connect team members deeper.
Giving back to the community is a great way to create a positive impact and a sense of connection among team members. Your team will feel good about themselves and their work as a result!
Water Balloon Dodgeball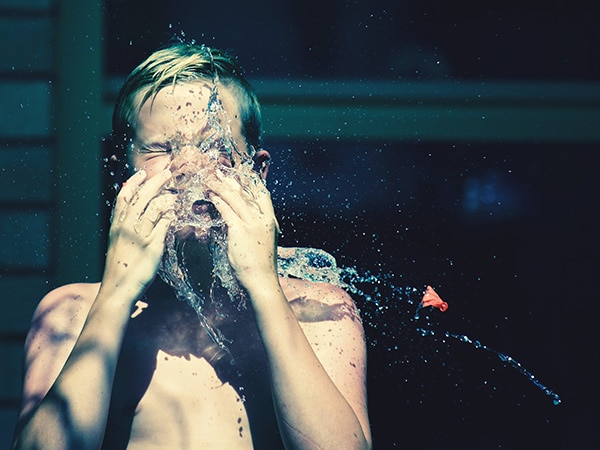 Water Balloon Dodgeball game is a fun and unique group team building activity perfect for team building in summer. It's a great way to improve teamwork and boost morale among team members by breaking the ice. The excitement of throwing water balloons at each other lightens the mood and creates a fun and inclusive atmosphere. Plus, it's a great way to cool off on a hot summer day. 
This is primarily an outdoor activity; the key is to be creative and have fun. It's a perfect way to break the monotony of the workday and get team members to connect on a deeper level. Your team is sure to have a blast and bond well.
Office Trivia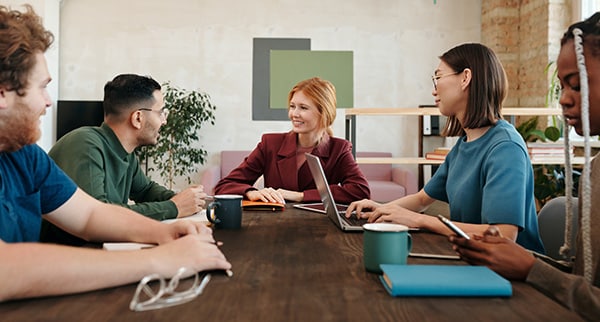 Office Trivia is a team building activity where teams compete against each other to answer questions on various topics. It's like a virtual game of Jeopardy, but with your coworkers. It's a great way to show off your team's smarts and learn from each other. 
Office Trivia is a real crowd-pleaser and a fun way to demonstrate your team's knowledge and expertise. Plus, it's a fun way to break the workday's monotony and get team members to connect profoundly. This is an excellent time to settle those office debates on who knows more about a particular subject.
Scavenger hunt
Scavenger hunts are enjoyable team building exercises. Your team goes on an actual treasure hunt with coworkers. Participants cooperate, coordinate, and compete to collect pre-assigned items without purchasing them. It's a fantastic way to improve communication, problem-solving, and teamwork. Additionally, it's the ideal way to break up boredom and help the team bond deeper.
It's a fantastic way to look around and learn new things about your workplace or neighborhood. It can be as complicated or simple as you like, but the most important thing is enjoying yourself. Your team will adore it and may even award you the title of "scavenger hunt master."
3-Question Mingle
3-Question Mingle is a fun game suitable for small teams or groups. The game's goal is to ask each other three questions and then try to guess who asked what. It's a great way to get to know each other better while having fun. It also breaks the workday's monotony.
To play 3-Question Mingle, everyone sits in a circle or around a table. Each participant takes turns asking the person seated next to them three questions. After everyone has asked their questions, each person tries to guess who asked which question.
This can lead to some funny situations and lots of laughs. Once everyone has guessed correctly, the game is over, and it's time to start again with new questions.
Spelling Bee
The Spelling Bee game can be a great team building tool for small groups or teams. It's a fun and engaging way to get everyone involved and enjoy.
You need at least two players to play this game. Divide them into two groups and hand each of them a list of words to spell, then have them take turns spelling each word out loud. The goal for the group is to spell all the words right before the other team does.
If someone gets a word wrong, the other team can steal the point by spelling it right. The game continues until one group spells all the words correctly or until all the words are exhausted. The team with the highest points becomes the winner.
You can use this game as an icebreaker activity or an evaluation tool to test your team's knowledge on different subjects. 
Teach your team a new skill
Teaching your team members a new skill can be a great way to bring them together and build rapport and connection. Learning something new together is always fun. The key is to keep it friendly and cooperative and not overly competitive.
The skills they learn may or may not relate to their work. Always prioritize bonding and communication over the results of the learning. The group-learning process is the critical factor here, not what or how well they learn.
The "Healthy Together" challenge
The "Healthy Together" challenge promotes healthy habits and lifestyles among team members. The challenge often includes group fitness classes, cooking lessons, and other healthy activities. 
It can also include preparing nourishing foods and learning about nutrition and wellness. Team members can be each other's, accountability partners. They can inspire each other to optimize their results.
It can also include yoga, meditation, cardiovascular, and breathing exercises. It can improve your team members' health further.
Also, dull workdays become enjoyable and fun-filled. Team members connect on a deeper level with their peers. It's a great way to learn about healthy living and improve well-being.
Culinary experience
Team building activities don't always have to involve team sports or team games. Culinary team building experiences can be a great way to break the ice and encourage communication among team members of small groups.
For example, team members can work together to prepare a meal for everyone or bake something together. Along the way, they'll learn valuable skills on how to work together while also enjoying some delicious food they all had a hand in creating.
Team building activities can be an excellent way to foster team spirit and unity, no matter how small the team is. Try out a group culinary experience today and see its impact on your team's morale!
Lunchtime picnic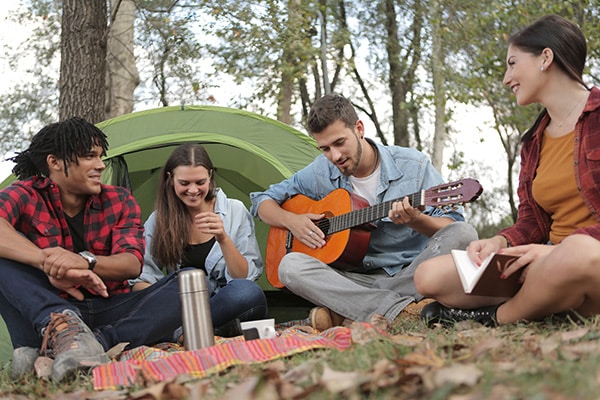 It's time to get out of the office. Team building activities don't have to be limited to the office premises. A great team bonding activity with small groups is a lunchtime picnic. A picnic is an age-old, easy, and inexpensive team building exercise you can conduct at a local park, beach, or other outdoor areas. 
Your team members can get to know each other better, improve communication, and practice cooperation as they organize and carry out the event. Not only is a picnic a relaxing team building activity, but it can also allow team members to breathe fresh air. 
Plus, with plenty of delicious food options available for everyone, it's undoubtedly an enjoyable team building event for your small group.
Play Escape Rooms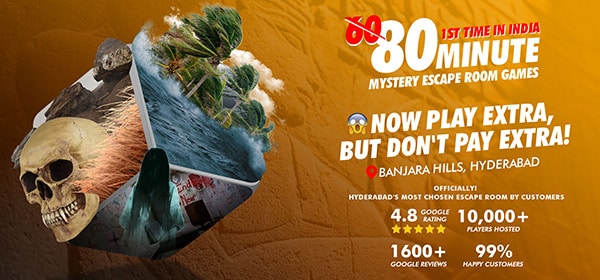 Escape rooms are fun and great for fun team building activities. They are a great way to get people out of their comfort zone and challenge them. Escape rooms involve solving puzzles, working together, using creative thinking, and more as a team. Some escape rooms even offer team building games.
Many escape rooms offer different themes and difficulties for all ages and skill levels. The goal is to solve the clues and beat the clock before time runs out. This can be a great way to boost morale and team unity in the workplace.
Escape rooms also provide an opportunity to build problem-solving skills. They also improve critical thinking. Participants must work together to decipher codes, find hidden items, and use logic to complete the mission. Teams can learn to trust and develop better communication by challenging each other.
Random Acts of Kindness
As a team building activity, your team may indulge in some Random Acts of Kindness to give value back to society and the community. Encourage team members to perform random acts of kindness for one another or people. 
It's a great way to get a healthy dopamine rush. With community spirit and empathy, it's a perfect way to breathe fresh air into their day-to-day life and get team members to connect deeper. Also, it's a great way to give back to people and positively impact society.
Whether it's surprising a colleague with a cup of coffee at the workplace or volunteering at a local charity; it's a fulfilling and meaningful way to do something good for others.
Tell My Story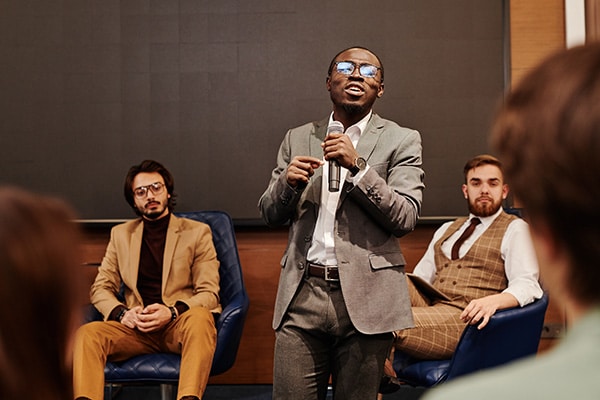 "Tell My Story" is an engaging team building event that encourages members to open up and share their life stories. It forms strong connections, understanding, and compassion between team members. It also provides a fun and lighthearted atmosphere. Your team members bond better as they get to know each other.
The activity helps team members learn more about each other's lives and experiences. It promotes inclusivity and team cohesiveness. This team building activity builds team spirit, cooperation, and communication. It's a great way to add fresh charm to the workday and connect team members.
Virtual team building activities
A lot of businesses have gone completely remote after the pandemic. This means that team building activities need to be adapted to fit a virtual setting. Here are some great options for virtual team building activities for small groups:
Virtual scavenger hunt: Divide your team into small groups and assign each group a list of items to find using the internet, their own resources, or by asking questions in the chat. The first team to find all the items wins!
Online trivia night: Assign teams and let them compete against each other in a quiz-style game. Questions can cover topics from pop culture to business-related topics.
Virtual game night: Set up an online game night where you can play board games or video games together over video chat in small groups.
Virtual cooking class: Select a recipe everyone can make at home and teach each other how to make it. It's a great way to bond over food.
Team movie night: Pick a movie that everyone can watch on their own time, then come together in the chat to discuss the movie.
Virtual escape room: Play an online escape room in small groups where teams have to work together to solve puzzles and find clues to escape the room.
Creative challenge: Give your team a creative challenge, like writing a poem or creating a design, and let them work on it individually or in groups and then share their creations with each other.
Pick any of the above-mentioned virtual team building activities for your remote team if you're looking for virtual team building ideas, and it's time to get creative!
Wrapping it up
With all the mentioned fun team building activities, including the virtual team building activities,  it's clear that there are various choices for leaders when it comes to creating an effective team building strategy for their small groups of staff members. From trust exercises to problem-solving activities, there is something for everyone.
Each activity should be tailored to the specific needs of the team and allow opportunities for members to engage with each other in a safe and positive environment. By taking the time to build relationships within a team, leaders can create a strong foundation of trust and communication that will foster collaboration and creativity in the workplace.