Howdy, partner! 
Here in Hyderabad, we sure know how to beat the winter blues. Granted, it doesn't always get cold enough to necessitate a heavy coat, but that doesn't mean there isn't plenty to do! 
So saddle up and check out these 7 activities to enjoy the winter weather in Hyderabad. Yeehaw! 
If you're looking for ways to spend winter, look no further. Hyderabad has plenty of activities to keep you busy. 
Explore ahead! 
1. Visit the Snow World 
Hyderabad winters are relatively mild, but that doesn't mean there aren't plenty of fun winter activities to enjoy in the city. Snow World is one of the best places to visit during the Hyderabad winter. 
As the name suggests, Snow World is an indoor snow park where you can enjoy all the winter fun without dealing with the cold weather. There are various attractions at Snow World, including snow sledding, ice skating, and even snowball fights. 
The park is also home to many shops and restaurants, so you can stay warm and dry while enjoying all the fun of winter.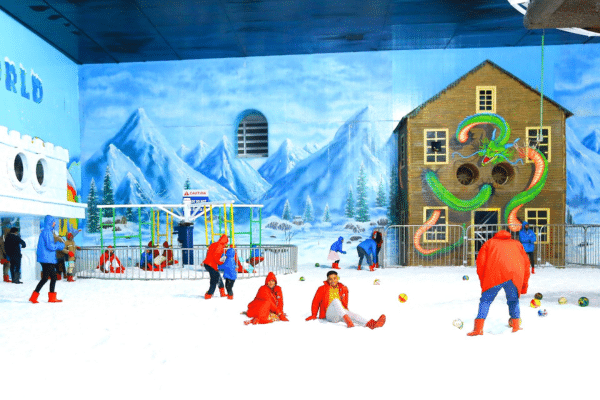 2. Take a one-day Trip around Hyderabad 
Hyderabad has a lot to offer its visitors, from its rich history and culture to its delicious food and friendly people. And while it may be best known for its bustling IT industry, there are plenty of other things to do in Hyderabad. 
After all that hard work, escape the hustle-bustle of life and take a trip to relax. A road trip with your friends or colleagues is therapeutic. So gather your friends, drive your car and escape to the forests and hills. 
Head to the link to discover the best one-day trips in and around Hyderabad.
3. Lock N Escape
When in doubt, choose Lock N Escape! 
Known for their immersive and challenging puzzles, they are perfect for hanging out during Christmas. They offer a unique chance to test your problem-solving skills while spending time with loved ones. 
There are 6 different physical escape room themes to choose from, so you can find one that perfectly suits you and your group's interests. There are virtual games as well. 
Lock N Escape also allows you to party in their event rooms after your game. 
If you haven't visited us, visit us this Christmas and have the best time of your life.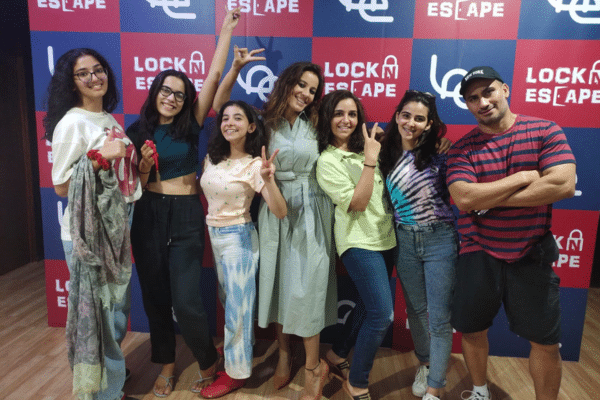 4. Hike and Camp 
If you are a fan of the hills, then hiking and camping is the best way to spend time during Christmas. 
Hike the hills on the outskirts of Hyderabad. There are a lot of great hikes around waterfalls where you can camp and stay the night. A bonfire with good music and people is the key to a healthy heart. 
And what better than spending the cold days in an even colder area? 
Do something different this Christmas! 
Head to the link to discover adventurous activities in Hyderabad.
5. Visit the KBR National Park
One of the best places to enjoy the Hyderabad winter is the KBR National Park. It is spread over an area of 3,288 acres and is home to various flora and fauna. 
There are plenty of walking and hiking trails and a beautiful lake where you can relax and take in the scenery. The park is also home to various wildlife, including deer, birds, and even wild boar. 
And if you're looking for something more adventurous, you can always go on a safari! 
Hyderabad in winter is the best time to visit the park as the weather is fantastic and the flowers are in full bloom. 
Explore this link if you are looking for unique places in Hyderabad. 

6. Taste a Mandi at Hyderabad's Finest 
Among all the activities, going out to eat has the lowest priority and yet the most important thing. 
Gather your friends and family and take them out to dine on mandi, Hyderabad's most famous dish. It serves non-vegetarian food on a big platter with vegetables and loads of flavoured rice! 
It is also a change from the regular Biriyani. 
So what are you waiting for? Grab your mandi today! 
You can end your feast with a nice Indian dessert and a stroll in a park nearby. 
If you are looking for a couple-activity to do, explore this link.
7. Laser Tag Arenas
The city is home to several modern attractions, including the Laser Tag arenas. Laser Tag arenas offer a unique and exciting way to experience the city. Plus, it is also fun to spend the evening with friends and family. 
The game is played with special guns that shoot beams of light. Players wear vests that detect when the rays hit them. The object of the game is to tag as many opponents as possible and avoid being tagged yourself. 
Hyderabad laser tag is a great way to get out of the house and have some fun during winter. 
Head to the link to discover laser tag arenas in Hyderabad.