Hyderabad! The city of the Nizams, is famous the world over for its glorious history and culture. Right from the stunning palaces and forts to its beautiful lakeside promenades and bountiful gardens, Hyderabad has something to offer to everyone. 
Dining options with an array of restaurants and cafes including activities along with scrumptious food options and a view are equally catching up as a favourite with couples.
Whether with a group of friends or your near and dear ones, the options of places to visit in this charming city of Hyderabad are endless. 
For a couple in this beautiful city, there are innumerable places to visit depending on the occasion, budget, and mood to celebrate your oneness and bond. 
Listed below are my Top 13 Places For A Couple To Visit In Hyderabad:-
1. Hussain Sagar Lake
Do you want to sit with your loved one hand in hand and watch the beautiful sunrise or sunset or indulge in some water sports by taking a water scooter or a speedboat or simply to take a night ferry and enjoy a cozy dinner at this man made lake? Well, think no further and head out to this beautiful lake. 
The lake is shaped like a HEART and was adjudged "Heart Of the World" by the United Nations World Tourism Organisation in 2012, definitely making this place a front runner with the couples. 
The centre of the lake has a huge Golden Buddha statue, which can be viewed by taking a boat there. The musical fountains and laser shows are a must see.
Husain Sagar has both to offer, a romantic setting and pulsating adventure thrill, as a couple what would you like to indulge in here?
2. Taj Falaknuma Palace
Imagine being in a real palace with your beloved and feeling like royalty? Dreamy and gorgeous, sounds too good to be true, right? 
The Taj Falaknuma Palace, built in the 19th century and home to the descendants of the Nizam, has a tea room, hookah lounge and two fine dining restaurants that would make it an ideal destination for couples. The marvelous architecture along with the cutlery and grand opulence takes you into an altogether different era and setting. 
Considered the most luxurious restaurant in Hyderabad, Falaknuma meaning 'Reflection of the Sky' in Urdu, this place is definitely a must try.
PS: Save up to visit this place, definitely the price for royalty doesn't come cheap.
If you are worried about what to do on New Year's Eve in Hyderabad with your partner, explore our article to discover unique and exciting things to do.
3. Ohri's Gufaa
If being in gufaa (cave) and enjoying your meals in a jungle like setting excite you and your partner, head out to Ohri's Gufaa. 
The menu here, is a mix of many cuisines and caters to all types of taste buds. The waiters are dressed in animal costumes and the restaurant is filled with tribal paintings and remind us of the primitive stone age era with their bamboo seating and dim cave like light settings.
A place to transport you and your beloved in the bygone ages, this fine dining restaurant is definitely a must visit amongst couples.
4. Golconda Fort
Stand at the bottom and ask your beloved to be on the top of the fort and clap your hands, the echoes of your clap would definitely be heard. This was how in ancient times, the messengers announced the arrival of visitors in the fort.
One of the better preserved forts in India and home to the Kohinoor diamond for a short time, The Golconda Fort is rich in history and architecture.
A picturesque place to capture beautiful sunsets and view of the city from the top of the fort or to click and make memories with your partner amidst the backdrop of this majestic fort, memories are sure to be made for a lifetime. The sound and light show here should definitely not be missed.
PS: Avoid during the hot summers, the ideal time to visit the fort would be October to February and carry sufficient water.
5. Lumbini Park
Proximity to the Hussain Sagar Lake and Birla Mandir, make the Lumbini Park a famous destination for tourists and residents alike.
The park is home to a stunning variety of fauna and flora and also is a hit amongst couple and youngsters for the amusement rides.
A musical fountain show and 3D laser show takes place in the evening taking you away from the hush bush of teh city life in a beautiful and calming setting wth your partner. Boating options to the Husain Sagar Lake are also available from here. 
With peace, tranquility and greenery on one hand to adventures ride on the other, this place is ideal for couples.
6. Ramoji Film City
If being on a film set and prancing around like an actor or actress is what you and your partner would enjoy, then head out to the Ramoji Film City.
An ideal place for all movie lovers, many Tollywood and Bollywood movies have been shot here. Besides the humongous movie sets erected, the film city boasts of greenery and lawns along with amusement rides creating an ideal romantic setup.
One of the most loved tourist places in hyderabad, the Ramoji Film City also offers stay packages for a tour of the entire film city.
7. Lock N Escape
How well do you and your partner know each other and will you help each other in testing and trying times?
Well fret not, this is not an 'agnipariksha' (test to prove your love) but rather a fun activity to check your couple compatibility and chemistry. An absolute favourite of mine, the Lock N Escape, escape rooms is definitely a must visit for a fun time. 
The inhouse Inspire Cafe with a mouthwatering fare of delectable dishes, takes care of your hunger pangs and the 6 Physical and 4 Virtual Escape rooms give you and your partner an absolute adrenaline rush and thrill, trying to figure a way out of the rooms in tandem and harmony. 
If you wish to sit and enjoy the games with your partner, there's online streaming of the rooms also available. This definitely is a must visit place for couples.
8. Charminar
It would not be wrong to say that the cityof Hyderabad is synonymous with the name 'Charminar'. An iconic landmark, the Charminar meaning Four Pillars is one of the most visited mosques in the world.
The structure has 4 grand arches and.48m tall minarets or towers and is made up of 2 floors of which only the 1st floor is accessible to public. The entire view of Laad Bazaar can be seen from the structure. The bazaar is a famous and affordable shopping destination for all things Hyderabadi right from footwear to jewellery to wedding wear.
The restaurants and eateries around serve authentic Hyderabadi cuisine of mouth watering Haleem and Biryani. Along with picture perfect pictures, you and your beloved can indulge in a fantastic culinary and shopping experience as well.
9. Salar Jung Museum
Not your typical romantic or couple place, the Salar Jung Museum still features in my list of Top 13 Places For A Couple To Visit In Hyderabad, you may ask why?
Opened to the public in 1951, the museum is home to exquisite craftsmanship of the bygone eras. The museum along with its library is considered to be an Institution of National Importance. A government owned museum, a minimum of 4-5 hours are required to view the artifacts and fragments of history on display here. Right from the swords and armours to the paintings, royal clothes, maps and books, the museum gives you and your partner an insight in the history of Hyderabad.
The museum houses a food court and has A/c in most galleries. Definitely a must visit place as per me.
PS: The museum is closed on Fridays and public holidays.
 10. Birla Planetarium
Another offbeat place which I like, the Birla Planetarium attracts not only students but also youngsters and couples alike. Science and its mystery are equally appealing to every individual and couples. 
The arch dome like structure speaks about the mysteries and theories of the Universe and Multiverse and is rated amongst the best planetariums in the world. The sky shows in the planetarium shouldnt be missed. An ideal place to visit with your partner and see the mysteries of the world and try to unravel them together.
11. Snow World
Picture snow and a couple! Isn't it the best combination?
In a city like Hyderabad far away from the mountains, Snow World is like a boon for everyone looking for respite from the hot weather and to experience the feel of snow and ice. 
With a temperature of -5 degree celcius and below, the Snow World boasts of Igloos, Alpine Trees and even Polar Bears with 200 tonnes of artificial snow! There are activities like Snow Fights, Snow Merry Go Round, Snow Dancing, Snow Basketball & Volleyball along with bumper cars and sleighs. 
Warm and ice friendly jackets and shoes can be bought at the park to enjoy and make the most of all the activities here. Snow World also has an Ice Hotel, that gives us a dining experience like in snow.
12. Durgam Cheruva
A favourite amongst couples, Durgam Cheruva is a lake hidden away from the hush bush of the city and surrounded by the lush and green Deccan plateau. 
The lake is enclosed by stone shakes that date back to 2500 million years and the place is famous amidst wildlife enthusiast and trekkers alike. A stroll by the sides of the lake is much preferred by the couples amidst the stunning backdrop of the lake amidst the plateau.
The lake is seen in many movies and is a famous movie filming spot. Romantic and hidden, Durgam Cheruva is a hit amidst couples in Hyderabad.
13. Purani Haveli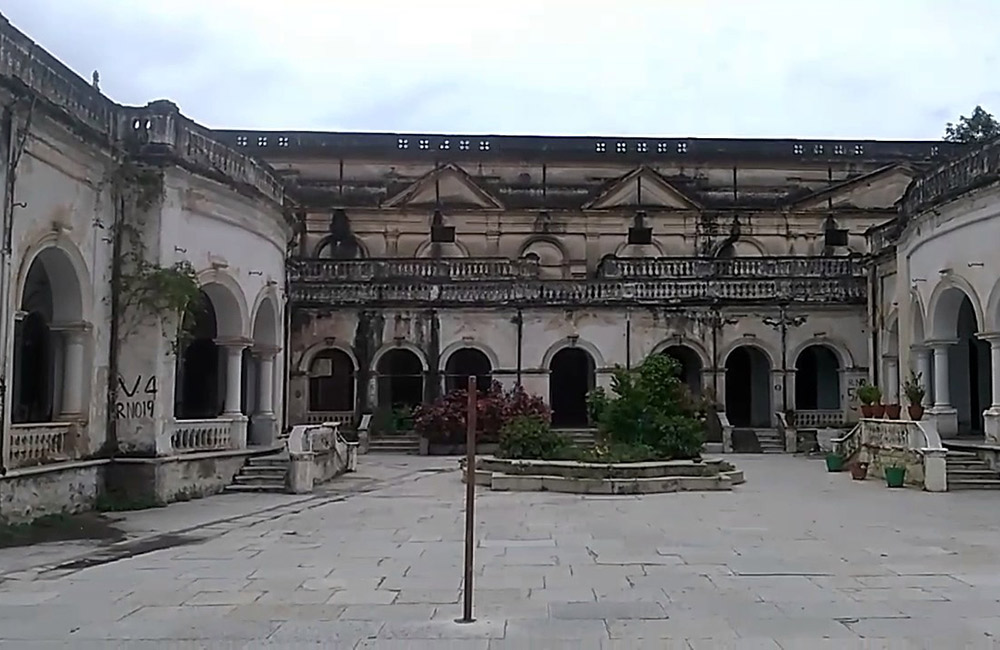 Spooky as the name sounds, there is absolutely nothing scary about this place. Purani Haveli literally translated as 'Old Palace', was the residence of the Nizam. 
The building houses a Mirror House and Chinese Glass House and shows us glimpses of 18th century Hyderabad. The Haveli houses furniture and interior and the tiles are laid out in colorful mosaics, in good condition even today. It boasts of the longest wardrobe in the world having a capacity of storing more than 700-730 royal costumes. Several artifacts and momentos and several ancient books are stored in the library and also houses a wooden elevator of previous times.
Picturesque and Instapic worthy, the Purani Haveli is definitely ideal for couples to visit.
Hope my Top 13 Places For A Couple To Visit In Hyderabad resonate with you and you can visit and enjoy these places with your better halves or partners.