Image Source: mountain-training.org
If you thought Hyderabad was all about history, heritage, and food, you might have to 
think again.
Hyderabad, known famously for the Golconda Fort, Charminar, and Chowmahalla Palace amongst other things, and spoken off synonymously along with mouth watering Biryani, Kebabs, and Haleem, also has an array of activities and sports for adventure lovers.
This city, which is an elective mix of modern and ancient, caters to all types of adventures and thrills. It hosts a number of adventurous and fun activities that are surely a must try for kids and adults alike.
Let's join me in exploring all the adventurous stuff Hyderabad has to offer:-
1. Trekking
A sport you can never go wrong with, Trekking is not only adventurous but also therapeutic. Escaping the hush and bush of the city, being one with nature, and soaking in its beauty are definitely a must do. Since Hyderabad has a lot of hills and mountains in and around the city, trekking is extremely famous here. 
The treks undertaken at Bhongir Fort and Medak Fort are doable for all types of trekkers with low to moderate difficulty levels. The Ananthagiri Hills is another popular trekking destination in Hyderabad.
PS: If you are an amateur trekker, plan a trek with a private tour organiser, as they would take care of your safety firsthand.
2. Zorbing
Imagine being in a ball and rolling down the mountain/hill slopes! 
Doesn't it sound fun?
Well, zorbing is exactly that, fun and adventurous both. You need to enter a life sized orb/ball, which is then filled with air and sealed and then the ball is pushed with you in it and rolled down the slopes of Hyderabad hills. The experience of rolling and tumbling is altogether different and the pathway on Sahas Adventure is perfectly apt for zorbing in Hyderabad.
PS: Zorbing is also done in swimming pools called aqua zorbing, where you can walk or crawl in the zorbing orb and dash against each other in the pool. Shilparamam is the best choice for aqua zorbing. 
3. Boating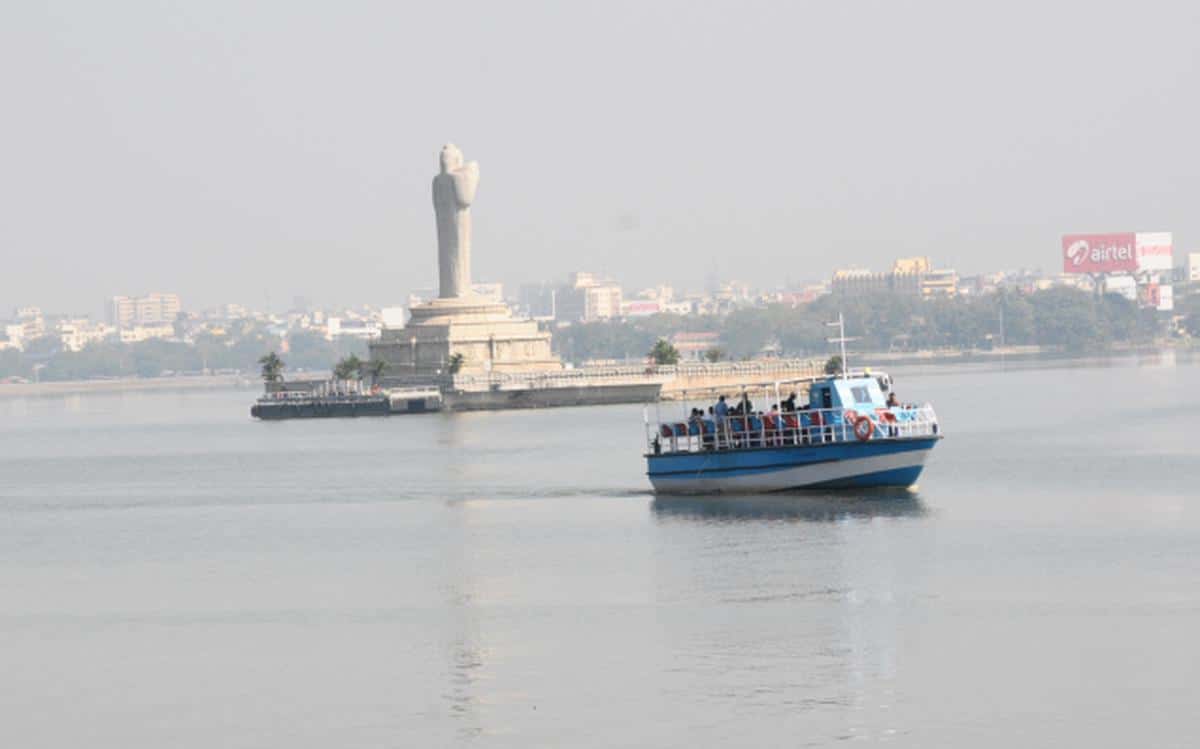 Image Source: thehindu.com
Hyderabad is blessed with beautiful lakes and the Hussain Sagar Lake is considered the best of them. Various water sports and activities are conducted there from Lumbini Park. 
You can rent a paddle boat or a speed boat and bring out your adventurous side, or be seated on a cruise liner or a ferry, that would take you to the middle of the lake, where you can witness the majestic Gautam Buddha statue, water fountains and a light show.
PS: The cruise liner is the current rage among couples who go on a romantic date on the beautiful lake amidst the beautiful fountains as their background.
4. Laser Tag
If you are a video game lover and love to go on a shooting spree to kill the villains, then head fast to your nearest Laser Tag Centre.
Be a part of a team and try to wipe out your opponent in this fun game that keeps you on your toes throughout. Many places in Hyderabad offer Laser Tag games, my recommendation would definitely be SVM Mall. Enjoy the adrenaline pumping games and then head out to the food court which is just adjacent to the game zone, mind, body, and stomach, all will get a happy experience.
5. Escape Rooms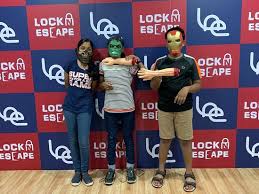 Image Source: tripadvisor.com
If you love the thrill of being locked and have to decipher clues to get out from there, then head straight to your nearest MYSTERY GAME.
My favourite escape room is for sure the Lock N Escape MYSTERY GAMEs in Hyderabad. Boasting 6 Physical and 4 Virtual rooms along with Live Online Streaming for the not so adventurous people, this place is the perfect place to be. Locked inside the room with your team or group of friends or family, you will be given clues to leave the room which need to be solved within 80 minutes. 
An absolute must for all adventure lovers, where the thrill of escaping the room at a given time, is super challenging and exciting. 
PS: The best part is the in-house Inspire Cafe, which boasts of mouth watering and delectable cuisines which are perfectly apt after stressing yourself out playing the fantastic MYSTERY GAME games. The Chimney cakes here are a must try.
6. Kayaking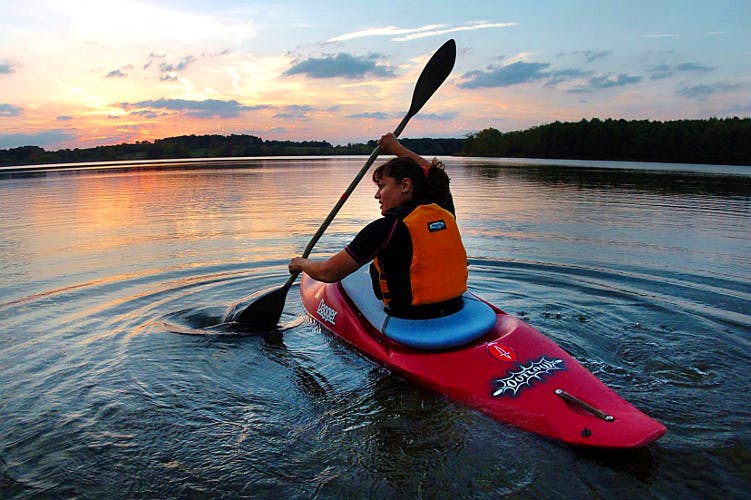 Image Source: lbb.in
If you are a loner or like to be with your gang of friends, Kayaking is the ideal adventurous activity for one and all. 
Hyderabad is home to many beautiful lakes and water sports and activities are extremely well loved by all age groups. Hop onto a Kayak, with a book or a camera, whatever is your preference, if you are looking for some ME time alone and enjoy the serene and calm time in the lap of calming waters. If you are with friends and wish to get competitive and adventurous with each other, then hire a solo kayak and race each other out or simply share a kayak with your partner and enjoy some peaceful quality time with each other. 
PS: My recommendation for kayaking in Hyderabad would be the Kotpally Fresh Water Reservoir.
7. Paragliding
If being suspended in the air is adventurous enough for you, then straight to the nearest paragliding center in Hyderabad.
For beginners, you will be given a trainer who would accompany you on your leap, literally. Running off the mountain cliff and then taking the jump that would suspend you in the air, is an absolutely thrilling experience. 
Banjara Hills is the place to experience paragliding according to me, to enjoy the scenic views of Hyderabad city. Absolutely safe with a secure harness and great para sailing shoots, lots of tour operators conduct this magical experience for you.
8. Bungee Jumping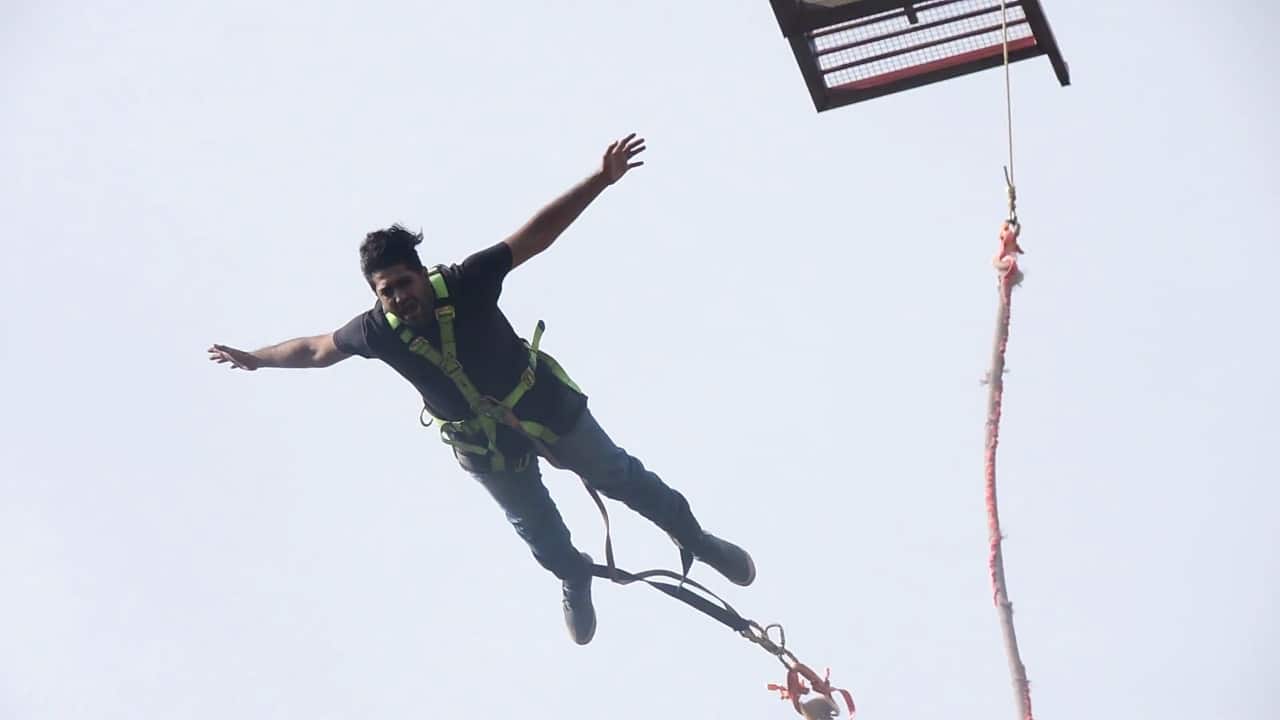 Image Source: indyabungy.com
A sport famous all over the world has found its loyalty and footing in India in the recent decade. Bungee Jumping has a lot of safety checks to fulfill for a person to decide to finally take the plunge PS: Not talking about marriage here;-)
With a safety net below to ensure your safety and a strong harness, Hyderabad has a lot of places to try bungee jumping. You can jump off a natural habitat and see the greenery and beauty around or from a makeshift bungee cliff giving you a view of the water below, all in all, an extremely thrilling and heart racing sport. Leonia in Hyderabad provides a perfect bungee jumping experience.
9. Ziplining
Harnessed to a cable where you fly from one end to the other, Ziplining is another awesome adventure sport the city of Hyderabad has to offer. 
Armed with a helmet and a safety harness, you are all set to go on the ride of your life. Zipping through you get to enjoy the experience of flying like a bird, the feeling of being free, and soaking up the beautiful expanse surrounding you. Mostly done across hills or water bodies, ziplining is completely safe for everyone to experience at least once.
My recommendation to try Zipling would be The Great Hyderabad Adventure Club also called GHAC. Amazing trainers and excellent safety gear are their forte. 
10. Shooting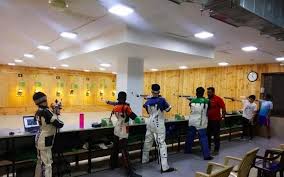 Image Source: whatshot.in
If watching action movies on the screen brings out the hero in you, then shooting would be your ideal adventure sport.
There are many shooting arenas in Hyderabad, that cater to all levels of shooters right from amateur to professional. Rifle shooting has gained prominence in India since the win at the Olympics and is in a lot of demand. Taking aim and practicing shooting at targets, requires a lot of patience and precision, honing you and expecting your best shot.
The SAAS Shooting range and Guns for Glory would be my recommendation to try out this adventurous and heroic sport in Hyderabad.
11. Go Karting
Zipping and cruising the fast bylanes like a formula driver, is an absolute favourite amongst adventure lovers and thrill seekers.
A sport to let off the steam of your entire hectic week or simply chill with your friends or even have a friendly competition race, Go Karting is extremely popular in India. 
Runway 9 according to me has the best racing tracks in Hyderabad and is also my favourite Go Karting place. The trainers and marshals here help you to completely understand all about the car and the game and the cars are in mint condition here. You can choose a single seater ride or can go on a double seater with your companion according to your preference.
12. Rock Climbing
Hyderabad boasts of plenty, both indoor and outdoor, rock climbing options.
If you are an outdoor person and like to enjoy the thrill of nature, then head to the nearest Ananthagiri Hills for some serious rock climbing. This is definitely for all the daredevil adventure lovers.
For the not so adventurous ones, head to the indoor rock climbing arena at Prasads IMAX, and enjoy the same thrill albeit on an artificial wall. Climbing the plastic wall in front of you by stepping on the colorful ledges made like rocks, improves your mind and body along with hand and eye coordination.
A helmet and a safety harness are a must to experience this sport, whether indoors or outdoors.
13. Paintball
Image Source: nearbuy.com
Imagine being in a field, surrounded by enemies, armed with a gun! Would it scare you or bring out the dare devil in you? If you need to find the answer to this, then head straight to the nearest Paintball zone in Hyderabad.
A game that enhances your team building exercises and makes you play as a part of a group, Paintball is an extremely fun and adventurous sport. Armed in a suit and a mask (straight out of a gas chamber movie), you need to hit the paint pellets on your opponents and dodge theirs to make your team win.
14. Surfing
Image Source: youtube.com
If you loved watching foreign movies and shows and had dreamt of trying your hands at surfing, fret no more. Hyderabad has its own surfing club to offer this heart pumping sport for all the die hard surfing lovers.
Clean waters and surfing boards which can be rented, make the experience of being on a real beach in an artificially created park, a reality. Leonia has the best created wave pools which catch you off guard like the real waves with high water pressure. Balancing, to ride the waves,  is amazingly taught by skilled and patient instructors.
PS: Not a very pocket friendly sport, you definitely have to save up in advance to try your hands at it.
15. Sailing
Considered a luxury sport, Hyderabad offers a beautiful sailing experience on Hussain Sagar Lake. 
Beautiful yachts set to sail in the humongous lake give an extremely thrilling and posh experience. You can even experience para-sailing and enjoy the beauty of the lake and its surroundings from afloat high up. 
A must do for all adventure seekers. Like Sailing, this too is an expensive sport, but definitely worth a try.
16. Rappelling
If Rock Climbing interests you, then Rappelling will surely give you an adrenaline rush.
The Universal Adventures in Hyderabad provides a complete package of Rappelling right from an expert guide and transport right to your meals. A test to climb the rocks against the pressure of the cascading water ( in the rainy season) against you is absolutely thrilling and daring. 
Undertaken at the Bhongir Fort from the monolithic egg formed rock, it requires all your strength and agility to rappel 300 feet below.0
PS: For the little more adventurous souls, you can also trek up to the Bhongir Fort 600 feet up and then come rappelling down.
17. Para Motoring
Image Source: whatshot.in
Another form of Para Gliding, but with a machine or a motor, Para Motoring is fast becoming popular in Hyderabad as an adventure activity.
Starting from above 4000/- INR, this sport is a 10 minute activity. Being motor powered, Para Motoring takes you to altitudes as high as 700 feet, giving you a bird's view of the landscape around you.
A certified pilot rides with you, wherein you have to just sit back and relax and enjoy the beautiful view. The Kondapochamma Reservoir makes an ideal Para Motoring spot with the best and most reliable tour operators.
Hope you enjoy these adventurous sports in Hyderabad as much as I did summing it up for you. 
Have a thrilling and safe time!