Is your birthday coming up? Or a significant person's?
Looking for birthday venues in Hyderabad?
And you are bored of going to the same place again and again? 
Worry not! Known as the City of Nizams and Pearls, this beautiful, bustling Indian city holds some unique spots that are perfect for celebrating any celebration with a sweet twist. 
From artistic coffee shops and hipster bakeries to royal banquet venues and classic restaurants – I've shortlisted the best birthday cake cutting places in Hyderabad! 
So come along as we together go through the list of 7 top birthday cake cutting party places in Hyderabad.
1. Kismet – The Park 
A classy and modern lounge bar and party restaurant for your birthday celebration at midnight in Hyderabad. 
Kismet at The Park is a relaxing lounge bar with fascinating contemporary decor, moody lighting, background music, classy food, a range of cocktails and spirits, and other beverages. They also offer live music or a DJ and live sports screening. 
If you want to surprise your close ones at midnight, bring them to Kismet to have a blast. 
If you are looking for instagrammable places in Hyderabad, explore this article. 
2. Club Rogue 
Located at Level 2, SLN Terminus Mall, Gachibowli, Club Rogue is suitable for celebrating any special event. Whether it is a corporate party, a bachelor's, or a surprise birthday celebration, Club Rogue is a beautiful bar and restaurant to enjoy your heart out. 
With cuisines from all over the world, drinking packages, beverages, a live band, and an airy space, Club Rogue helps you to throw the best birthday party ever! 
Irrespective of the time, the restaurant is open to everybody. Contact them before your birthday for a booking with them, and the event planners will help you to set the stage on fire. 
For surprise birthday planning in Hyderabad, head to this article. For more restaurants in Hyderabad, head here. 
3. Lock N Escape
A great indoor birthday party venue for all age groups in Hyderabad.
A live escape room in Banjara Hills, Hyderabad, Lock N Escape is an interactive and immersive escape game room where players will be locked in a room for a particular time limit. You must find puzzles and solve them to get out of the locked room. 
At Lock N Escape, there are different themes to choose from and different kinds of packages that will cater to many people. The packages include healthy or fast food, decorations, and escape rooms, and depending on your choice and customizations, your room will be set. 
For an adrenaline pumping surprise Lock N Escape Birthday Party, head to the link to get in touch with us, and our party planners will set the most epic party to remember! 
If this is your first escape room experience, head to this article. 
For more adrenaline pumping adventures in Hyderabad, explore this article.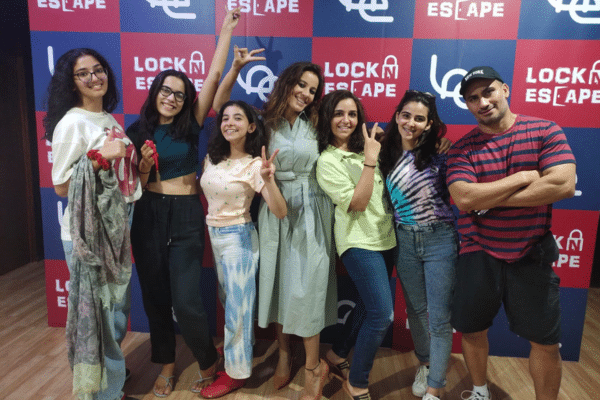 4. Leo Splash 
Boasting India's first surfing ridge, Leo Splash features water-based attractions such as water slides, pools, and water rides. Amenities offered are restrooms, changing rooms, meals, beverages, and life jackets. 
Whether you are an adult planning for your kid's birthday or a fellow adult's birthday, Leo Splash, will give you splashing memories for all your lifetimes. Bring your squad and splash yourself in water all day through. 
Get your additional event requirements, celebrate with cake, and set the day on fire!
Explore resorts in Hyderabad to celebrate your big day.
5. Laser Shooter 
The first laser-shooting gaming arena in Hyderabad, Laser Shooter, is a team-based game involving players using handheld laser guns to tag their opponents' sensors. 
Individual scorecards will be provided to each player to keep track. The facility provides birthday party packages as well. 
You will be provided with basic laser tag equipment in an indoor playing field with obstacles making it a more realistic and challenging gaming experience.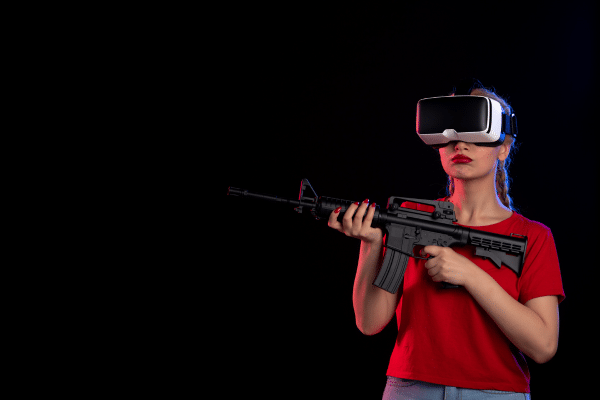 6. 10 Downing Street
With multiple venues in Gachibowli, Begumpet, and Kompally, 10 Downing Street is one of the best places to celebrate birthday in Hyderabad at midnight.
For kids and adults alike, this restaurant provides a relaxing atmosphere to sit back, eat, celebrate and have delightful conversations. 
To book your table, do contact the restaurant beforehand for proper arrangements to be made. 
7. House Party 
Among the other cake cutting places in Hyderabad, nothing beats a house party!
The only things you require are a good working speaker system to blast loud music, birthday decorations to be put up, food and drinks of your choice with paper plates and cups, and a guestlist. 
Fix a playlist, put up the decorations, get a birthday cake, and sort drinks and food, and you are all set. Remember to keep wastebaskets if you are a lot of people. And lo! You are all set for a surprise birthday party. For exciting birthday party favours, explore our article! 
And if lights are important, put up some lights which are easily available in shops.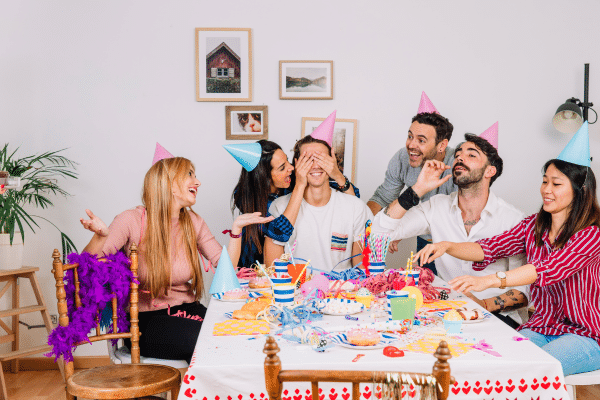 Whatever route you take for your friend's surprise cake cutting birthday party in Hyderabad, remember to have fun and not take things too seriously. After all, it is just a birthday party! 
The most important thing is that your friend has a memorable time – and with these great ideas, we're sure they will. 
Head here for more affordable birthday party venues in Hyderabad. For more cake delivery services in Hyderabad, head here. 
If you are a tourist visiting Hyderabad and looking for places to go – Hussain Sagar Lake, Altitude Lounge Bar at the Hyderabad Marriott Hotel & Convention Centre, picnic places or spots in Hyderabad, National Park in Hyderabad, Karaoke Nights, Amusement Theme Parks, and Ramoji Film City are a few places to name. 
Cheers!