Who doesn't like to look at pictures or reels with a beautiful background or scene? 
And more importantly, everyone is in the race to click the best pic or upload the trendiest reel to get maximum likes, shares, and followers on the 'gram'.
Yes, by the gram I mean 'INSTAGRAM'. Everyone is searching for Instagrammable places and stuff to do, it's become like a benchmark, and Hyderabad as a city has plenty to offer on that front, right from historical monuments, natural beauty, and amazing cafes and restos.
Hyderabad has something for everyone and is a perfect blend of all cultures and people along with the most happening hangout places as well as places to celebrate a birthday.
Instagram; is the most popular app in recent times where uploading and sharing content is the way to be cool and popular. And taking this into consideration, I've curated a list of The Top 15 Instagrammable Places In Hyderabad.
Charminar

Old City Market

State Central Library

Hussain Sagar Lake

Olive Bistro 

Durgam Cheruvu

Lock N Escape 

Snow World

Ramoji Film City

Birla Planetarium

 Taj Faluknama Palace

 Botanical Garden

 Maula Ali Hill

 Qutub Shahi Tombs

 Fisherman's Wharf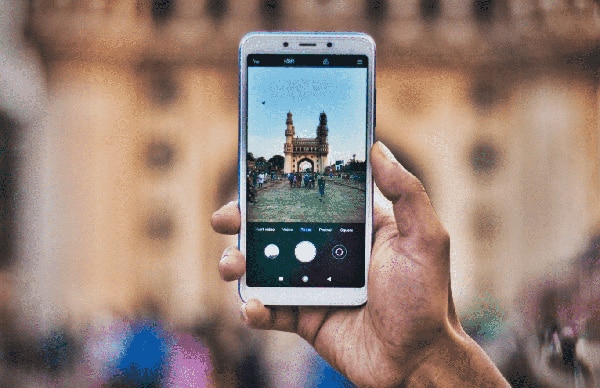 The minute someone says Hyderabad and the first image that conjures in front of your eyes is the iconic structure of Charminar. No wonder it is an extremely popular and Instagrammable place in Hyderabad.
Built in 1591, the Charminar, an iconic mosque and monument, is still considered one of the most iconic landmarks in the city. 
It is the perfect place to get that Instagram worthy pic that will get you maximum likes and followers. You can take umpteen selfies or a family portrait with this beautiful structure or can simply bask in the glory of its beauty in the pics alone; either way, it would be extremely appealing and stunning to add to your feed and stories.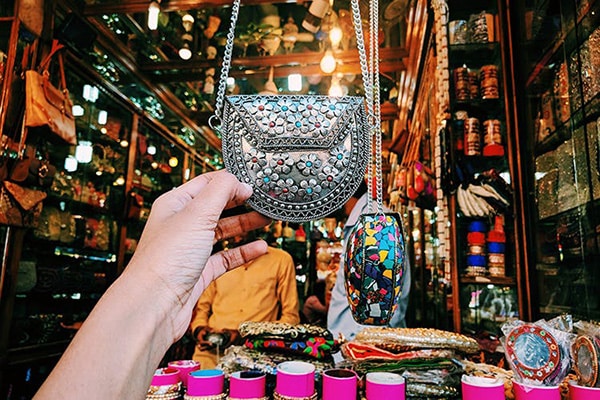 This place is like living in a bygone era and makes for fantastic Instagrammable pics in Hyderabad. The old doors, markets, and trinkets sold in the bylanes are beautiful to capture and upload.
Along with the above, the place is abuzz with great shopping for dresses, footwear, Hyderabadi pearl, bangles, etc, and gorge on some mouth watering authentic Nawabi cuisine along with tea, samosa, and kababs.
There are holy places of worship around also and in case you are in the mood for plain window shopping, this is the place to be.
PS: A picture with a vintage door should definitely be clicked.
Built in 1891, the State Central Library has an old school charm to it and tells timeless stories. The sprawling gardens and manicured lawns along with the symmetry, intricate patterns, vintage doors, and the history it retells; is marvelous to capture and share.
This is one of the oldest libraries in Hyderabad and houses more than 5,00,000 books and magazines 
Replete with stairways, doors, and a haven of books, this is definitely an Instagrammable place in Hyderabad I would recommend.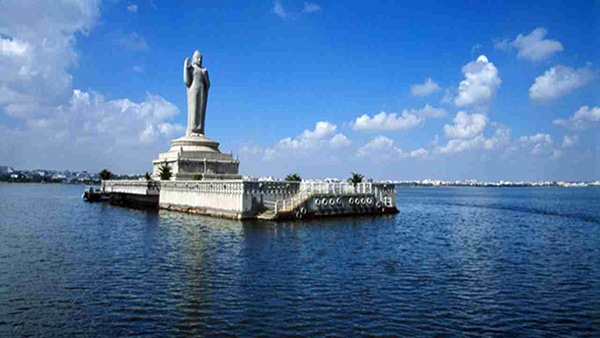 The wind sways your boat with you in it on a tour of the beautiful Hussain Sagar Lake; this is definitely straight out of a movie and makes it to my list of most Instagrammable places in Hyderabad.
The background of the impressive Buddha statue in the midst of the lake makes for some amazing memories and pictures.
With boats plying to and fro, the laser and fountain show in the evening is definitely not to be missed. It would definitely leave you with some colorful pictures and memories for your gram.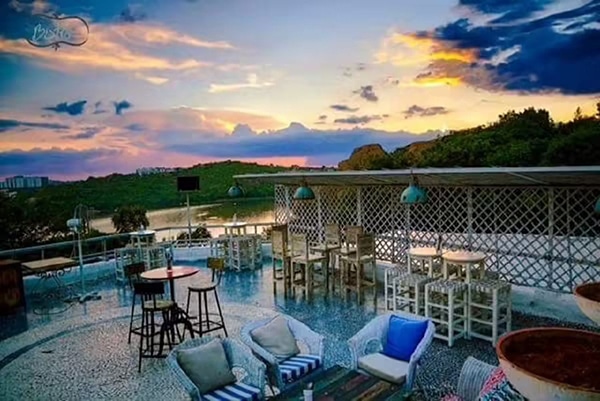 Not just a great dining place, but Olive Bistro is certainly high on my most Instagrammable places in Hyderabad due to its blue and white interiors reminiscing one of Santorini and giving us the Grecian vibes.
Perfect for a night out and a great outdoor dining experience due to its fantastic ambiance, wonderful service, and food.
Located right in the middle of a jungle, food is served literally under the sky in the day and under the stars at night.
A perfect place for chilling and hanging out with friends or family and in the bargain getting swoonworthy instagram pictures.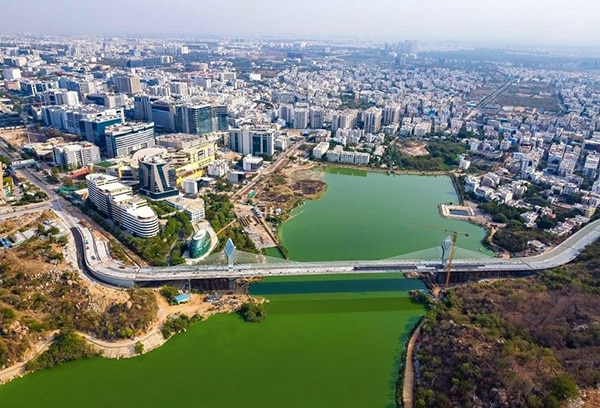 A cable bridge on the lake makes it look like an outdoorsy foreign location that can get your photos some fabulous comments and innumerable likes. For the adventurous ones, there are water sports and boating as well at Durgam Cheruvu.
A lake in the countryside of Hyderabad which boasts of surrounding rocks of age 2500 million years, is a must visit Instagrammable spot in Hyderabad.
You can spend time with family here or visit the artificial water fountains and rock gardens. There is also a walkway for jogging and walking and a sunset viewpoint which is famous for outstanding photos.
Durgam Cheruvu also has an amphitheater with a capacity of 1500 people.
PS: Durgam Cheruvu is the only place that is available to the public for fishing in Hyderabad for leisure.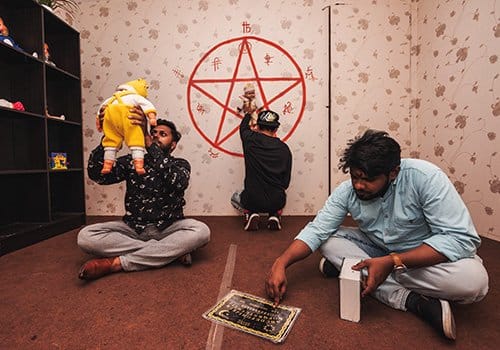 The Instagram generation is a big fan of this super awesome escape room place, Lock N Escape. 
Here not only do you get to indulge in thrilling games and solving puzzles to escape the MYSTERY GAME in sixty minutes, but you also have a fabulous in house Inspire Cafe to chill and relax in to click some amazing Insta-worthy photos.
An absolutely safe experience where the games are played under expert supervision by solving puzzles and riddles.  
Lock N Escape MYSTERY GAMEs have both, physical and virtual games as well as live streaming of the games. Not just escape rooms, this place also boasts board games, books & magazines, and foosball.
If you are looking for New Year Eve things to do in Hyderabad, head to our article to make it a blasting end to the year!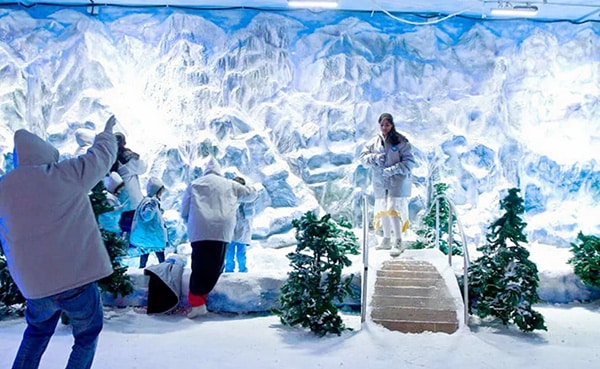 Spread across 17,000 square feet roughly and touted as the first snow themed park in India, Snow World is a fun and adventurous place to click some Instagrammable pics.
For the ones missing the snow and wishing to head back to the mountains, Snow World would give you the same feel and thrills.
Boasting adventure activities like ice skating, ice boarding, snow slides, toboggan rides, and also a Cryozone, it is the perfect place to throw some ice balls at each other and get clicked in an outdoorsy feel. 
Snow World is perfect for chills and clicks; both.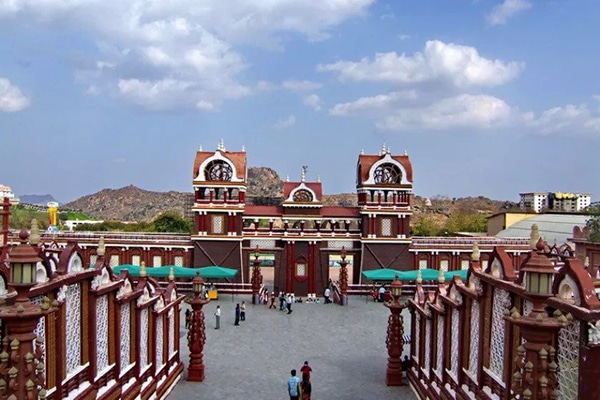 This place certainly needs no introduction, a must visit place on every individuals's to do list in Hyderabad.
Ramoji Film City is recognized as the largest film studio in the world that can manage 50 film units at a given time! It is not only a film city but also an adventure park which was established in 1991.
There are ongoing live performances and shows, DJs, dance performances, martial art performances, grand movie sets, green & butterfly gardens, and movies related activities and games.
There are shows and rides for children and adults and the bonsai collection at Eco Park is definitely not to be missed for amazing pictures.
Running underwater and space 3D shows, the Birla planetarium is one of my Top 15 Instagrammable Places In Hyderabad for sure. 
The dome shaped planetarium building in itself is a photographer's delight, a place where both knowledge and memories can be accumulated.
There are Science shows providing information and running daily in different languages through out the day. The Birla planetarium also has an old camera which is as large as a truck in working condition. The dinosaur park, doll museum, and models of ISRO satellites are a visual treat on display.
PS: The Birla Mandir is just a stone's throw away from here.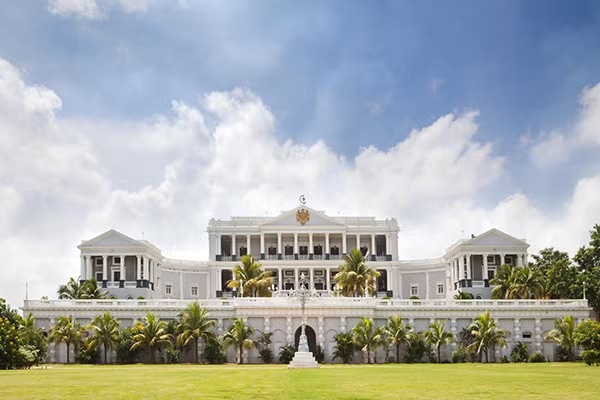 A beauty to behold and capture, this palace is definitely pleasing to the eyes for sure and would provide you with Instagrammable pictures but beware it does come with steep pricing. Perhaps, the price to pay for beauty!
An iconic palace in Hyderabad which was home to the Nizam and Nawabs, Falaknuma; is now preserved and managed by the Taj Group. 
An imposing marble structure consisting of more than 200 rooms, along with an imposing and an Instagram worthy staircase, a library, and huge chandeliers, this place screams royalty.
PS: The green lawns against the backdrop of the palace and the beautiful sight of peacocks running on the property definitely make it one of my Top 15 Instagrammable Places In Hyderabad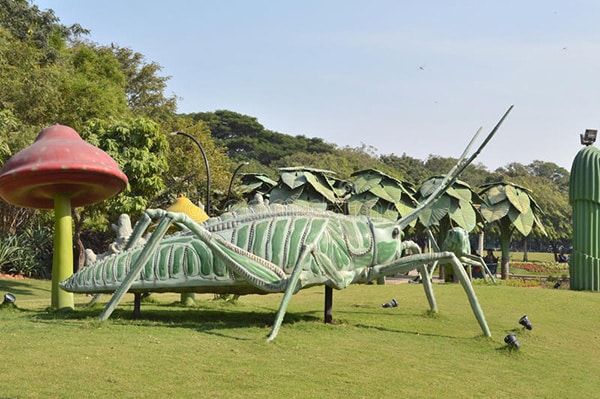 Our own Miracle Garden aka the one in Dubai, is the Botanical garden in Hyderabad.
Amidst the concrete jungle in the city, the Botanical garden transports you to peace and serenity, and not to forget some soothing Instagrammable backgrounds to pose in.
Comprising dozens of species of bamboo, fruit and palm trees, medicinal and decorative plants alongside huge figurines made of grass, here you can visit for your pics as well as a relaxing walk.
Well maintained garden and lawns; with benches to rest on and a pond on the premise, the Botanical gardens should definitely not be missed in Hyderabad.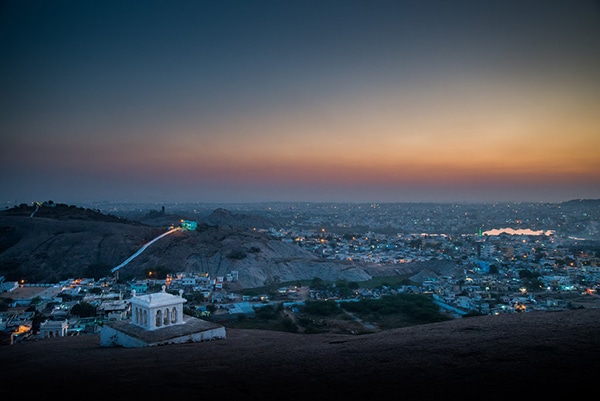 Located in the Maula Ali area in Hyderabad, you need to climb around 484 steps from the bottom of the hill to the Dargah on top. The view from here is amazing and definitely one of my Top 15 Instagrammable Places In Hyderabad.
Not just for the photos but this place is extremely soothing and you will definitely find quiet and peace here. 
Evenings are preferable to visit the Maula Ali Hill. You do not want to miss the picturesque landscape and sunset over here. Definitely worthy of loads of Instagrammable pictures.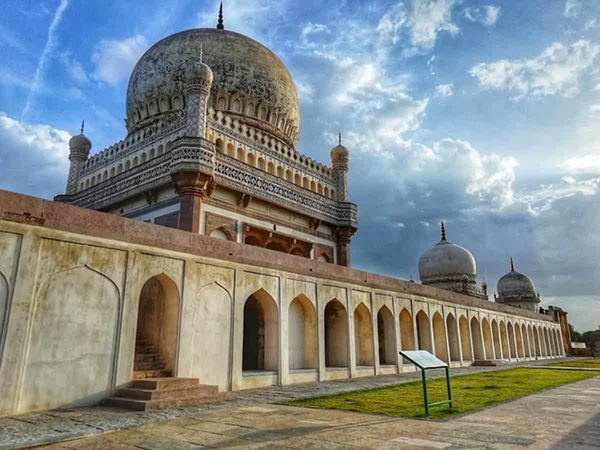 Another historical place!
This place is replete with beautiful architecture and the structure of the major 7 tombs serve as beautiful backgrounds to get the most amazing pics. There is also a mosque in the vicinity and some smaller tombs as well. A calm and serene place of beauty where you can spend quality time with your family and also marvel at the history of Hyderabad Instagram worthy pictures. 
An ideal place to chill and do some outdoor photography. The view of the Golconda Fort from here is simply beautiful. 
PS: This place shuts at 5.30 pm, so plan your trip accordingly.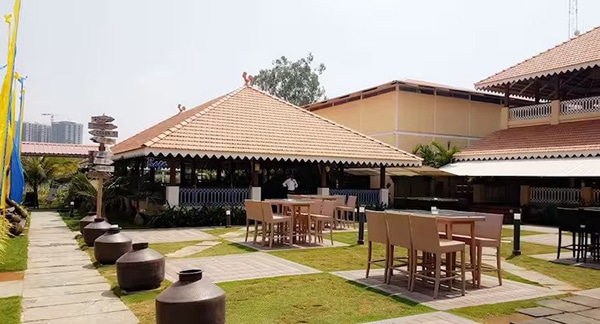 A haven for all the food lovers with not only scrumptious food but also a beautiful well curated landscape for Instagram worthy photos.
Wonderful and spacious ambiance, along with warm hospitality and prompt service, makes this franchisee restaurant serving authentic Goan food a must visit. 
The food especially the Kingfish fry, drums of heaven, prawns balboa, chicken tikka, and seekh kebabs are mouth watering and pleasing both on the palate and your Instagram feed.
Not only the Goan, but the Continental and Thai cuisine is also finger licking good and the mocktails and cocktails served, are definitely one of the best in Hyderabad.
An ideal place for a team building meal or even a private birthday party with your near and dear ones to carry back loads of memories and Instagrammable photos.
Hope my The Top 15 Instagrammable Places In Hyderabad also make your Instagram colourful and vibrant. 
Here's to many more followers, shares and likes.