Birthdays are a joyous and close to the heart occasion. Even the ones who say "they don't like to celebrate their birthday" secretly look forward to their big day. 
So what do you do to make the special day of a special one all the more special??? 
Well, you plan out a SURPRISE BIRTHDAY PARTY. 
The most important part in planning a surprise birthday party is that it's to be done in accordance with the likes and tastes of the person whose birthday it is. If the celebration is for your partner, then the task at hand becomes relatively simpler. 
In case you are an event planner or organizer not having any personal knowledge of the said person, you should stick to the basics of planning a party, the tried and tested ones, as have been mentioned below.
So, here are my Top 10 Surprise Birthday Places in Hyderabad
As cliche as it sounds, a surprise party thrown in the company of intimate friends or family in the comforts of your home, can be an unexpected celebration. The familiarity of home and the personal touch along with a midnight cake, a meaningful birthday card and a handpicked gift, sets the tempo to pleasantly surprise the birthday guest. Alternately a date night like ambience can also be created with a romantic candle lit dinner, movie and all time favorite; popcorn to go with it.
Image Credit: hyderabadtourism.travel
Named after its counterpart in Mumbai, The Necklace Road now renamed PV Narasimha Rao Marg after our former Prime Minister, is a sight to behold. Located along the banks of the Hussain Sagar Lake, the beautiful stretch of the lake along with a number of recreational activities nearby, makes it a budget friendly surprise place. Take your birthday guest for a boat ride and watch the lighting show in the middle of the lake, a drive for an evening view or just sitting on the promenade and watching the beautiful sunset, this place is an ideal surprise spot. The numerous food joints around, take care of the hunger pangs as well.
If swaying to the beats of upbeat music and indulging in culinary delight is your idea of a fun surprise, then Hard Rock Cafe is the place to be. A franchise and a name to reckon in the cafe circuits, this place is a perfect blend of food, fun, booze, music and dance. A memorable dinner with letting your hair down all night, this place would bring out the fun loving person in your birthday guest. You can also pre-book and bring in the surprise with friends or family.
4. Wild Waters & Amusement Theme Park
Image Credit: Thrillophilia
Wouldn't it be a beautiful surprise with the birthday guest to spend a day frolicking in the blue water of the Wild Waters- Water & Amusement Theme Park. This park, one of the largest in Hyderabad, not only has water slides and water rides but also an array of land & amusement rides to bring out the child in you. The perfect place to grow older with the feeling of being young.
PS: The float peeking and the scuba diving experiences are not to miss for sure.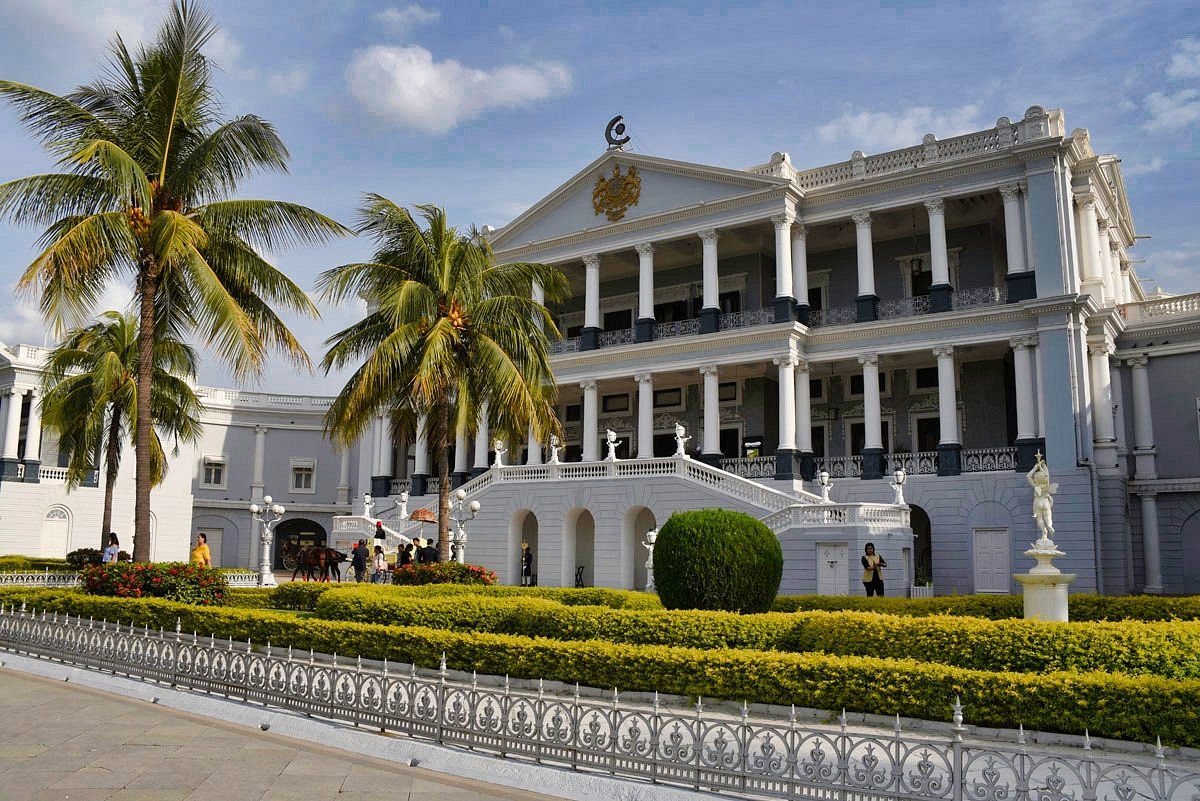 Image Credit: Tripadvisor.com
If the budget is not a constraint and you wish to go overboard with the birthday surprise, no place can beat the Taj Falaknuma. Opulent and full of grandeur, this former palace turned 5-star hotel will make you feel no less than royalty.
Transportation within the property via a horse cart, a dip in the pool or a relaxing spa session can make this unforgettable surprise even more pleasurable and relaxing. You can even have your photo shoot amidst the backdrop of the palace and make memories for a lifetime.
Away from the hustle bustle of the city life and sounds, SYNA Farms, a cozy 2 BHK farmhouse, accommodating between 12-16 people, provides you and your birthday guest with a peaceful stay option. Surrounded by nature, farms, huts and having its own beautiful garden and meditation hut, this place would provide a calm and soothing feeling, taking away the tiredness of a routine and mundane life. Lots of restos and dhabas around nearby for dining or takeaway options.
7. Ethipothala Waterfalls
Image credit: weekendthrill.com
Who doesn't like the sound of cascading waterfalls surrounded with lush greenery and beauty all around?
Well if you too are one of them who enjoys nature's bountiful existence, then surprise your birthday guest with a trip to this magnificent place roughly 176 kms from Hyderabad. You can trek, rappel, do river crossing or simply stay overnight under the stars and enjoy camping in the wild. There are caves nearby which can also be explored. There are good restaurants and clean wash room facilities at the falls. All in all, it sure would make for a memorable experience.
Located close to Hussain sagar lake, is one of the first snow themed parks of our country. With packages available for some hours right till the entire day, this is the place to beat the heat and feel like you are in a hill station. The park boasts of activities like ice skating, snow slides with bumping-car, ice boarding, rides, etc. The park consists of igloos and alpine trees along with games like Snow Dancing, Snow Volleyball, Snow Basketball and Snow Merry-Go-Round amongst many other activities. This would be the perfect place to bring out the actor/actress in you, fulfilling your dream to dance in the snow a la bollywood type.
What is life, if not for a little adventure? If you and the birthday guest are adventure seekers like me, then head out to this resort filled with games and activities, to keep your spirits young. With sports like ATV Ride, Archery, Box Cricket, Rifle Shooting, Football, Beach Volleyball, Human Foosball etc, all conducted under expert supervision with necessary safety equipment, this would act as an amazing birthday surprise venue. This is surely a must try to break the monotony of life.
Image Credit: tripadvisor.com
Saving the best for the last. If the birthday guest likes to solve mysteries and has a hidden Sherlock in them, then this is the apt place. Throwing a surprise birthday was never so much fun. At Lock N Escape, we are relieved of the hassle of prepping and planning, all of it is taken care of with the exciting birthday packages offered here. Inclusive of 6 Physical and 4 Virtual mind blowing 80 minute escape room games that gets your adrenaline pumping to the delicious spread of food from its in house cafe and an array of boardgames, The Lock N Escape is the best place to plan your surprise birthday party.
You can also check out fascinating birthday party favours here.
Hope this list helps you to plan out the best surprise parties for your loved ones.