Can you believe it! 
We are approaching the end of the year 2022 and waiting for the onset of the year 2023.
If you want a special New Year experience with your kids, family, and friends, or even a romantic one with your better half, Hyderabad has loads of options for everyone to choose from.
You can head out for a long drive or party and usher in the new year or simply spend time with family or friends and attend or host a house party.
To kick start the year off in high spirits and on a joyous note, here are my Top Things To Do On New Year's Eve In Hyderabad.
Festivities around Necklace Road

Get lost and found in the escape rooms at Lock N Escape

Enjoy a family dinner at the Taj Falaknuma

Enjoy the New Year with fun and adventure at Ramoji City

Shop and bring in a new you literally at Inorbit Mall

Staycation at The Hidden Castle

Bring in the icy mountain feels at Snow World

Party amidst great food and music at Hard Rock Cafe

Connect with nature at the

Ethipothala Falls

 Throw a house party at Home Sweet Home
1. Festivities around Necklace Road
Necklace Road gives a beautiful view of Hussain Sagar Lake and is situated right in the heart of the city. 
It is enclosed with many parks around it namely the NTR Gardens, Lumbini Park, and Sanjeevaiah Park and is a beautiful place to drive around or simply sit and soak in the beautiful sights of the city and the lake which is lit up with fireworks at the stroke of midnight on new years eve and is a visual treat for all.
There are many restaurants and stalls that would take care of your food cravings, especially for children who will love the different flavored ice creams and delicacies on the entire stretch of Necklace Road. 
Boating in the evening or at midnight to witness the fireworks and light transformations at the Buddha Statue is a sight to behold. You can take a leisure stroll or indulge in the various new year activities and usher in the new year 2023.
PS: Please reach the area before 10 pm as the traffic might be diverted between 10 pm and 2 am keeping the new year festivities and crowd in mind.
2. Get lost and found in the escape rooms at Lock N Escape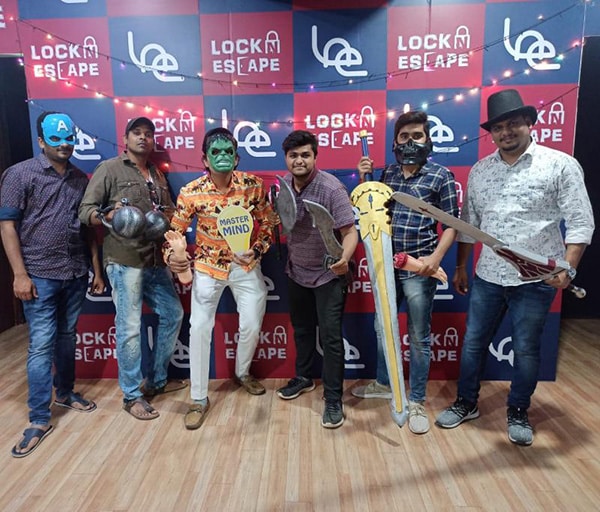 The new year is all about breaking free from the past year's shackles and ushering in the new year with positivity and new beginnings. So what better than to literally get lost and found in the escape rooms at Lock N Escape?
The live and virtual Escape rooms are filled with puzzles and brain-teasing challenges where you and your group have 80 minutes to escape out of the rooms.
The room setup and effects are amazing and the staff is extremely friendly and helpful. An experience to cherish for all age groups, solving the mystery, deciphering the clues, and escaping the room together is an awesome feeling in itself and gives an adrenaline rush. 
The food at the in house Inspire Cafe is absolutely lip smacking and delicious and what is exactly needed after an exciting game. Must try food dishes on their menu are Garlic Bread Chicken, Chicken Wings, Pocket Falafel, Chicken Red Sauce Chimney Cone, Pesto Sauce Chicken Pizza, and lastly to end on a sweet note the Chimney Cone Nutella, Chocolate Brownie with Ice Cream and Levian cookies are a must try.
The escape rooms at Lock N Escape are a perfect place to spend the new year with the feeling of overcoming all obstacles and bringing in the new year on a positive, celebratory, and victorious note.
PS: Pre book to avoid disappointments and to avail fabulous discounts and offers.
3. Enjoy a family dinner at the Taj Falaknuma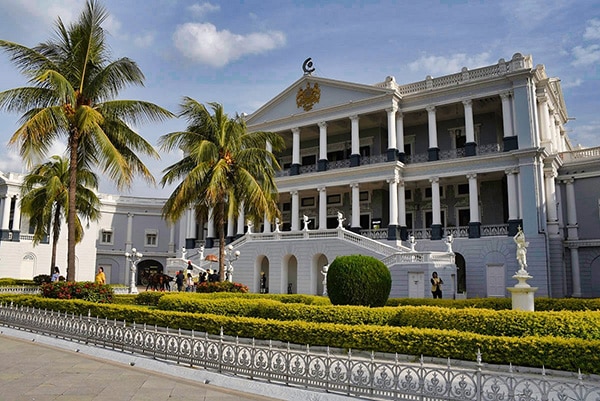 One of the most instagrammable places in Hyderabad, the Taj Falaknuma Palace is a sight full of grandeur and history.
Ranked as one of the top-ranking 7 star hotels in the world and the only one in India, the Taj Falaknuma Palace boast of world class facilities, service, and appeal. Riding up a carriage from the car park, we are treated like royalty and with utmost respect and courteousness. The view from the palace and the palace grounds is beautiful.
The dining rooms are huge and spacious and take us back to luxury and history. There is a guide who takes you down the history and roots of the palace. The food and desserts are delicious without a doubt and the staff and service at the Taj Falaknuma are impeccable.
Dining at the Taj Falaknuma Palace is definitely a wonderful and nostalgic idea and an experience to remember for sure.
4. Enjoy the New Year with fun and adventure at Ramoji City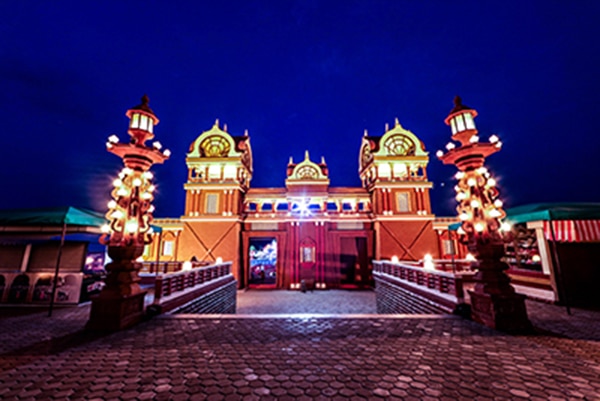 Whilst everyone is looking for the best place to party and celebrate the new year in Hyderabad, some prefer to head out of the city and avoid the city's hustle and bustle. The Ramoji Film City is exactly the place to be in such a case with its exclusive New Year's Eve packages curated for the entire family. 
It is one of the world's largest film studios and is an ideal place for a team building exercise or simply to spend some quality family time. 
You can opt for various staycation packages that would include tours of the larger than life film sets, the thematic gardens, and the enthralling fountains. There is also Fundustan, a special fun zone for kids. They have an amusement park with rides catering according to all age groups and a Bird Park that is home to an impressive collection of varied species of exotic birds from all over the world.
PS: They have special new year packages for staying and activities along with a grand welcome to the new year.
5. Shop and bring in a new you literally at Inorbit Mall
With endless sales and discounts pouring in over the new year holidays, the Inorbit Mall in Hyderabad is super apt to bring in your new year with a new style and elan. 
Did I also mention that there are numerous new year parties and offers on food and games as well?
The Inorbit Mall is a great place to hang out and shop; to bring in the New Year. It houses most of the brands under its roof and is literally huge. Fun and entertainment zones like SMASHH, Dialogue In The Dark, and a dedicated play area for kids, make this a convenient option for everyone.
With parking, clean washrooms, and food options, you can be rest assured and ring in the new year without any frills. 
PS: The Durgam Cheruva lake located is right next to the mall which has an amazing rope bridge. It could be viewed right from the Inorbit mall for stunning vows and pictures.
6. Staycation at The Hidden Castle
The Hidden Castle in Hyderabad is a beautiful place to spend a day out with your loved ones in a castle-themed resort, that boasts 30 acres
You can enjoy getting engaged in multiple games and activities with your loved ones like the aqua circuit with rain dance, or try the many outdoor activities like spider hurl, high roller, wood walk, top walk, zip-line, archery, London bridge, etc if you are feeling adventurous or simply soak in the pool and enjoy numerous pool activities to round up your New Years experience in this one of a kind resort. 
Hidden away in nature's tranquillity and serenity, an hour's drive from Hyderabad, the Hidden Castle lets you unwind with your loved ones. It truly is a Hidden castle in the true sense; camouflaged and nestled in nature and beauty. A place for the entire family, full of luxury, fun activities, and adventure games. 
PS: Try staying at the Heritage rooms for an absolute royalty like feel in a castle.
7. Bring in the icy mountain feels at Snow World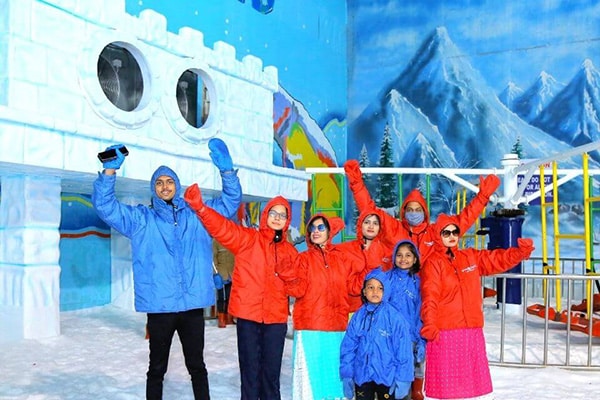 So you couldn't travel in the new year holidays and experience any snow? Fret not, Hyderabad has a solution for all of you snow lovers to get you back into the holiday mood.
Right next to Hussain Sagar lake, Snow World is perfect for adults and children alike. Structures such as slides, play areas, igloos, and mountains are made of ice. Offering many games and activities such as ice skating, ice boarding, snow slides with bumping-car, toboggan rides, snow volleyball, snow merry-go-round, snow basketball, snow dancing, and many more that cater to each and every one. The staff and instructors are extremely helpful and instruct you about all the activities. 
Jackets, shoes, socks, and gloves are available for everyone as it is freezing. The ice hotel here is a special attraction that serves food made from ice.
PS: This isn't exactly an entire day thing but rather some hours outing. But definitely worth it, to bring in the new year with some icy cool vibes.
8. Party amidst great food and music at Hard Rock Cafe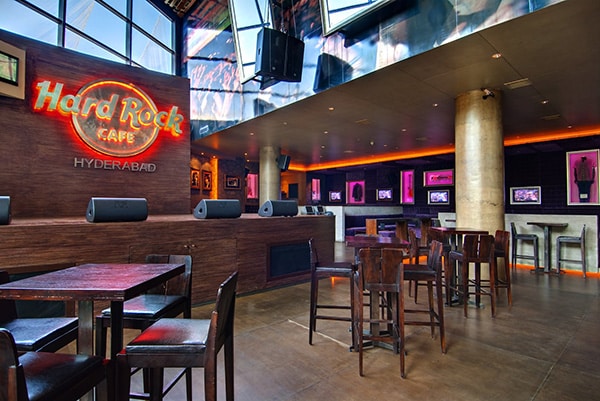 To enjoy a great New Year Party in Hyderabad, you can go to the Hard Rock Cafe. The cafe, a worldwide franchisee, boasts some of the most wonderful artists, live music, and amazing DJs. 
The vibe here is enhanced by its large dance floor and dining area along with the lip smacking food. 
The burgers and fries served here are probably the best in town along with excellent service, music, and ambiance along with the best rock songs collection to sway to. 
The combination of food, cocktails, mocktails, live music and fantastic vibes along with a super friendly and prompt, well mannered, and efficient staff are just perfect to spend your New Years' Eve here.
9. Connect with nature at the Ethipothala Falls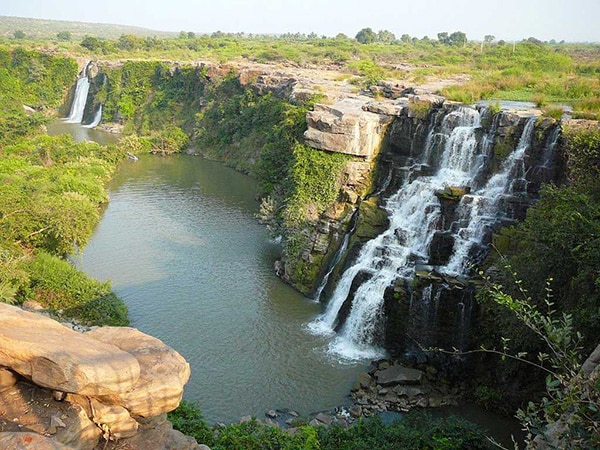 An absolutely beautiful spot to experience the cascading waterfall from a height of 21 meters, creating a mini plunge pool, surrounded by lush greens, located near the Nagarjuna Sagar highway, near the Amranadh Tiger Reserve Forest. This place is perfect to bring in the New Year amidst nature, beauty, and adventure.
A roughly 3 hour drive from Hyderabad, restaurants and small shops are available for food and snack options. A government approved resort; Haritha resort is just beside the waterfall; in case camping is not your thing.
Ethipothala Falls is famous for its trekking and camping. Many surrounding resorts organize adventure camps and stay in tents amid nature. Activities like boating in the plunge pool, rappelling, and river crossing are offered. 
The Ethipothala Falls is apt for bringing in the new year amidst peace, calm, and adventure and most of all, under the stars, one with nature.
10. Throw a house party at Home Sweet Home
In case you are a homebody and would like to avoid the noise and fuss of New Year's and instead would like to spend some quality time with your loved ones and friends to usher in the year, then hosting or attending a house party would be perfect for you.
Bring out your grill and have a barbecue night or simply order a take away (please pre order if possible in case of a big group) and simply polish your gaming, singing, and dancing skills to showcase your talents.
Arrange props for a fun photo booth or enjoy a game of Tambola with everyone present irrespective of age and gender, you might even discover some hidden 'Indian Idols', 'Disco Dancers', or 'Stand-Up Artists'.
After all the excitement drains everyone out, simply dim the lights, tune into a good movie or series (Home Alone and FRIENDS top my list) and pass on some popcorn and soft drinks and let the new year begin on a beautiful note amidst the company of loved ones.
PS: Do arrange for goodie bags or gifts (diaries or planners make for fantastic gift options) and exchange them at midnight for feel good vibes, coz who doesnt like a present?
Hope this list helps you to plan out and celebrate New Year's in the best possible way in Hyderabad with your family, friends, and loved ones.
Have a rocking 2022 and wishing you and your family and friends an amazing 2023 in advance! May the year ahead brings in loads of happiness, love, and luck. 
See you on the other side!
PS: Please remember to keep your and the safety of your family and group as a top priority. Please do not drink and drive and take all the necessary precautions to be safe and also to protect the safety and dignity of others around you.