Christmas is associated with fun, merriment, laughter, and cheer. With the holiday season beginning that time of the year, the most excited and looking forward to Christmas is no one else but KIDS.
Hyderabad, the city of palaces and history, now has become a metro city with tech hubs and educational institutions. The places in and around Hyderabad have been revamped and lit and have brought something that caters to all age groups for a celebration.
Right from baking Christmassy goodies to decorating a Christmas tree, Hyderabad has something to offer to people of every age. Listed below are my favourite Kids Friendly Things To Do This Christmas In Hyderabad.
Visit the Golconda Fort
Watch a Christmas Movie
Bake Christmas Goodies
Escape from an (Escape)Room
Catch the Thrills at Wonderla Amusement Park
Shop Till You Drop at Inorbit Mall
Explore and Learn at the Cars Museums
See the unseen universe at the Birla Planetarium
Experience the Chills at Snow World
Chill and Enjoy at Home
Visit the Golconda Fort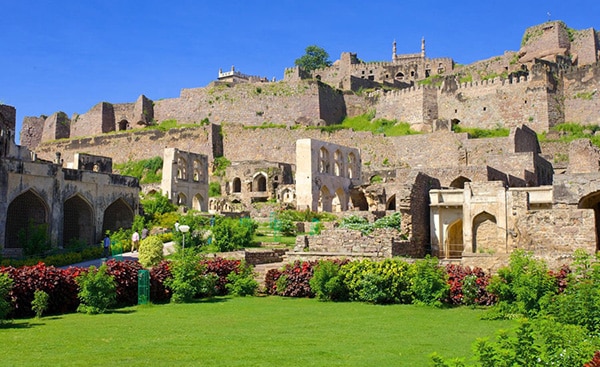 Get your kid to learn their city's history and pride by taking them on a visit to the Golconda Fort. The fort is a beautiful structure and home to amazing architectural wonders.
There is a place at the entrance where if you clap you can hear the echo right at the top of the palace, it was a way of alerting the palace of the impending dangers or of someone's arrival in those times. The kids will get to learn about the intelligence and brilliance of their ancestors with pride.
There is also a whispering wall that enthralls the kids where you can hear only within two steps and if you go any further the sound cannot be heard. Hire a guide for the kids to learn about the facts and brilliance of the Golconda Fort.
PS: Don't miss the light and sound show at the fort.
Watch a Christmas Movie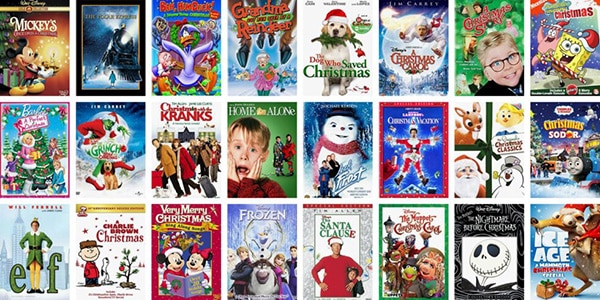 Christmas celebrated at home with the entire family in tow cuddled together watching a movie is an absolutely surreal and complete feeling.
Dim the lights, throw in some cushions and blankets, and put on a playlist of Christmas movies in tandem as there's nothing better than a family Christmas movie night.
Team up in matching loungewear, get some Christmas treats and goodies, and throw in a bowl of popcorn and a cup of hot chocolate with marshmallows to make the Christmas movie night even more memorable as your kid's face lights up with happiness and warmth.
Frozen, Baby's Day Out, Home Alone, Jack Frost, and Jingle All The Way are some of my Christmas movie recommendations for kids and adults alike.
Bake Christmas Goodies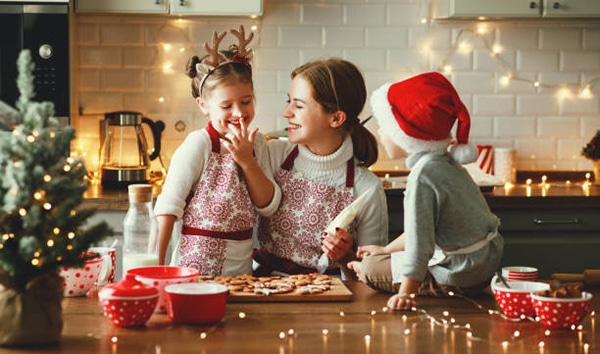 Along with the decor, outfits, and gifts, kids are extremely excited about Christmas goodies and treats.
If you have the time and inclination you can put on a youtube video and involve yourself and your kids and whip up some festive cakes, cookies, and pies. Or you can simply send your kids for a Christmas treats workshop happening around you so they can also get first hand knowledge and experience of creating something on their own.
The feeling of happiness and pride on their faces will be something else totally, when they serve you their hand made creations.
If none of this is possible, simply order some yummy delectable Christmas goodies from Karachi Bakery (numerous outlets), Trio La Patisserie (Secunderabad), Flavoroso (Kokapet, Hyderabad) for delectable and lip smacking treat for your kids, and the entire family.
Escape from an (Escape)Room
I'm sure most of you are familiar with the concept of Escape Rooms, in case you aren't Escape Rooms are generally timed at 60 minutes where you and your family/friends/group will be locked in the room; and to leave or escape the room you would be required to solve puzzles, riddles, and codes within the time frame.
Escape Rooms are also an ideal venue for a birthday party for kids and adults alike and also for a team building session.
An Escape Room serves as a perfect family outing where the entire family joins in together to solve puzzles and crack codes collectively to escape the room. It promotes a feeling of oneness and importance amongst the children where they feel their ideas and opinions are equally relevant, valued, and important.
PS: Head out to the Lock N Escape Room in Hyderabad for a fabulous escape room experience. The plus is their in house cafe which serves lip smacking food; an add on after your escape room thrilling experience with your family and kids.
Explore fun and creative alternatives to escape rooms.
Catch the Thrills at Wonderla Amusement Park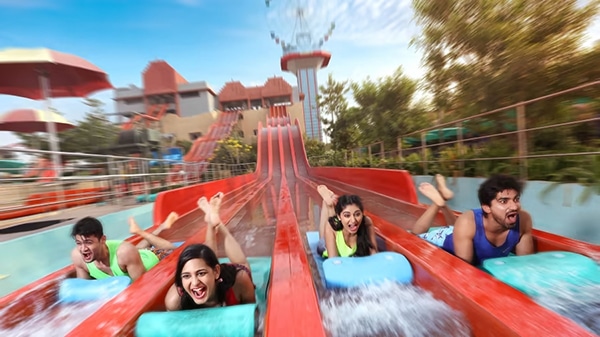 One of the best adventure parks in Hyderabad, Wonderla Amusement Park has a lot to offer everyone right from water slides and rides, kids areas, roller coasters & a huge Ferris wheel atop a huge tower.
The park is a mix of both land and water games and rides. If your kids love water, they can carry their swimwear and avoid the charges of renting them and enjoy the water park slides and the wave pool.
Some of the park attractions suitable for all are Water games, Wave pool, Rain dance, Water slides, Global Space station, Train rides, Crazy car, Wonder splash, Car dashing, Wavy, and vertical fall, Lazy River Splash, Uphill Racer and the sky wheel.
PS: The park is a little steep on the pockets as the ticket price only includes rides. Food and snacks are additional expenses. Weekdays and weekends prices differ.
Shop Till You Drop at Inorbit Mall
The Inorbit Mall in Hyderabad is one of the oldest malls in Hyderabad and has everything under one roof. It is an amalgamation of shopping and fun activities for adults and kids.
Along with the numerous shopping outlets to enjoy the holiday season discount and offers you and your family with the kids can enjoy delicious food and desserts from the numerous food outlets and get the adrenaline pumping by playing some games in the game zone or simply catch a movie with the entire family at the multiplex.
Smaaash Gaming Arena is most famous in Inorbit Mall for the range of activities it offers for all age groups, adults and kids both. The entertainment arena has games like Pacman, E-claw, King of Hammer Dx, Super Bike, and tonnes of arcade games. You can play a family game of Bowling with your kids or bring out the batsman or bowler in you in the Cricket nets. You can also play virtual games with your kids and cheer them on.
Explore and Learn at the Cars Museums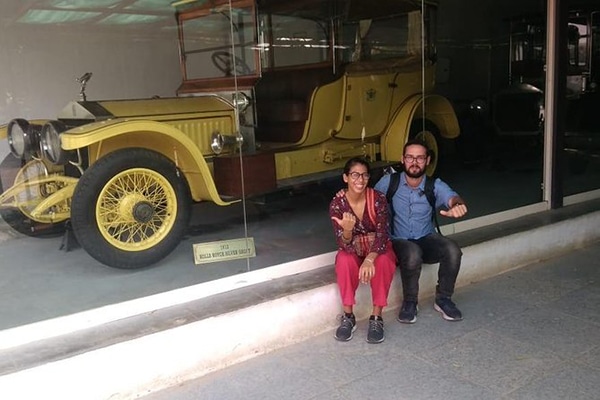 Kids and Cars have always been an amazing combination.
The Sudha Car Museum in Hyderabad will prove to be a fun visit this Christmas. There are cars, bikes, scooters, and old vintage cars in every shape and size. Some of the cars are shaped like a bed, a cake, a shoe, an insect, a purse, a bat, a lipstick and there is a new addition post the pandemic in the shape of the Corona Virus.
The museum has interactive displays which are extremely popular with the kids. The best out of waste concept is implemented well and teaches the kids about recycling and reusing.
The tickets are priced extremely nominal and the cars and bikes make for a great photo spot.
PS: There is also a fish spa there.
See the unseen universe at the Birla Planetarium
The Birla Planetarium in Hyderabad is one of the country's most advanced planetariums since 1985. It is one of the places in Hyderabad that should definitely be visited by adults and kids and marvel at its incredible sound quality, display, and loads of information provided.
The museum acquaints us with the latest information about the Universe and also about the various theories surrounding it. It also updates us about the recent technology and progress made by mankind. It entertains and educates the kids.
The dome of the museum and the Sky Show is the special attraction of the planetarium. The Sky Show is held in English, Hindi, and Telugu languages and covers the topics in depth with simple language and pictures; making it easier for the kids to understand.
PS: Kids below 4 years of age aren't allowed for the sky show.
Experience the Chills at Snow World
To get the feel of Christmas staying In Hyderabad, Snow World is the ideal place to be.
It's the first snow-themed park in India and is enjoyable for adults and kids alike. There are different games and activities such as ice skating, ice boarding, snow slides with bumping-car, toboggan rides, and provides the experience of being in a snow-clad hill station with snow falling from above.
You can play games like Snow volleyball, Snow Merry-Go-Round, Snow basketball, and Snow Dancing here and enjoy seeing the Snow sculptures and Mountains too. There is a special play area for kids and a separate section called the Iced Zone that showcases igloos, and alpine trees along with simulated polar bears and penguins.
PS: They provide jackets, gloves, boots, socks, etc, and provide free lovers to keep your valuables.
Chill and Enjoy at Home
The easiest and most hassle free way to spend Christmas with the kids would be at HOME.
Simply chill and relax or if you like organising and redecorating this would be the perfect time to do it with everyone in tow.
Spend your hours interacting and bonding with each other, playing board games, reading books aloud, going through family albums and pictures, writing letters to Santa, decorating your Christmas Tree and hanging stockings, or simply going for long walks in a park near you, there are tons of things that you and your kids could indulge in at Home.
You and the kids could make home/hand made gifts for everyone including the grandparents. It could simply be a card or if your kids are creative you could recycle wooden boxes and make a jewelry/utility box. This teaches the kids that Christmas is not only about getting gifts, but also offering them to our loved ones.
---
You would want your kids to look back at Christmas and remember it with warmth, love, and joy.
Hope my Top 10 Kids Friendly Things To Do This Christmas In Hyderabad. Hope it resonates with you and makes your and your kid's Christmas more memorable and fun.
Merry Christmas!