The COVID pandemic that hit us in the year 2019 has made us face some harsh realities. Enclosed or confined within the four walls of your home, life kept moving on and didn't stop for anyone. 
Right from routine chores such as buying groceries/food to education, everything was now virtual to avoid direct contact and avoid the spread of the deadly virus. Work also now became famously referred to as Work From Home (WFH) and has become the norm of the day in the virtual world. Many institutes and workplaces have made WFH possible and feasible for many even today after normalcy has returned. 
The only hitch is the lack of physical interaction and physical team building activities amongst employees and co-workers that helped in effective communication and building a strong bond among coworkers. 
The solution to all the online work related problems is virtual games for team building activities.
Just like work is done virtually, similarly bonding over team-building activities is also now taken care of online. Such activities offer a break from the day to day mundane routines and help in creating a positive and happy team of employees and employers. Everyone gets some non-work time to engage with their colleagues over some group exercises, games, and challenges.
Listed here are my top 10 simple and quick virtual team building activities in India:-
1. Meditation Sessions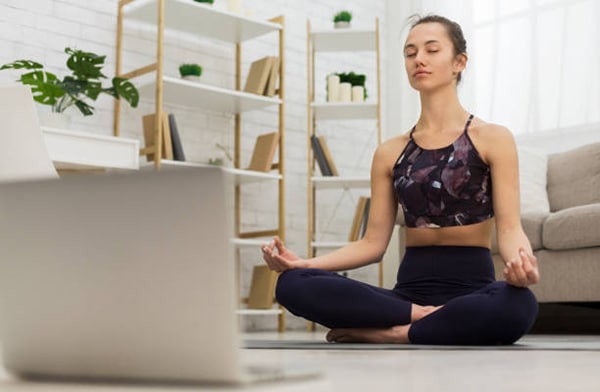 Everyone deserves a break from the virtual world and from life, in general, to embark on a soul-searching session. Meditation is of utmost importance to keep the mind and the body calm and renewed and has extremely positive results and outcomes.
A virtual guided session from a well-known wellness practitioner can be arranged for all the workers at a fixed time and breathing and meditation techniques can be collectively learned and imbibed by all. 
The meditative sessions can be added into the daily routine of the team as well; pre or post lunch, to enable a little hiatus from the virtual world.
Explore corporate team building activities virtual and physical.
2. Online Karaoke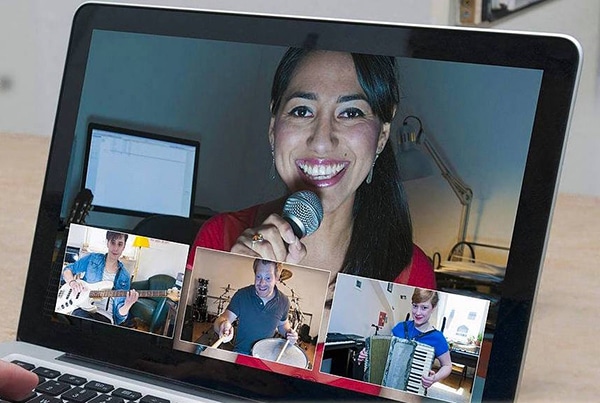 Well, who doesn't like to exercise their vocal cords? If you too are like me and would love to bring out the inner singer/performer in you and showcase your talent to your team, then arranging a no-fuss online karaoke would be a brilliant idea.
Your headsets or microphones can serve as your mics and you can get a chance to acquaint your team and colleagues with your favourite songs, artists, and musicians along with them getting to hear you in sync (or without).
An absolutely stress free game, where there would be no presentations or reports in the background. Just sing along with your team and enjoy a virtual session full of melody and fun.
Explore fun games in office on Fridays in India.
3. Online Dance Party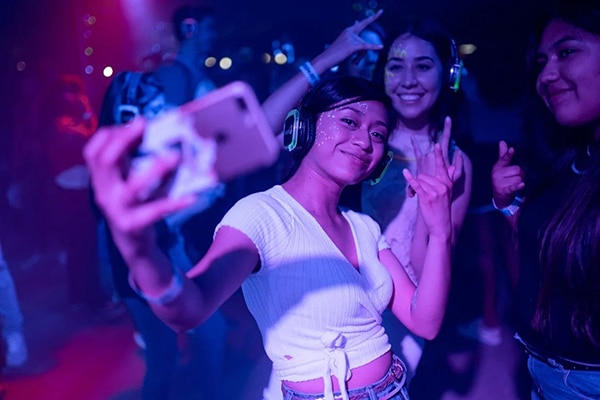 Just like online karaoke, an online dance party would be a super fun idea. A dress code or colour code can make this event even more interesting or you could also all dress up in your company's logo colours.
The participants can dance alternatively after each other or a pre-decided list can also be prepared beforehand and everyone can perform accordingly. If anyone's too shy or has two left feet, they can be comfortably asked to join in a group performance or can definitely cheer for their participating team members. 
You could have a selected playlist and groove or to make it more quirky and surprising, a shuffle playlist with random songs can be played, getting the team members thinking impromptu on their feet. 
After all who doesn't like a little bit of surprise!
More creative virtual team building activities.
4. Know Thyself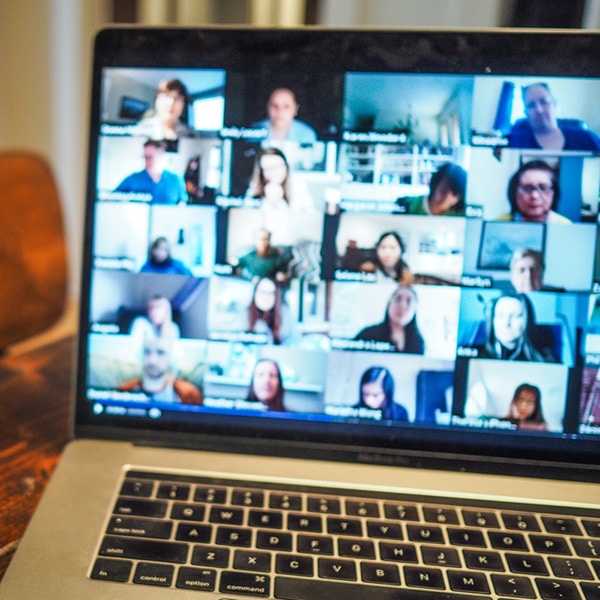 Many a time it so happens that the colleague whom you meet daily for so many years are total strangers to you on the personal front. All you know about them are their work skills and qualifications and nothing more besides that. 
Isn't that a really sad thing, that with whom you spend most of your time are probably strangers? The Know Thyself game is apt for breaking the ice and getting to know each other as more than just work mates or team members. 
Each person can name their favourite things/food/movies etc corresponding to the letters of the alphabet or every participant can prepare a timed video about themselves, their favourites, their home, etc so others can get a peek at their lives and personalities of them outside from work.
Sure, this is not the best virtual icebreaker but a sure way to know your colleagues and form a bond that might be fruitful outside of office hours.
5. Escape Rooms
Shocked! How would anyone play an escape room game online and that too with fellow team members?
I'm sure everyone is well aware of the physical escape rooms. A team or group can book a room and are then locked together. In order to escape the room, they need to complete some tasks or activities within a certain time frame. 
Among the other virtual team games, escape rooms are extremely fun and competitive both, solving mysteries like puzzles, riddles, and clues can help each team escape. A fabulous concept that is gaining popularity in India and is also considered as one of the best team building activities.
Virtual escape rooms like their physical counterparts offer the teams a virtual room where collectively they need to solve the clues to complete the riddle/puzzle. Along with being fun, these virtual rooms also help in sharpening critical thinking and decision making skills The games can be competitively played or just enjoyed by themselves for some good 'ol fun.
This is a surefire and fun virtual team building activity! Check out Lock N Escape for hosted virtual team building activities.
6. Workout/Exercise Session
Sitting long hours in front of your devices for work can take a toll on your body and health, with little to barely any physical activity that is undertaken in the confines of your home. Blame it on work pressure or the erratic schedule, everyone is day by day becoming lethargic and dull. 
A workout/exercise session is just what would be needed to flex those muscles and get them moving in place. At a particular time every day, these sessions can be undertaken with the help of a professional workout trainer/instructor. 
These sessions would help in keeping the morale of everyone alive and energetic; along with providing your team with the much needed physical exercise that would not only allow you to destress but also keep your morale high and excited for work the next day. 
Discover virtual tours around the world.
7. Book Club
Ok! So this one is not exactly everyone's favourite. I know not everyone likes to read, but who said it only has to be restricted to novels/books or should involve literal reading?
A virtual book club can be about discussion of any book and the ideas and inputs about the takeaways from that particular book and recommendations on similar lines/genres can be made. Ideally, a common book is selected and everyone reads it and then discusses the book; like in a book reading club.
In case you want it to be a more inclusive session, the books chosen can be of different genres, non-fiction, or can even talk about magazines or journals related to your and your team's line of work, current affairs
8. Team Quiz
Nothing beats this team building event – a session of Q & A and if it's made competitive; team-wise, well you can see all the guns blaring. After all who doesn't like a bit of healthy competition?
Questions related to the company and its history can check your factual knowledge about your firm, and questions related to your work and work skills can help many team members in learning something new and informative, benefitting them.
Questions and fun facts about all the team members can be gathered and asked. The members need to guess the person it relates to. This gives a chance for everyone to know each other at a personal level; albeit virtually and grow closer.
Such activities encourage the team members to work collectively as a team and get to know each another better. You can also do a virtual trivia game event, if quiz sounds boring much.
Other team building ideas.
9. Scavenger Hunt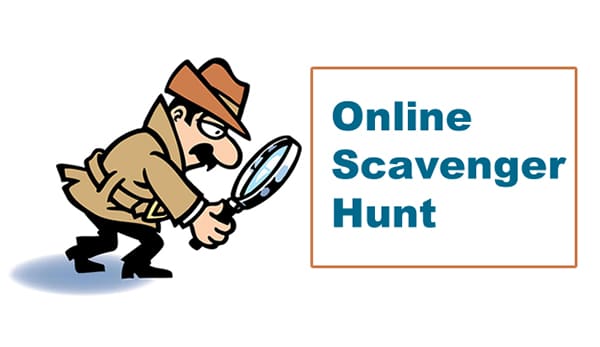 Another amazing virtual team event – Scavenger Hunt like the name suggests is the age-old game that we've played numerous times as kids. The host would call out the name of any items or objects in your home and the one who retrieves it and displays it on screen would be declared the winner. 
This game can be played both, individually and also a team. This is a fun activity that gets everyone rushing out of their chairs and hunting about in their own homes. 
The help of family members can make this game more inclusive and super fun and also let the team members meet each other's family/friends virtually. The individual or team who finds the maximum items win.
10. Talent Show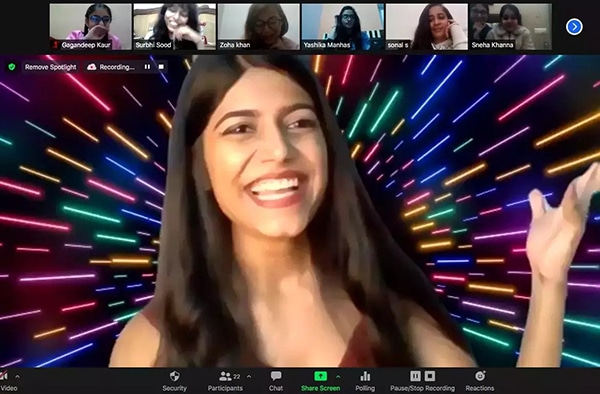 Among the other virtual team building exercises, this activity surely needs no introduction.
The most popular and common competition that everyone loves to be a part of is the Talent Show. A virtual show like this can help team members to know about each other outside of work and learn about the many talents and qualities of their fellow colleagues.
We might encounter lyricits, painters, event managers, dancers, in the making authors, singers or excellent orators during this virtual event where each displays their skills to the fore for everyone to see and acknowledge.
Applauding, encouraging and cheering for everyone makes this event even more spectacular and creates a sense of team building and belonging in the organisation.
Explore more virtual / remote / online team games and team building activities.
Hope you and your team members have a fun and bonding time indulging in my favourite Top 10 Virtual Team Building Activities In India.