Searching for the perfect Hyderabad venue to host a fun team event?
Struggling to pick between thrilling adventure activities and relaxing retreats for your group?
We've got your back.
Over the years, we've hosted an array of corporate and team events, gaining a deep understanding of what creates memorable bonding experiences.
And based on our experience, we decided to pick out the top 10 team building venues in Hyderabad.
From indoor group adventures like escape rooms and bowling to relaxing and rejuvenating resorts, this is a selection you'll be hard-pressed to resist.
Lock N Escape Escape Rooms (That's us!)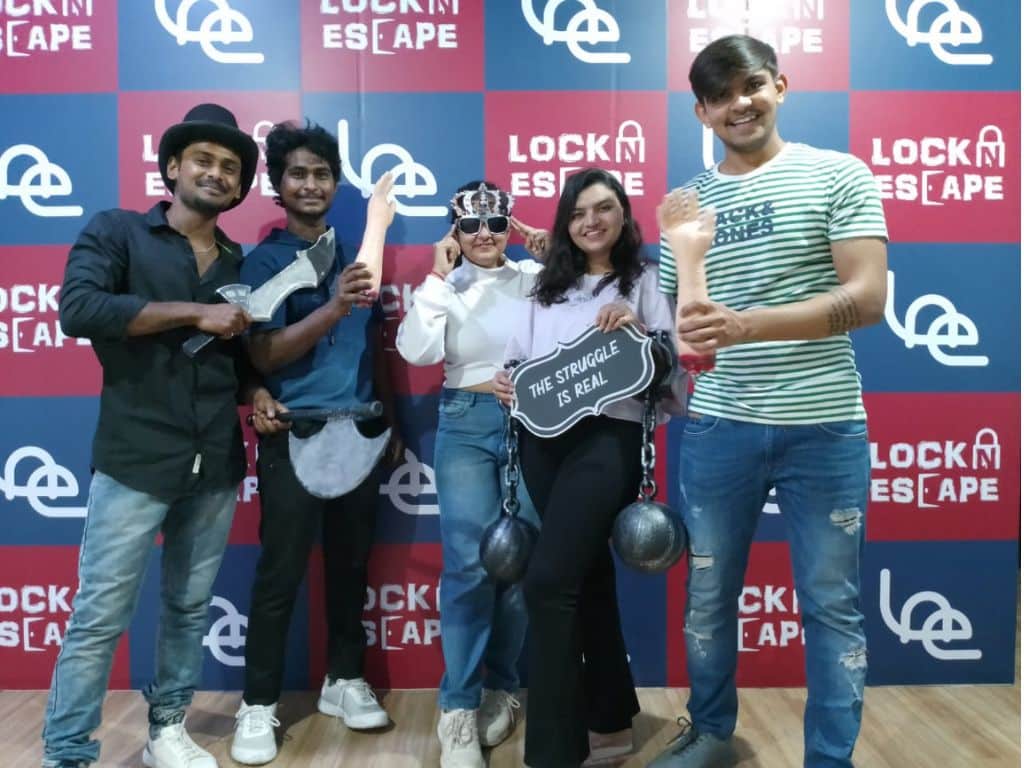 As the best team building company in India, we at Lock N Escape pride ourselves on providing an immersive and exciting escape room experience right in the heart of Hyderabad's Banjara Hills.
Our venue is more than just a corporate team building destination; it's a complete entertainment hub.
With six distinct escape rooms, your team can either tackle the challenges in an Avengers-themed game, navigate their way out of a hurricane, or even strategise an escape from the US President's office.
Whether you're a local, a tourist, or simply searching for the best team building venue in Hyderabad, Lock N Escape is your go-to.
And it's not just escape rooms – we have many more games that your employees and group members can enjoy – foosball table, darts, board games, and much more!
Want to recharge mid-way or end the activities with a bite or two? Check out our fun-filled café!
Visit the home page – superfun escape room in Hyderabad!
Axe Throwing India
The image is taken from their website.
Bring out your inner warrior and step into a thrilling, one-of-a-kind experience at Axe Throwing India.
Nestled in Madhapur, this unique facility is the first of its kind in the entire country, ready to put your axe-throwing skills to the ultimate test on real wood.
It's more than just an exercise in strength – it's an excellent way to de-stress after a gruelling week, a chance to engage in some friendly competition with colleagues, family, or friends.
Unleashing the axe on the wooden target doesn't just help you unwind, it also fosters camaraderie and teamwork, making it a unique addition to the top indoor team games in Hyderabad.
Visit their website.
SMAAASH Hyderabad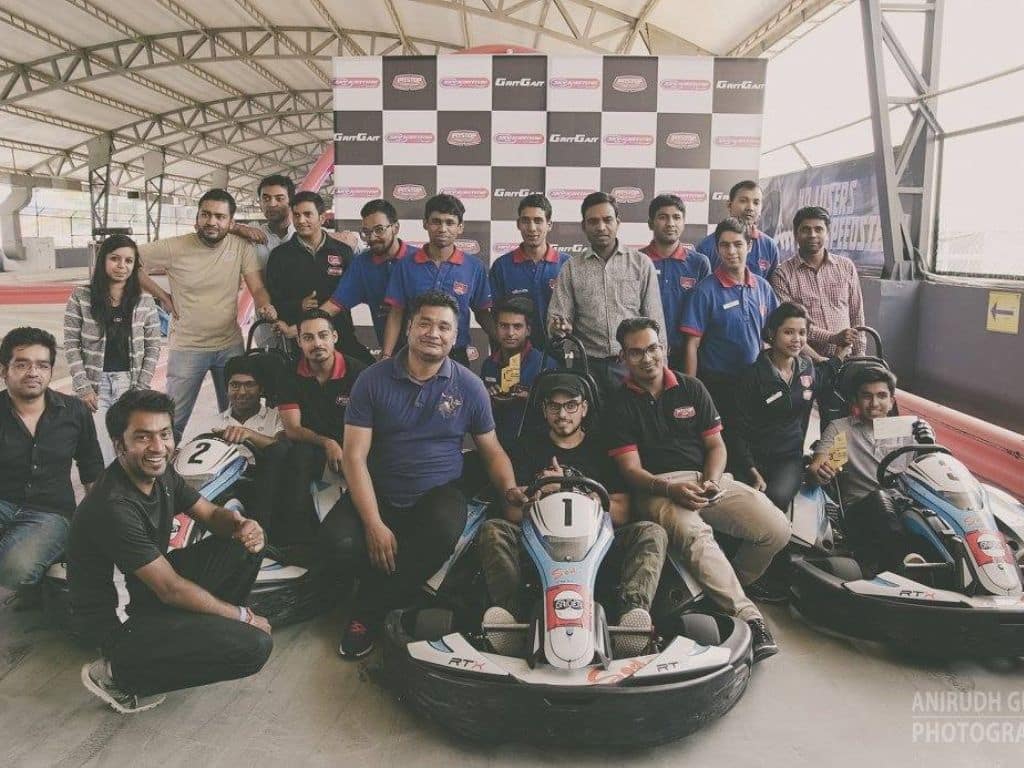 The image is taken from thwir website.
SMAAASH Hyderabad invites you and your colleagues to immerse yourselves in a host of interactive and thrilling activities.
This venue redefines sports and recreation by providing an array of attractions that cater to every member of your corporate team.
Step up to the pitch with 'SMAAASH cricket', a one-of-a-kind 360-degree cricket simulator that lets you challenge legendary bowlers like Brett Lee and Lasith Malinga.
But it's not all about cricket; the adrenaline-pumping bowling experience and the 'Fly-Max' virtual reality hang gliding offer equally thrilling and engaging team building games for employees indoor.
SMAAASH doesn't just redefine sports entertainment; it takes it to a whole new level, making it a standout in our list of fun activities for team building in Hyderabad.
Visit their website.
Looking for a weekend group outing? Check out our blog post on Hyderabad's best weekend getaways!
Laser Shooter
Laser Shooter offers a unique and exhilarating team outing experience with its dynamic Laser Tag games.
A proven hit among corporate teams, Laser Tag is not just about fun – it also cultivates essential skills such as teamwork, communication, and strategic thinking.
With over a decade of experience catering to corporate teams, they have crafted one of the best activities for corporate outings in Hyderabad.
The collective thrill of pursuing objectives, overcoming challenges, and, of course, dodging lasers makes Laser Shooter an unbeatable choice among the best group outing venues in Hyderabad. It's more than just a game – it's a fun, strategy-filled bonding experience!
Visit their website.
Xtreme Adventure
The image is taken from their website.
Situated merely 26 km from Gachibowli ORR, Xtreme Adventure presents a thrilling destination for corporate teams.
Offering many activities like ATV rides, human foosball, archery, and rifle shooting, it excels in blending adrenaline with team bonding. An ideal team outing at Xtreme Adventure transcends the confines of office cubicles, promoting both personal growth and collective camaraderie through engaging challenges.
Its strategic location, coupled with a broad spectrum of activities, secures its place among the best team building venues in Hyderabad.
Visit their website.
Did you know we are the first – and perhaps only – escape room in India to offer 80-minute games? Visit our on-site escape games page for more information!
Novotel Hyderabad Convention Centre
If you're seeking a sophisticated venue for your next corporate team building event, look no further than Novotel Hyderabad Convention Centre.
This location offers an extensive range of facilities, from board rooms to banquet halls and elegant ballrooms, accommodating any team building games for employees indoor.
Novotel ensures all your professional needs are met, with state-of-the-art audio-visual support readily available 24/7 at the property.
This dedicated service ensures a quick turnaround and top-notch execution for any conventions, conferences, social events, live shows, or trade shows.
Novotel Hyderabad Convention Centre is a prime choice among the top 10 team building venues in Hyderabad.
Visit their website.
VRcafe
Stepping into the future of team building activities, VRcafe presents a unique offering. As the first cafe in India to focus solely on Virtual Reality (VR) gaming experiences, VRcafe invites office groups to immerse themselves in interactive 3D worlds.
Harnessing state-of-the-art VR headsets and high-performance personal computers, this venue has revolutionised the concept of team outings.
Teams can either book an appointment online or reserve their VR machines at the front desk.
Plus, the venue caters to your refreshment needs with a range of snacks and beverages.
With its pioneering approach, VRcafe comfortably finds its spot among the top indoor team building venues in Hyderabad.
Visit their website.
You can also avail of our virtual escape games!
The Hidden Castle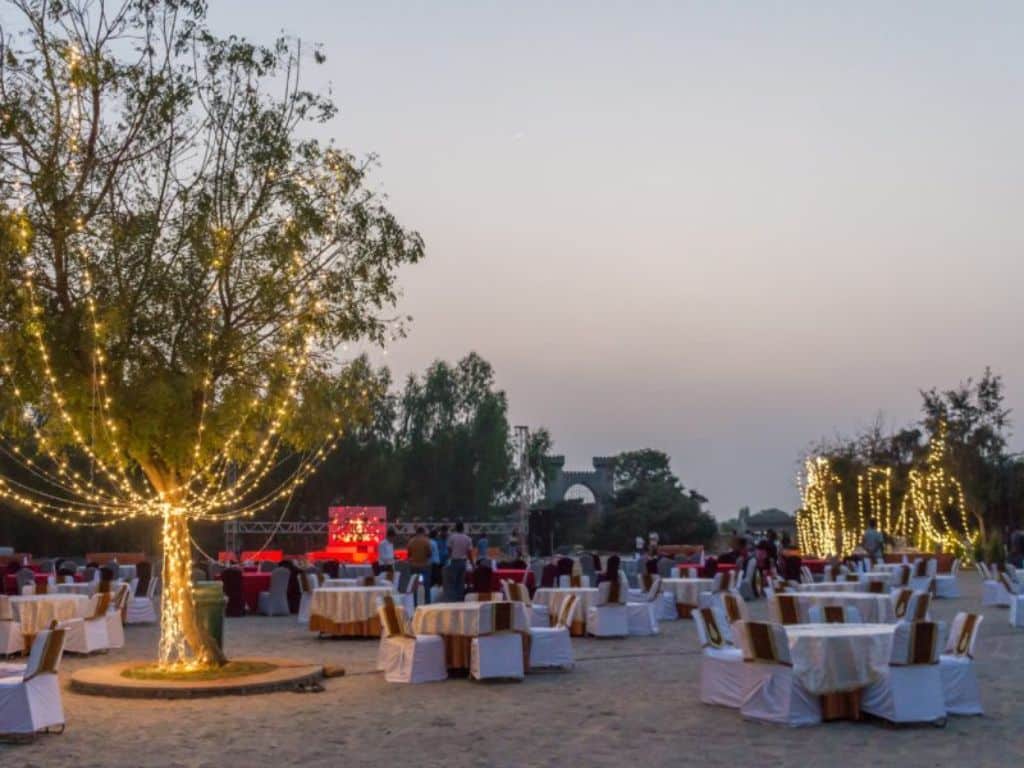 The image is taken from their website.
You can expect the perfect blend of royal elegance and team-building excitement at The Hidden Castle.
A castle-themed resort, it presents majestic rooms and grand suites for a unique corporate retreat.
The Castle offers many adventure-filled outdoor activities and sumptuous dining, catering to a diverse range of interests and tastes.
Whether it's a formal corporate event or a relaxed team workshop, The Hidden Castle assures top-tier services with a proficient event management team at the helm, making your event a remarkable success.
With its enchanting charm and excellent services, The Hidden Castle is truly among the best group outing destinations in Hyderabad.
Visit their website.
Deccan Trails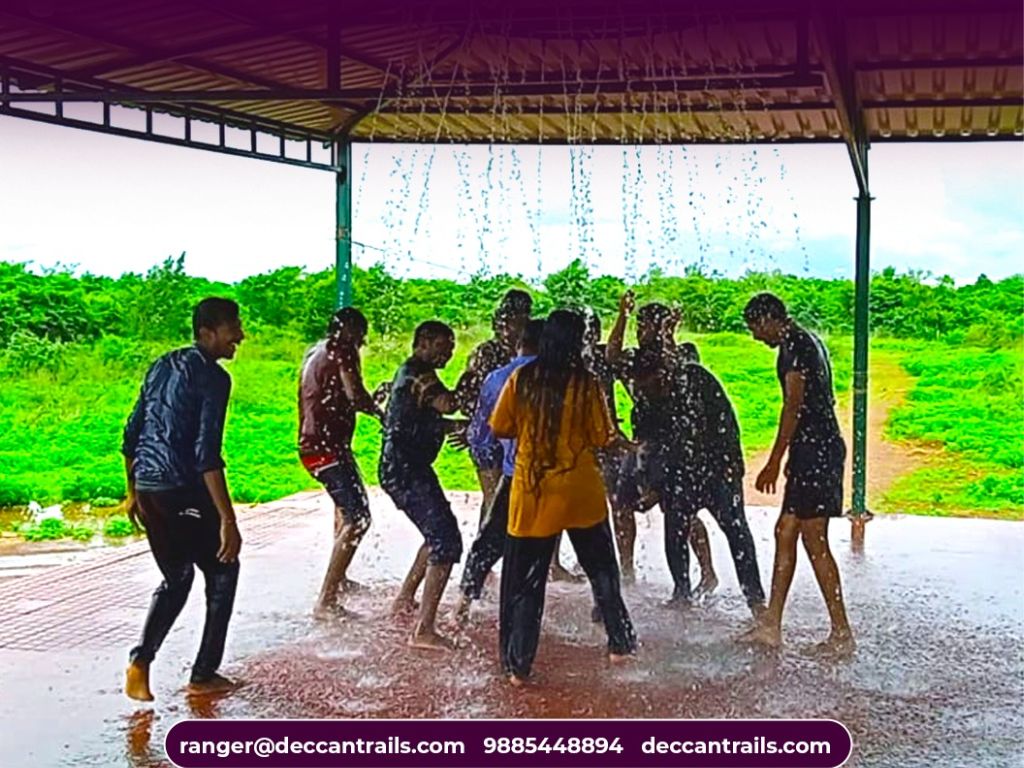 The image is taken from their website.
Presenting Deccan Trails – a harmonious fusion of adventure activities and serene camping in Hyderabad.
Nestled in the tranquil Anantagiri Hills, Deccan Trails promises an escape from the daily hustle, just an hour's drive from Hyderabad's outer ring road.
This retreat encapsulates the beauty of mother nature, offering an idyllic setting for colleagues to foster camaraderie and collaboration.
The venue is committed to promoting a healthy mind and body while encouraging the enjoyment of nature, making it a distinct choice for team-building excursions. Its mission and vision align with the very essence of team building – unity, balance, and fun.
No doubt, Deccan Trails stands tall among the best team games and group outing venues in Hyderabad.
Visit their website.
Lahari Resorts
Immerse in the richness of local culture, elegantly fused with contemporary decor at Lahari Resorts.
Renowned for outstanding hospitality, this luxury resort exceeds guest expectations, providing an unrivalled team building experience.
The novel concept of intuitive anticipatory service ensures an unmatched guest experience, making it a preferred choice for corporate teams from around the globe.
Combining modern style with new-age amenities, Lahari Resorts provides a harmonious blend of services essential for fostering team spirit.
Without question, Lahari Resorts easily makes it to the list of top group outing venues in Hyderabad.
Visit their website.
Best team building venues in Hyderabad – a final word
As is evident, Hyderabad abounds with diverse indoor team building venues and enticing outdoor group activities.
With everything from immersive escape rooms and futuristic gaming cafes to tranquil campsites and luxurious resorts, our vibrant city has got it all.
Now, the choice of a team building venue primarily depends on the unique requirements of your group and the preferences of your team members.
But if you're seeking a seamless blend of excitement, challenge, and camaraderie, look no further.
Although we may be a bit biased, it's worth mentioning that Lock N Escape stands as a top contender for the best team building venue in Hyderabad.
We're not just saying it, we're backing it up with countless successful events and satisfied corporate teams. So why wait?
Get a taste of the Lock N Escape experience by exploring our range of events. Or dive straight into planning your unforgettable corporate event in Hyderabad.
The perfect blend of fun, challenge, and teamwork awaits your team at Lock N Escape. Book your event with us today and experience team building you never have before!