Making Navratri plans with friends in Hyderabad? We know how challenging it can be to find the perfect activities that capture the essence of the festival.
But don't YOU worry!
As a local business in Hyderabad, we've curated a day-by-day guide to ensure you and your friends have an unforgettable Navratri experience.
Dive in and let the celebrations begin!
Day 1 (Ghatasthapana) – Temple Visits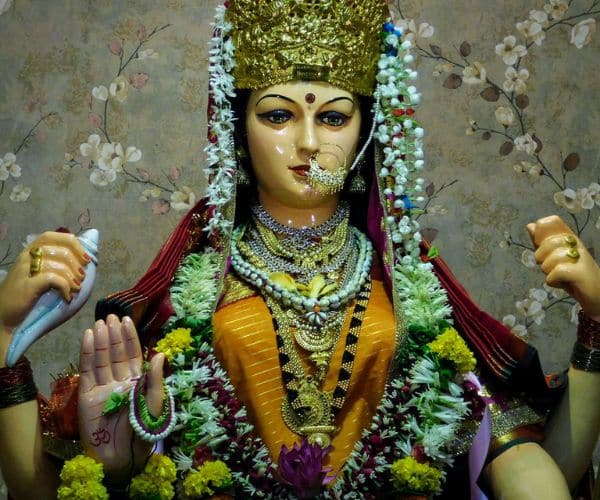 Representational image.
Starting Navratri with a visit to temples dedicated to Goddess Durga sets the tone for the nine days of devotion and celebration.
In Hyderabad, the Birla Mandir, perched atop the Naubath Pahad, offers a serene environment and a panoramic view of the city, making it a perfect spot to soak in festive vibes with friends.
The Karmanghat Hanuman Temple, one of the oldest in the city, and the Chilkur Balaji Temple, often referred to as the "Visa Temple", are also must-visits during this time.
These temples not only provide a spiritual experience but also offer a chance to engage in activities like participating in the evening aarti, accepting prasadam, and enjoying the beautifully decorated premises with your friends.
Day 2: (Dwitiya) – Explore the Charminar Area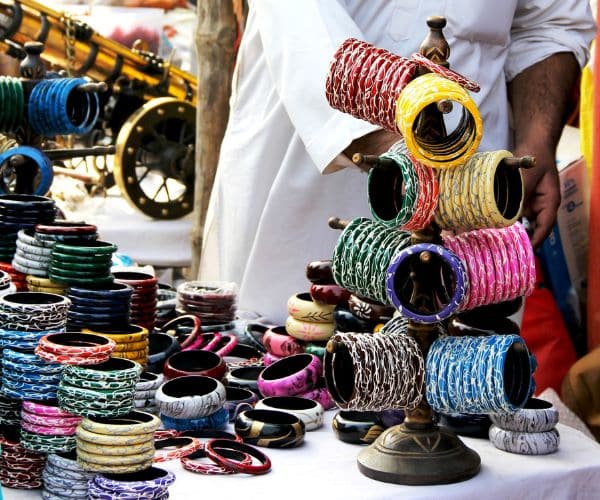 Enjoy yourself in the local markets, especially Laad Bazar! Representational image.
The Charminar, with its majestic arches and rich history, stands as a testament to Hyderabad's glorious past. As Navratri gains momentum, there's no better place than the Charminar area to immerse oneself in the festive spirit.
The nearby Laad Bazaar is a treasure trove of colorful bangles, traditional attire, and intricate jewelry, making it a delightful shopping experience during the festival. And if you're looking for more festive activities in October, exploring the top Hyderabad Halloween activities can be a thrilling experience.
Strolling around, you and your friends can savor local delicacies like Hyderabadi biryani or Irani chai at the many eateries.
Don't forget to capture memories with photographs against the backdrop of the illuminated Charminar, and perhaps even join a local group playing dandiya in the evening.
Day 3: (Tritiya) – Navratri Food Festivals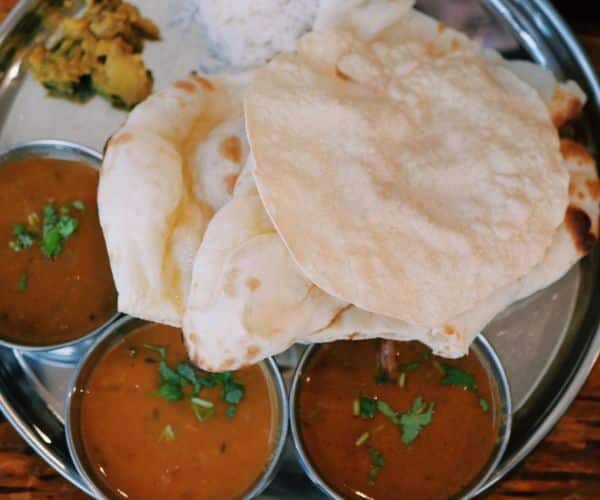 Enjoy mouthwatering delicacies with your friends!
Navratri isn't just about the dance and devotion; it's a culinary celebration too. As the festival progresses, Hyderabad comes alive with food festivals dedicated to Navratri.
These festivals offer a unique opportunity to relish special Navratri thalis, which are a delightful blend of flavors and fasting-friendly ingredients.
Attending one with friends can turn into a gastronomic adventure as you all discover and share new dishes. And if you're looking for more dining options, here are some of the best Hyderabad restaurants to visit with friends.
Besides savoring the food, you can participate in cooking workshops, enjoy live music performances, and even vote for your favorite dish of the evening. With every bite, you'll be tasting a piece of the rich Navratri tradition.
Day 4: (Chaturthi) – Boat Ride at Hussain Sagar Lake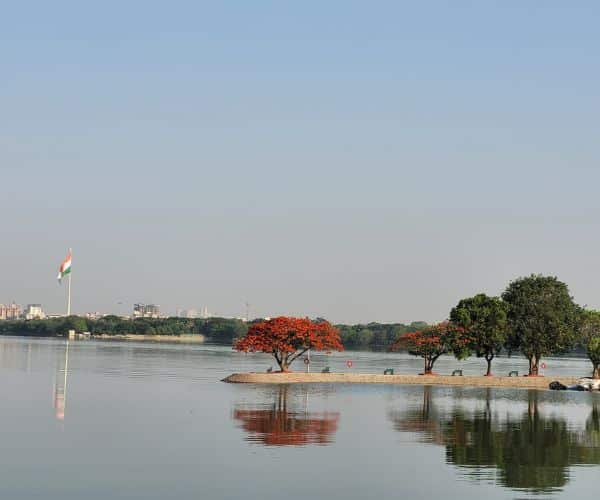 A view of the lake. Isn't it inviting?
Hussain Sagar Lake, with its expansive waters and calming ambiance, offers a perfect setting to take a break from the bustling festivities and reflect on the spiritual essence of Navratri.
A boat ride here, especially during the evening when the city lights shimmer on the water, can be a magical experience. 
With friends by your side, it becomes a moment of bonding and shared reflections. While on the lake, you can also catch a glimpse of the iconic Buddha statue, one of the largest monolithic statues in the world.
After the ride, the lakeside eateries provide a cozy spot to enjoy some snacks, share stories, and plan the next phase of your Navratri celebrations.
Day 5: (Panchami) – Go on an Adventure At Lock N Escape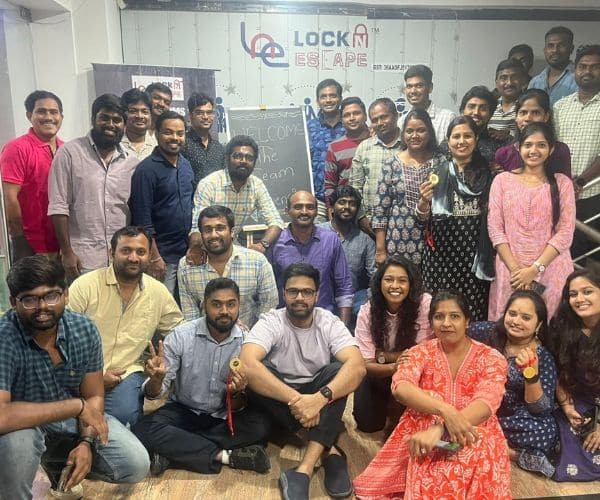 Navratri is half-gone – Head for our escape rooms to mark the date!
Navratri is not just about traditions and rituals; it's also a time to bond and create lasting memories with friends. And what better way to do that than by diving into an exhilarating escape room challenge with us here at Hyderabad's best-loved escape room? 
Located at Banjara Hills in the heart of Hyderabad, our venue offers a unique 80-minute escape room experience, with themes ranging from magic and space travel to supernatural mysteries.
As you navigate through intriguing puzzles and immersive storylines, you and your friends will not only test your teamwork but also strengthen your bond.
After the adrenaline-pumping adventure, unwind at our Imagine cafe, where you can savour a variety of delicacies, from freshly brewed coffee to delicious pizzas, while reminiscing about your escape room experience.
It's a thrilling way to celebrate the festival's halfway mark, ensuring an unforgettable Navratri evening. And while you're in the area, you might want to explore other Banjara Hills attractions that capture the essence of Hyderabad.
Day 6: (Shashti) – Attend Cultural Programs at Shilparamam
Art, crafts, music – everything's possible at Shilparamam! Representational image.
Shilparamam, Hyderabad's cultural hub, comes alive during Navratri with a plethora of traditional dance, music, and art programs.
Attending these events offers a deep dive into the rich tapestry of Indian culture and the significance of Navratri in it.
With friends by your side, it becomes an enriching experience as you all sway to the rhythms of classical dances, get mesmerised by soulful music performances, and admire intricate art displays.
Apart from the scheduled programs, you can also explore the handicraft stalls, participate in workshops, and even try your hand at traditional crafts.
It's a beautiful blend of entertainment and education, making Shilparamam a must-visit during Navratri.
If you're looking for more group activities, there are several fun team-building options in Hyderabad that can make any outing memorable.
Day 7: (Saptami) – Visit Ramoji Film City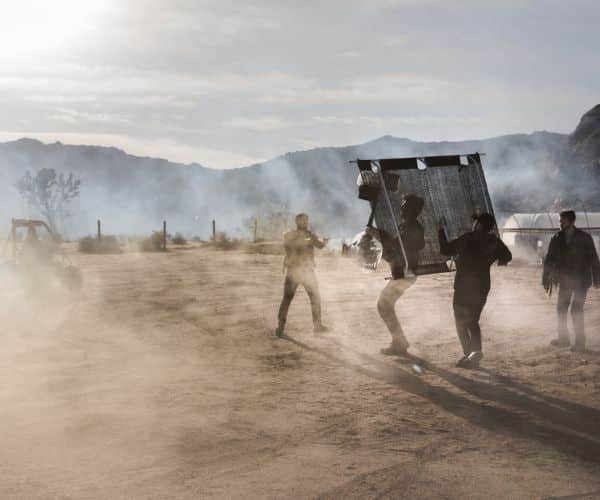 Representational image.
Ramoji Film City, sprawling over 2000 acres, stands as a testament to the grandeur of cinema and is one of the world's largest film studios. During Navratri, the allure of this place becomes even more pronounced.
Visiting Ramoji during this festive season offers a unique blend of cinematic magic and festive fervor. 
With friends, you can embark on a guided tour, exploring the various film sets, from rustic villages to grand palaces, and maybe even catch a live film shoot.
The film city often hosts special shows, events, or themed festivals during Navratri, adding to the celebratory mood.
Don't miss the spectacular bird park, adventure zones, and the mesmerising Bahubali set. And for those who love capturing moments, there are many Instagrammable Hyderabad attractions that can make your feed pop.
It'll be a day of reel and real celebrations, making Ramoji Film City a cinematic treat during Navratri.
Day 8: (Ashtami) – Night/Very Early Trek at Moula Ali Hill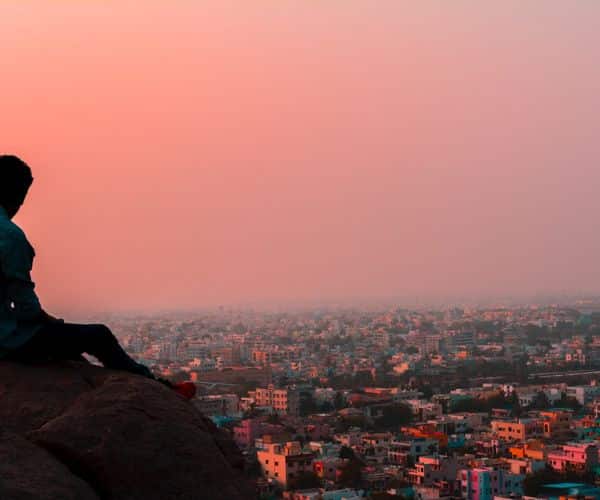 You can expect a heavenly view like that! Representational image.
As Navratri reaches its crescendo, a trek up Moula Ali Hill offers a serene and spiritual way to connect with the essence of the festival.
Embarking on this journey in the early hours, with the city still wrapped in slumber, provides a unique opportunity to witness Hyderabad in a new light.
As you and your friends ascend, the anticipation of catching the first rays of the sun breaking over the horizon adds to the excitement.
Reaching the summit, you're greeted with a panoramic view of the city bathed in the soft glow of dawn, a sight that's both humbling and exhilarating.
While there, you can offer prayers at the Moula Ali Dargah, share stories of your Navratri experiences, or simply sit in quiet reflection, absorbing the tranquility.
It's a moment of introspection and bonding, making the trek a memorable Navratri outing.
Day 9: (Navami) – Attend a Dandiya and Garba Night
The final night of Navratri calls for a grand celebration, and there's no better way to mark its culmination than by immersing oneself in the vibrant rhythms of Dandiya and Garba. These traditional dance forms, with their energetic beats and colorful attire, encapsulate the joy and spirit of Navratri.
Dancing in circles with friends, to the beats of live music, symbolizes the cycle of life and the eternal dance of creation. Many venues in Hyderabad host special Dandiya and Garba nights, often featuring live bands, professional dancers, and even competitions.
Apart from dancing, you can indulge in festive foods, get intricate henna designs, or capture the moments with photo booths.
It's a night of joy, reflection, and gratitude, making Dandiya and Garba the perfect finale to the nine days of Navratri celebrations.
Got the Navratri planning inspiration you were looking for?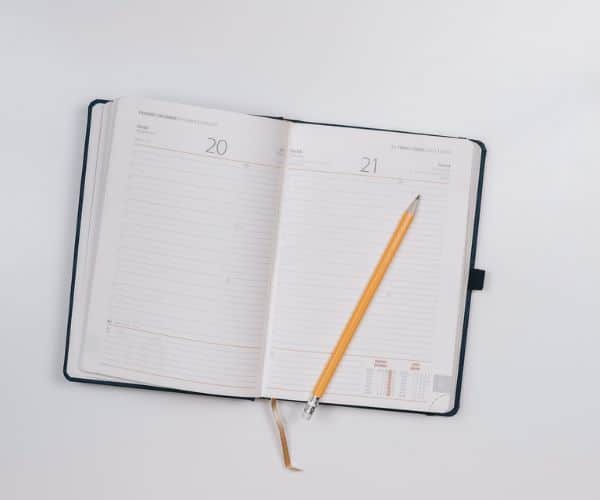 Hopefully our post has helped you!
We've taken you on a journey through Hyderabad, offering a blend of spiritual, cultural, and recreational activities for each day of Navratri.
We hope this guide serves as a valuable resource as you finalize your own festive plans.
We'd love to hear about your experiences! Share your Navratri moments and activities with us on Instagram. 
Let's keep the festive spirit alive and vibrant!