Hyderabad is a city full of offerings, right from heritage to modern culture. In a city that is an amalgamation of both worlds, it's hard to know where to visit and what matters most. If you live in Hyderabad, you may find that Banjara Hills is the ideal place for being close to your daily needs. Banjara Hills has a multitude of attractions in its vicinity. 
Banjara Hills has heritage bungalows and buildings that are hard not to notice. There are over 70 heritage bungalows that have stood unchanged since the times of Nizam, Moghuls, and British emperors.
The General Hospital building is a beautiful example of stunning architecture and a state-of-the-art hospital.
Banjara Hills has something to offer everyone right from kids to adults. In case you are looking for some kids friendly activity this christmas in Hyderabad, check here.
Listed below are my
Top 12 Places To Visit In Banjara Hills:
1. Charminar
2. Chowmahalla Palace
3. Escape Room
4. GVK One Mall
5. Birla Mandir Temple
6. Golconda Fort
7. Nehru Zoological Park
8. Smaaash Zone
9. Salar Jung Museum
10. KBR National Park
11. Durgam Cheruvu Lake
12. O2 Spa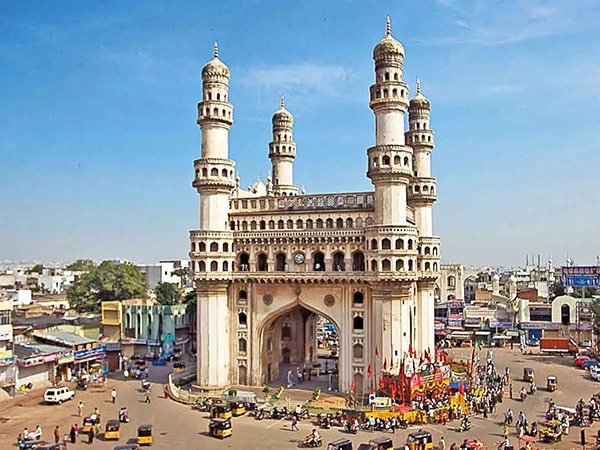 One of Hyderabad's most famous landmarks, the Charminar is internationally recognized. Its minarets and domes showcase Islamic design and architecture. 4 minarets which are 95-foot tall give the structure its name, Charminar, meaning Four Towers. A beautiful mosque where prayers take place on Fridays is in its vicinity. 
The Charminar is surrounded by markets, food and jewellery. The monument is divided into four floors and from the top floor you can enjoy panoramic views of the city.
Located in the center of the city, the Charminar lanes are famous for handcrafted jewellery and traditional Indian food such as biryani and haleem.
PS: The night view of the illuminated Charminar is simply beautiful. The monument's traditional Islamic design is highlighted in dramatic yellow, green and blue lights.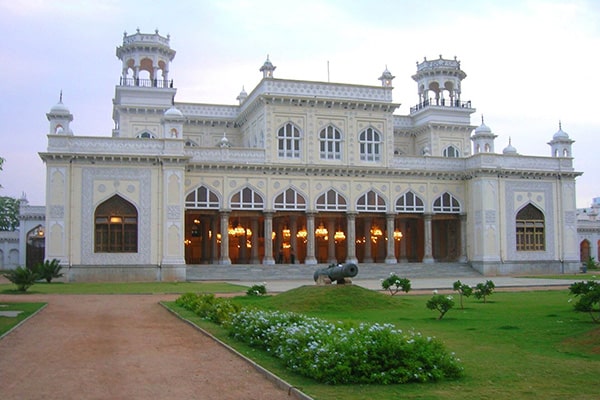 The Chowmahalla Palace is a beautiful architectural building having huge grounds. The Nizams of Hyderabad built the Chowmahalla Palace over 12 acres and consists of many halls and courts, along with beautifully manicured gardens and fountains.
Like the Charminar, the Chowmahalla Palace is made up of four palace buildings and means 'four palaces' in English. The Aftab Mahal is the largest of the four palaces. There is a Clock Tower within the palace that has been ticking since 150 years.The palace also has on display a huge collection of vintage cars.
The gardens and the grounds are peaceful to sit back and simply relax and click some beautiful photos of the stunning palace building.
PS: The palace is closed on Fridays and national holidays to the public.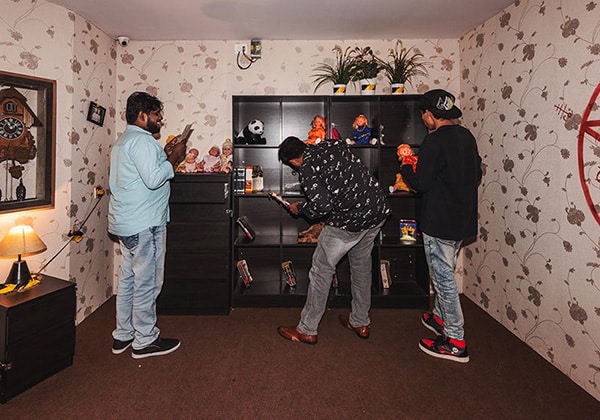 Imagine being locked in a room where you and your friends or family have 80 minutes to escape. How does it sound?
Exciting! Isn't it?
Lock N Escape hosts MYSTERY GAMEs called Escape Rooms, that combine thrilling games filled with puzzles and clues that test your wits and compatibility amongst your team members. 
A not to miss attraction in Banjara Hills, the Lock N Escape MYSTERY GAMEs can accommodate 2 to 8 players and consists of 6 MYSTERY GAMEs with different themes and concepts.
Along with physical escape rooms, Lock N Escape also hosts 4 virtual MYSTERY GAMEs that can accommodate 3 to 10 players over the ZOOM platform. The virtual games are for 60 minutes and give the same thrill and excitement just like being a part of the real escape rooms.
PS: The in house Inspire Cafe is definitely not something to be missed. Right after the fatigue and thrill of escaping the MYSTERY GAMEs, the delicious spread of continental food can get you salivating. Do try their chimney cones and cookies.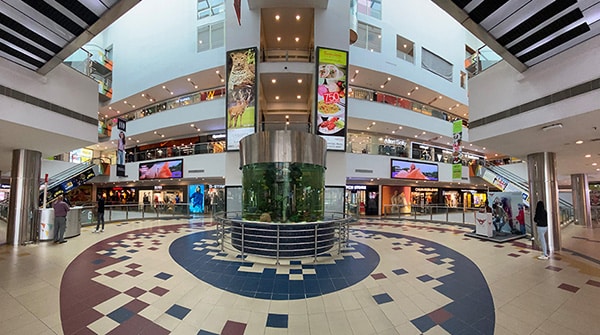 In Banjara Hills. One of the best and prime localities in Hyderabad, the
G
VK One Mall is surely a must visit in case you want to enjoy all amenities right from shopping to entertainment under one roof.
With not much of a crowd on a general basis, the GVK One Mall can be visited with family and it also offers ample parking space.With most of the major Indian and International brands, this mall is a haven for all shopping lovers. In case you need to take a break from shopping, there is a food court that houses popular joints and different cuisines for your taste buds. The Hard Rock Cafe in the mall is simply amazing.
There's also a multiplex to catch up on a movie or in case you want to get lost in the world of books, head to the Crossword store in the mall.
PS: The aquarium and STARBUCKS in the GVK One Mall are enough to get the attention of the kids and youngsters alike.

Are you looking for a break from the stress and hustle of daily life?
Head right to this peaceful place that is a blend of spirituality, peace and calm. 
The Birla Mandir Temple is famous for its marvellous architectural splendour. The building looks resplendent in pure white marble and contains shrines devoted to Hindu and Buddhist deities. 
The magnificent view of the Hussain Sagar from the hilltop is serene and magical amidst the sound of prayer and the sound of the rustling leaves and birds singing. 
The Birla Mandir Temple is well connected by rail and road and open to visitors daily.
PS: The stunning scenic views of the sunset and the lit temple at night is an add on bonus and the Birla Science Museum and Planetarium are right next door.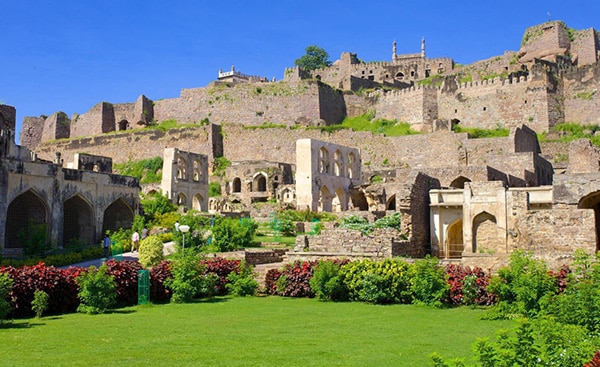 When in the land of culture and heritage, a visit to the Golconda Fort is definitely a must visit. The Golconda Fort is said to have protected diamond mines in ancient times. 
The fort was built from mud in the 12th century and houses the palace buildings and a mosque. The entrance is lined with cannons and drawbridges and the fort houses the powerful Rahban Cannon .
A marvel of the fort and its brilliant conception and architecture is that a handclap at the entrance can be heard miles away at the top. The fort gardens are still well kept in good condition and the light and sound show tells us the history of Golconda fort. 
Separate entry fees are applicable for Indian residents and foreigners. The fort is open every day except Monday. 
PS: The light and sound show in the evening shouldn't be missed.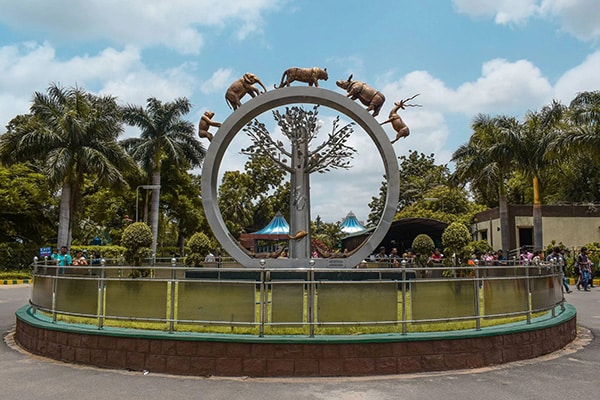 Nehru Zoological Park is a haven for animal lovers and visiting the zoo early in the morning and especially during winter lets you see the animals when they are most active in surroundings best matching their natural habitat. 
Home to some of 160 rare and exotic species the Nehru Zoological Park is spread out over 380 acres and is one of the largest animal parks in the country.The Lion Safari Park, elephant rides and the museum is most visited and loved by kids and adults alike.
The zoo is closed on Mondays and is an ideal break from the city's busy life and lets you find your peace amongst wildlife and nature.
PS: Take a safari and spot the lions and white tigers in their natural habitats along with sightings of sloths, bison, panthers, jaguars. There is also a train for the visitors to take you around the grounds faster.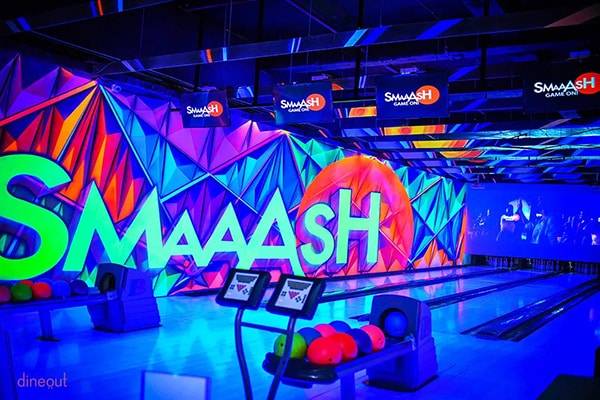 Smaaash Zone in the Inorbit Mall in Hyderabad offers an unmatched range of virtual-reality game  experience and combines sports, music and dining all together under one roof.
Apt for a day out with family and kids or simply for a team building getaway, Smaash is apt for all. The food and service offered is very good along with all fun activities that are enjoyable for everyone irrespective of age and gender.
Cricket, Bowling, Air Hockey, Football are some of the other games offered besides the Arcade and Virtual Reality games. The place also has a pub and a bar for adults in case you want to relax after your games.
An apt place that houses all your entertainment and food combined, Smaaash Zone is definitely a one stop place to visit when you are in Banjara Hills.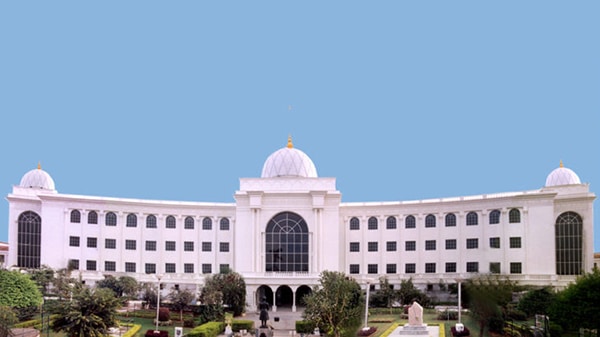 If you are a lover of art and history and are fascinated with artwork and books, then a visit to the Salar Jung Museum is a must visit. One of India's most valued and priced museums, the Salar Jung is home to ancient academic journals, weapons and precious royal jewels and items.
The museum houses the collection of Salar Jung, who was an adventurer and globetrotter who collected souvenirs of his travels from across the world. 
The exhibits are organised by their country of origin and include carvings, textiles, and statuettes throughout India's history. There is also a collection of miniature paintings and ancient manuscripts containing academic and religious texts. 
PS: Do visit the kids section, that entertains as well as educates kids about the marvels of Indian history.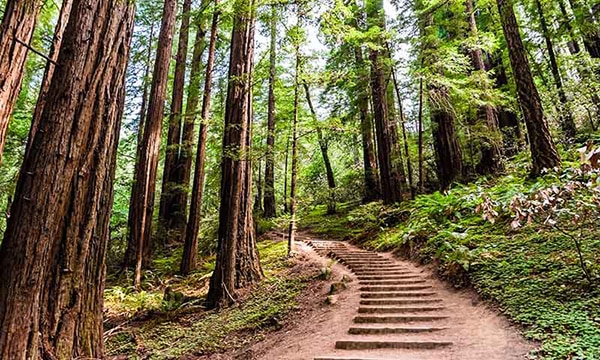 Kasu Brahmananda Reddy (KBR) National Park is a national park located in Banjara Hills in Hyderabad. Spread across 390 acres, the park is huge and home to a vast spread of greenery and rich fauna.  
The park houses 15 different species of butterflies, 140 species of fauna along with 20 species of reptiles and 20 species of mammals as well. 600 varieties of trees and plants are also on display in the park.
6 acres of land in the KBR Park, the Chiran Palace, is the personal residence of the Prince Mukarram Jah and his family, the Nizam's descendants and is not considered to be a section of KBR Park and not open to visitors. 
This park is a rejuvenating break amidst nature from the concrete buildings and traffic of city life, the KBR Park is definitely a must visit when in Banjara Hills.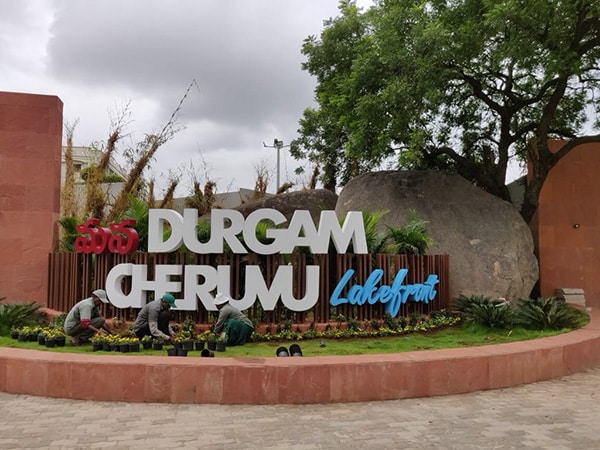 The Durgam Cheruvu Lake is also known as the
Secret Lake
as it is hidden from view by the surrounding granite rocks formations that are said to be 2500 million years old and is is one of the popular sightseeing places of not only Banjara Hills but also Hyderabad. 
Durgam Cheruvu Lake was the source of drinking water for the Golconda Fort in olden times and is now developed as a tourist spot and has an artificial waterfall and floating fountain which is now a common venue for film shootings due to its scenic beauty.
Different kinds of boating activities are carried on at the Durgam Cheruvu Lake like the Pedal Boat, Speed Boat, Water Scooter etc with varied prices for each as well as Fishing activity, the only place where it is offered. 
A floating restaurant is in the middle of the lake that serves snacks and is a perfect spot for your pictures.
PS: The lake looks splendid and simply out of a dream at night against the backdrop and lights of the bustling city.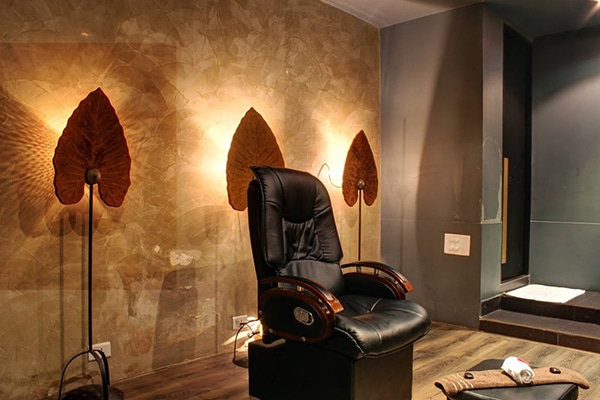 After all the activities and entertainment a visit to a spa is a must to ease out all your tensions and stress.
The O2 Spa is regarded as one of the Best Spa in Hyderabad offering a great range of Spa, Massage and Salon Services making it an ideal place for rejuvenation. 
Spa treatments like body massages, scrubs and wraps, are available for both men and women in a clean and comfortable and most importantly hygienic environment. The staff is extremely polite and courteous and does their job efficiently and well.
Spa vouchers at the O2 are an ideal birthday or anniversary gifting option.
PS: Do try the deep tissue massage, you will feel other worldly for sure.
Hope my list of the
Top 12 Places To Visit In Banjara Hills
is helpful to you and takes you and your family / friends on a tour of the wonderful delights offered by Hyderabad.