Are you on the hunt for an event that can really rev up your team?
Step into the exciting world of Lock N Escape, a one-stop destination for top-notch indoor team building experiences in Hyderabad.
From themed escape rooms to virtual events, our fun activities are skillfully designed to boost communication, quick thinking, and collaboration.
Dive into this blog post and learn why Lock N Escape should be your first choice for a refreshing and effective team building experience.
Why team building matters
Team building is more than just a buzzword; it's the heart of every successful organization, including those in the bustling city of Hyderabad.
As the best team building company in India, we at Lock N Escape understand the importance of these activities in fostering communication, promoting quick thinking, and encouraging collaboration within a team.
Fun activities for team building indoors offer an innovative and fun-filled way to break down barriers, bridge cultural or age gaps, and combat the fatigue that often comes with the uncertainty of the working world.
Particularly in our current hybrid work environment, these games have become essential to reconnecting colleagues and maintaining team cohesion.
Crucial features of indoor team building activities
Successful indoor team building activities have certain distinctive characteristics that elevate them from being simply entertaining to strategically advantageous for a team.
Theme diversity: The best activities incorporate a range of activities based on diverse themes that cater to various interests and tastes.
Time constraint: A vital feature of team building activities is time-bound challenges – to foster quick decision-making, efficient problem-solving, and a general drive to meet deadlines.
Encouragement of critical skills: The most effective indoor team activities put critical team skills like communication, quick thinking, and collaboration to the test.
Wholesome experience: Besides the main activity, supplementary offerings can enrich the team building experience.
Engaging and fun: The activities should be enjoyable and engaging enough to entice full participation from all team members.
Problem-solving: Team building activities should foster quick thinking, strategizing, and creative problem-solving skills under pressure.
Inclusiveness: Activities should be inclusive, ensuring every member feels valued and heard – and everyone's input is crucial for the team's success.
Safe environment: Providing a safe, non-judgmental environment is essential for a successful team event.
In conclusion, the right blend of these features can transform an ordinary team building event into a remarkable and productive experience.
Meet Lock N Escape – one of India's top team building companies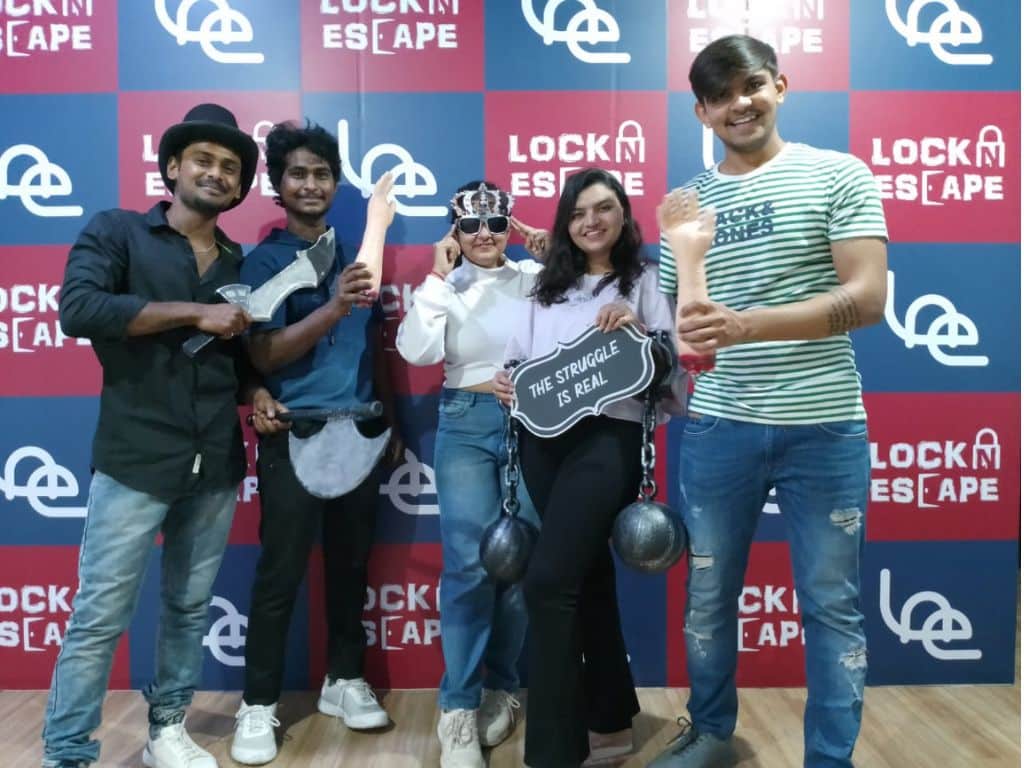 Immerse yourself in the captivating world of Lock N Escape, the best team building company in India, located in the heart of Hyderabad.
Our diverse escape games, inspired by themes like magic, space travel, and the supernatural, are designed to stimulate your senses and challenge your critical thinking skills.
As one of the top 10 team building venues in Hyderabad, we provide an 80-minute unique escape room experience, coupled with the provision to host global events through our cutting-edge live-streaming and VR facilities.
From an Avengers-inspired adventure to tackling an approaching hurricane, each game at Lock N Escape is crafted to foster collaboration, quick thinking, and communication.
For a holistic experience, unwind after the games at our cafe or engage in a board game session, ensuring your team building event at Lock N Escape is more than just games – it's an unforgettable journey of growth and fun.
The activities at Lock N Escape
Let's dive a little deeper into the activities you can expect here at our Banjara Hills escape room.
Escape rooms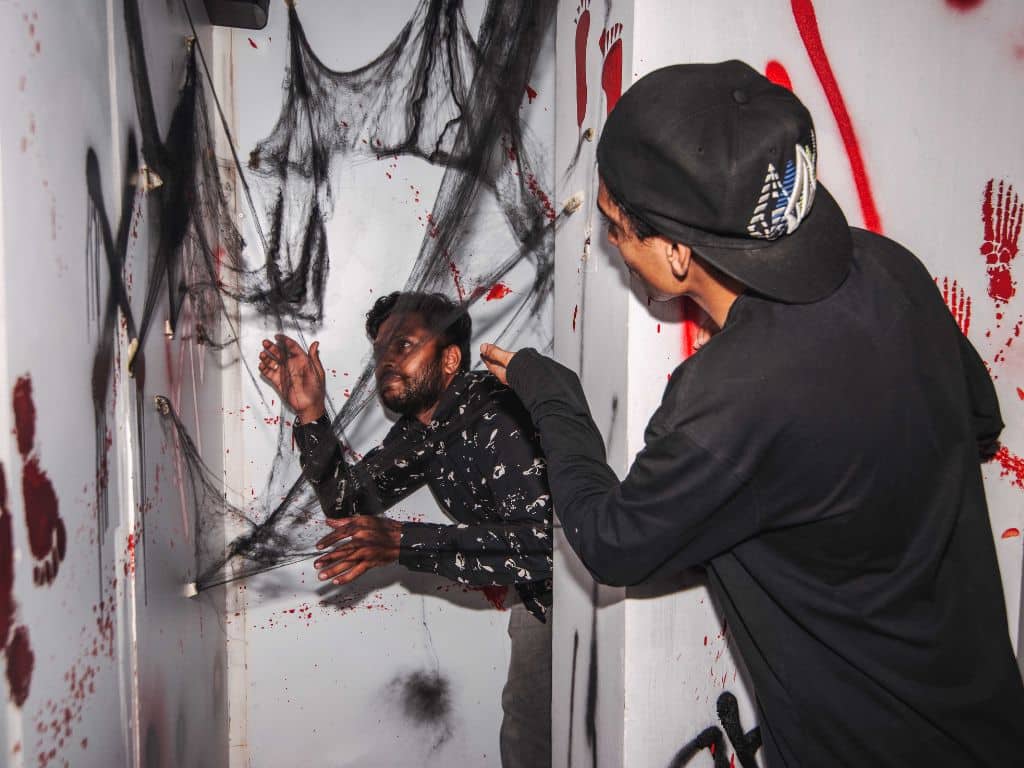 Quest For The Incredible Stones: Team up to recover six powerful stones from an evil galactic emperor.
The Poltergeist Room: A scary escape room where you have to investigate strange activity in a house where someone disappeared.
The President's Secret Book: Can you recover a classified book from the US President's Office?
The Hurricane Room: Escape Mother Nature's fury as you rush to evade an approaching hurricane at a beach.
The Room Of The Great Mysto: The Great Mysto has mysteriously vanished; can you find out what happened?
The Time Machine: Break into a top-secret laboratory to retrieve a time machine and a computer chip.
Board games & cafe
Take your team building experience a notch higher at our on-site Inspire Cafe.
Indulge in our continental cuisine ranging from piping hot, freshly brewed coffee to scrumptious savouries like chimney cakes and cookie cups, and wholesome meals like exquisitely prepared pasta and pizzas.
Our cafe also doubles as an interactive hub with a plethora of board games, Foosball, Darts, Mandala Art, and a well-stocked library.
It's not just an escape room experience, it's a day well spent indulging in culinary delights and engaging activities!
Indoor team building at Lock N Escape
Through our events, we try to redefine indoor team building games for employees with an adventurous twist, fostering camaraderie and growth.
As a top team building company in India, we offer immersive escape games that challenge your team to collaborate effectively towards a shared goal.
Regardless of age, work style, or cultural background, our games are meticulously crafted to bridge gaps and unify teams.
In our well-crafted, time-bound environment, teams can overcome the burnout from remote working and rekindle their connection, commitment, and enthusiasm towards their work.
A Lock N Escape indoor team event will not only detox your team but also re-energize them for the challenges ahead.
Our Hyderabad team building packages
Silver: Our ideal package for teams with 20 people or less. Includes escape room adventures and a Cafe Mini Combo or Cafe Set Menu.
Gold: If your group has 20 or more people, go for Gold! Includes escape room adventure and packed food boxes.
Platinum: Teams with 35 or more folks can opt for the Platinum package, which includes escape room adventures and a buffet.
Virtual team building at Lock N Escape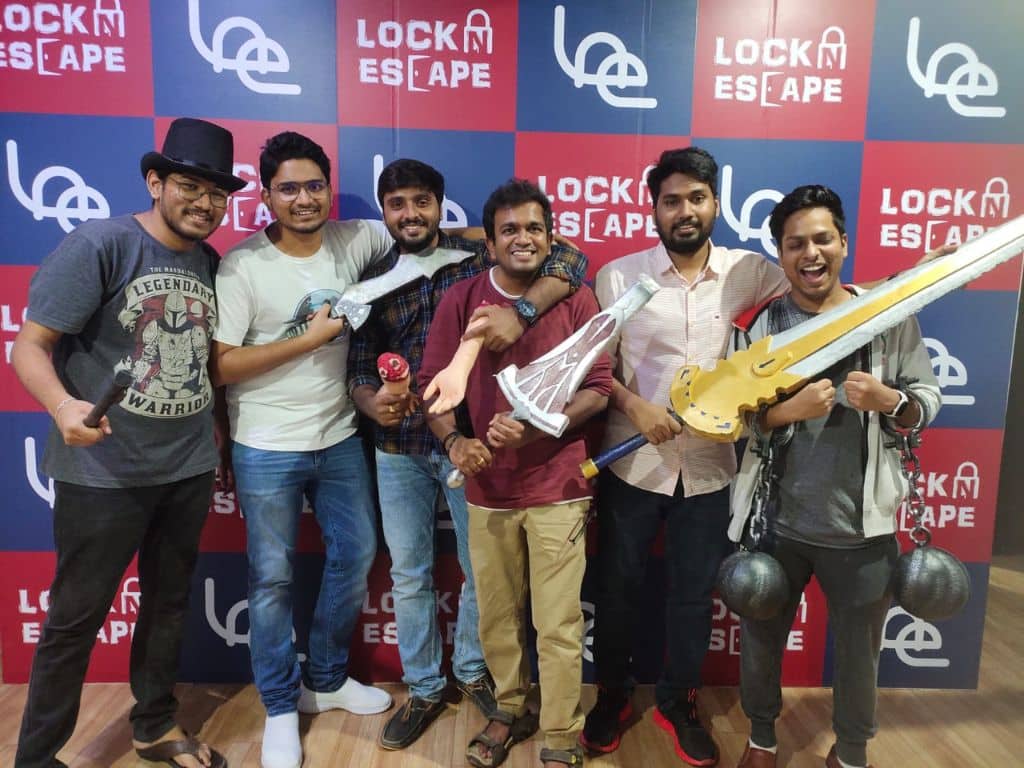 Embrace the future of team building with Lock N Escape's innovative virtual team building activities.
Our Live-Streamed Global Event lets you and your team engage in an on-site escape room from anywhere in the world via Zoom, with a game master live-streaming the room's happenings in real time. You can direct the game master and use a digital dashboard to examine and employ collected items, all while racing against a 60-minute timer.
If you opt for our Virtual Zoom Global Event, you'll navigate through an entirely virtual game space, communicating with your team and using the digital dashboard just as you would in a physical escape room.
Whether you're in Hyderabad or halfway across the globe, Lock N Escape ensures an exhilarating bonding experience that knows no geographical boundaries.
What sets our team events apart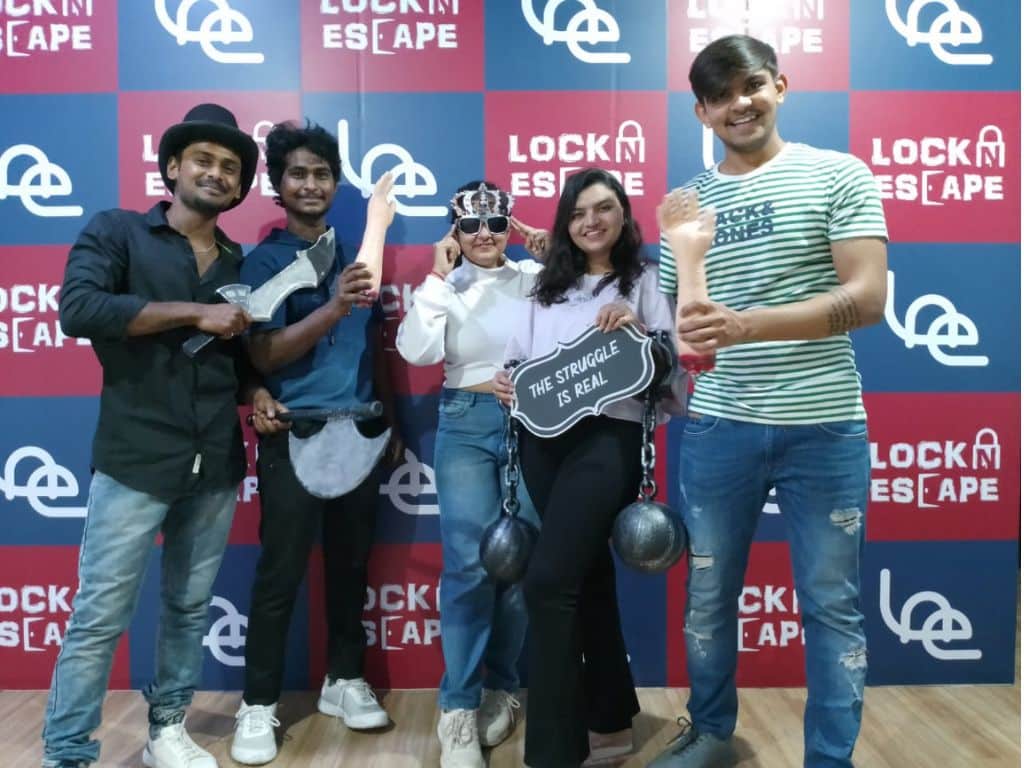 Lock N Escape stands out as the best team building company in India, offering a blend of physical and virtual games for team building indoors.
Each of our games, set within unique themes, tests critical skills like communication, quick thinking, and collaboration, making us one of the top 10 team building venues in Hyderabad.
What truly distinguishes us, though, is our holistic approach to team building – we pair our memorable escape room adventures with delicious cafe treats and interactive board games.
Whereas our live-streamed and VR-based global events allow colleagues from across the world to come together for a fun-filled team building session.
Be it in person or virtually, a team event at Lock N Escape is more than just an outing; it's an enriching experience that will resonate with your team long after the games are over.
Why team-build at Lock N Escape when you can simply arrange for board games, and trust falls at the office
Choosing Lock N Escape for your team building activities offers a unique and immersive environment that traditional office games can't match.
Our escape rooms provide a simulated real-world experience that tests and develops vital teamwork skills in a way trust falls and board games may not.
More than just a game, our indoor events offer a meaningful bonding experience, encouraging collaborative problem-solving and communication that translates back into the workplace.
Final thoughts
In the cutthroat work environment of today, fun team building activities are no longer optional but necessary to maintain productivity and harmony in the team.
With its thrilling escape games and associated offerings, Lock N Escape has rightfully earned its reputation as No. 1 in the top 10 team building venues in Hyderabad.
Whether you choose to embark on a thrilling escape room adventure or a virtual team building event, Lock N Escape ensures an unforgettable experience that cultivates essential team skills. As the best team building company in India, our goal is to provide not just a day of enjoyment but an experience that genuinely fosters a stronger, more connected team.
Ready to book a blockbuster team building event?
Are you ready to elevate your team's morale and enhance their collaborative skills with exciting games for team building indoors?
At Lock N Escape, we specialise in curating engaging and effective team building activities that will surely leave an indelible mark on your team's dynamics.
If you're interested in hosting an event that's both enjoyable and strategically beneficial, don't hesitate to reach out to us.
For more information about our unique and captivating team events for employees indoors, visit our website today. Your team's unforgettable experience is just one click away.