Team-Building Activities Your Teammates Will Love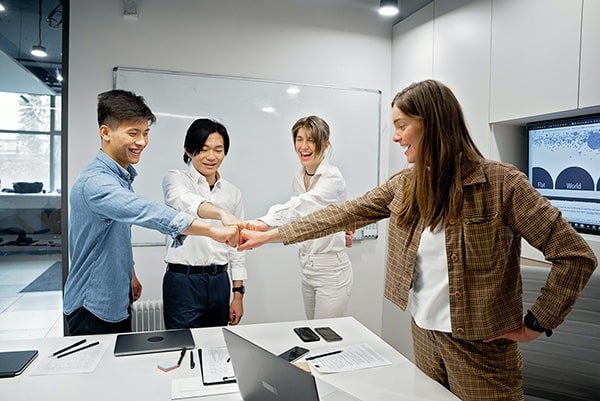 Team building events are essential to hold a team strong and fight the odds to get things done fast with higher efficacy. Indulging in regular team building activities ensures better performance, stronger morale of the team members, more mutual trust, better cooperation, and coordination – ultimately, higher productivity.
Always keep your team building events fun, engaging, and full of positivity. When team members love indulging in it and feel motivated, they perform better and become valuable assets to your enterprise.

Why Team Building Activities Are Important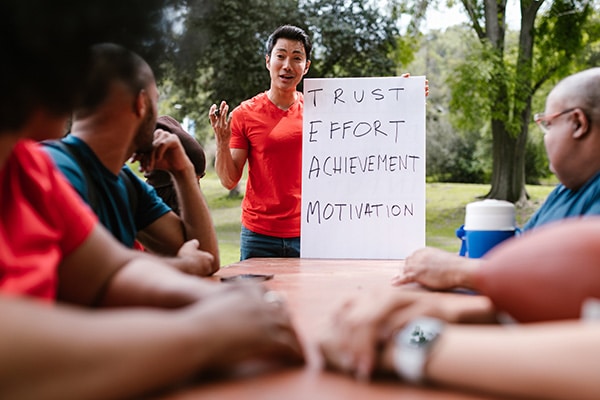 Team building activities build trust, promote cooperation and communication and inspire actions. When team members know each other and their strengths and weaknesses, they work better by selecting the right roles for each participant. Also, it holds morale up, builds trust, and creates a sense of unity with common goals.

From the list below, you can choose the team building activity that suits your scenario.
Team Building Activities During Meetings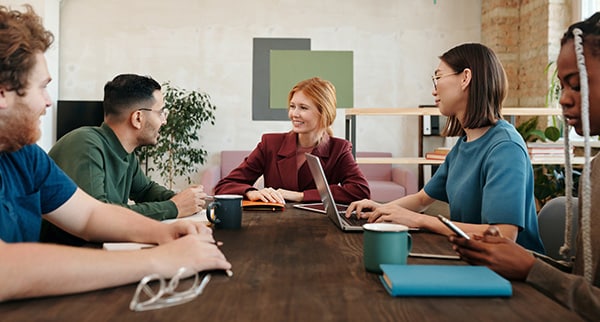 Add a few elements of team building activities as you gather for an office meeting and make the most out of it. You may indulge in team building activities without even formalizing it every time. Below are some excellent ideas you should pay attention to.
Below is a list of such activities for choosing your team building activity. 
Puzzle Solving
Solving puzzles together builds and promotes cohesive thinking among team members and enhances their communication skills. This is a great team building activity for small groups or smaller enterprises.

When your team members try to find a solution to a common problem by helping each other, they bond stronger and learn to work as a unit instead of as individuals.
The team's collaborative spirit is the heart and soul of a strong enterprise. Every grand success results from a strong team, and something seemingly as simple as solving puzzles together can kickstart the process for your organization.
Brainstorming Session to Discuss Ideas
Experts say breakthroughs often come from outside the industry. Whether it's true or not, breakthroughs may come from anyone. So, host brainstorming sessions and discuss ideas. It's essential to have every one of your team members heard as you grow. Sit down together and discuss new ideas and listen to everyone. Appreciate good ideas and correct poor ones without sounding harsh or overly critical.
As you organize team building exercises, focus on appreciation and inspiration and avoid harsh criticisms to uplift the team spirit. If you get a good idea from anyone, appreciate and celebrate it heavily.
Motivation streams from appreciation, and it can bond your team stronger and motivate everyone to give their best by instilling a healthy competitive spirit. All your team building exercises should aim for that.

Team Building Activities During the Workday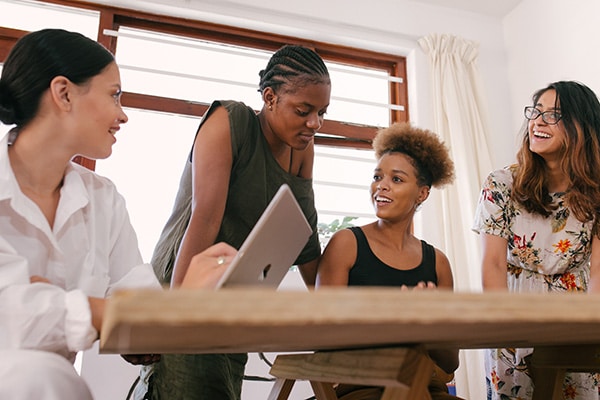 With creativity, you can instill team spirit and positivity in your office environment. You don't have to take a day off for team building all the time. Instead, strategically use a few hours of a regular workday and turn it into mini team building exercises. The best part is that it doesn't cost you a dime and saves time.
Let's look at and discuss a few possibilities below. You may or may not follow them exactly as described. Just get inspiration and be creative. If you know your teammates well, add a personal touch to better suit them.
Share Your Personality
Sharing your personality can be a great icebreaker among team members. You can use this creatively to help your team bond together. Gather them up and ask them to share their personality with others. This is one of the ways to organize team building exercises without any cumbersome process.

Once it's done, divide them into small groups based on similar personalities. They can discuss the pluses and minuses of their personality traits and collectively decide to make the most out of it in the workplace. This will surely enhance their communication skills – one of the most important traits of a strong team.

Or you can mix them up so people can take input from different personality types and make small changes in their behaviors. Creativity is the key here.
Suppose you see a specific personality type dominating the office environment. In that case, you can change how the office functions to make the minority feel more comfortable after this team building activity or event.
Play Team or Board Games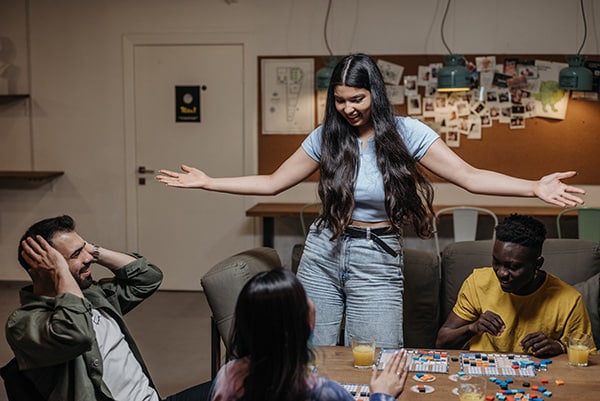 Board games are super fun and engaging –– this is no secret. They're full of excitement and laughter that bond people together, like very few other things can. This makes it a great team building activity for small groups.

You can look up any eCommerce platform like Amazon and find tons of small, portable, inexpensive board games. And if you pay attention, you'll find quite a few office-friendly board games. Examples include rapid chess, checkers, Sudoku, and many more.
Another option you have is team games. Smaller team games like ladders, ludo, table tennis (requires some setup), scrabble, or carrom (requires space and the board). You can divide the members into small groups that compete against each other. This will instill team spirit and healthy competitiveness while killing the regular workday's monotony. These are easy-to-do and inexpensive team building exercises that anyone can do.

Host a Lunch and Learn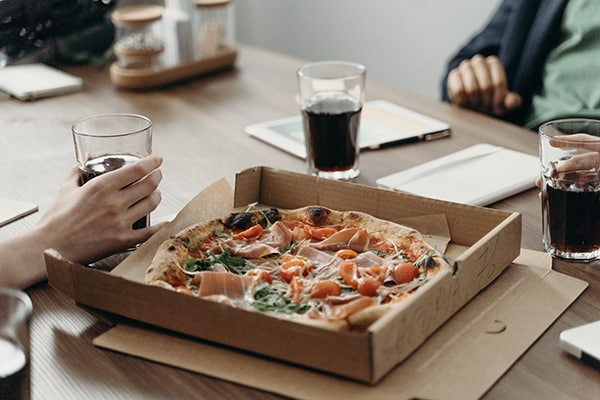 This team building activity is one of our favorites. You'll learn why soon.

First, having lunch together, or eating together in general, births a sense of community and inclusiveness. This is an important factor in team building. Members should feel they're a part of a bigger clan that has their back and is ready to fight for them.
The goal is to make them not feel left out. Besides, you can have small discussions, talks, and learning sessions during the time while keeping it lighthearted and fun.
The team's seniors can teach valuable lessons to the juniors, take their feedback and help them grow.
Put on a Contest
When done right, contests are healthy. You can organize small competitions or contests in your office. It can be an art contest, creative writing, something related to culinary, debates, or even some small games – the possibilities are endless, and your creativity only limits you.
Depending on your team's size and character, custom-tailor a contest and encourage them to participate and open up. Reward the winner without making the vanquished feel low.
Appreciation, inspiration, and encouragement – are the primary stepping stones to effective team building. A healthy contest is a team building activity that promotes cooperation and cohesiveness and should be on your team building bucket list.

Outdoor Team-Building Activities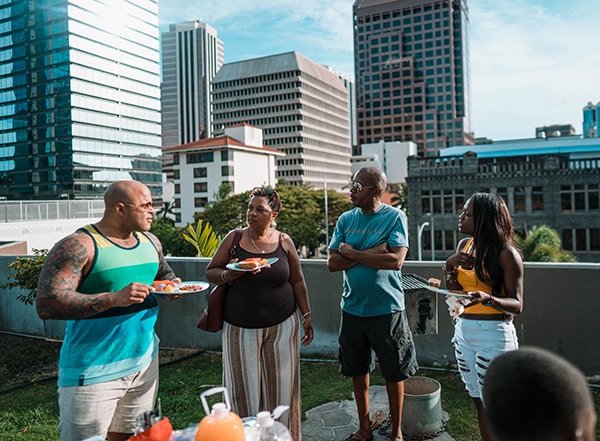 Organizing social activities outside work can be a bit harder than organizing them in the office. However, they can build team cohesion if you get everyone to participate. Even taking an afternoon to go on an adventure can be a fun bonding experience.
You can go for scavenger hunts, picnics, play team building games – the possibilities are endless.
Below we've listed a few options. You can choose your best-suited team building activity from here.

Complete an Escape-the-Room Challenge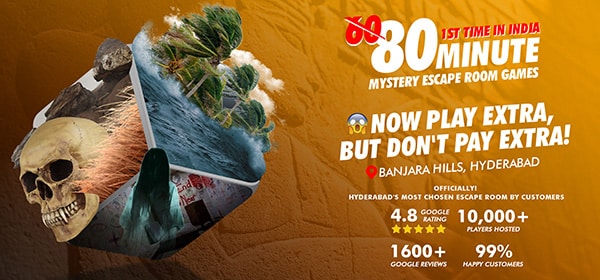 Escape rooms are super fun and immersive. And it's a great choice for team building events. Escape rooms promote collaborative problem-solving, inspire teamwork and improve communication among team members.
If you don't know what an escape room is, it's a physical adventure game in which players are locked in a room and have to use clues and solve puzzles to escape within a set time limit – usually 60 mins. Escape rooms are usually played in small groups – from 2 to 10 players.
It's a great team building activity because players work together to escape the room by solving puzzles and riddles. They must work together as a team, split responsibilities, and solve puzzles to complete the mission. In short, escape rooms are excellent team building games and should be on the top of your bucket lists.

Take a Cooking Class
Group cooking classes can be great team building options, whether online or in-person. Since cooking is often a collective effort, requiring multiple hands all the time, it can be a great way to bond with your team members. This is a great alternative to team building games that may not suit many.

Cooking is often not an individual's task. It takes multiple hands. To cook something together, they have to communicate back and forth with each other and collaborate as a team. The joint effort helps them build confidence and understanding. This leads to better communication and collaboration in the workplace.
Take an Improv Class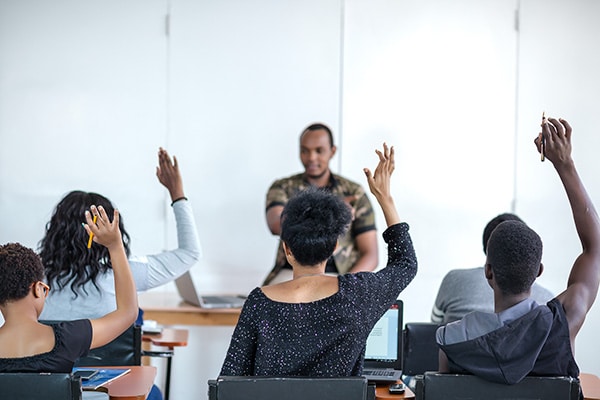 An improv class is a class that teaches the art of improvisation, which is a form of theater where the performers create most or all of what is performed spontaneously without a script.
Improv classes are acting classes, focusing on the skills of thinking quickly and working in a group. It can be used for personal development, team building, and communication skills. They are a great way to improve confidence, flexibility, and creativity and to practice effective communication and quick thinking in a fun, supportive environment.
Improv classes are great bonding tools available in in-person or virtual settings and can be suitable for those uninterested in playing team building games.
Create a Scavenger Hunt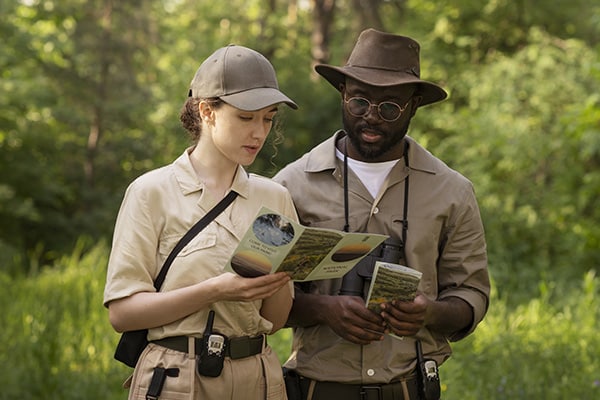 A scavenger hunt for team building is a real-life treasure hunt. However, it's played with your coworkers. It's a fun team-building activity where people work together to find things assigned to them without buying them.
It's a great way to develop teamwork, problem-solving skills, and communication. It also breaks the workday's monotony and breathes fresh air into your team's daily life.
Wrapping it up
Based on all the options mentioned above, you can choose a team building event for your team. You can pick an event involving physical activities, such as a scavenger hunt or a cooking or improv class.
You can also choose one of the more creative options, like an escape room challenge or a virtual team-building game. Whatever you choose, it is important to ensure everyone in your team participates and enjoys themselves.
Team building events can be a great way to help build connections and relationships within a group, which can, in turn, help boost morale and productivity.