Introduction
Welcome to Hyderabad, the heart of vibrant traditions, delectable biryanis, and, of course, unforgettable birthday experiences. Thinking about how to elevate your child's upcoming birthday celebration? You're in the right place with Lock N Escape!
Here's the magic touch: At Lock N Escape, we believe it's not just about the cake or the gifts but the entire experience. With Hyderabad's perfect mix of tradition and modernity, we offer a plethora of choices to make birthdays memorable.
Background
Being at the epicentre of diverse cultures, Hyderabad's celebrations are a testament to its rich heritage. At Lock N Escape, we've seen the evolution of birthday parties, blending the classic Hyderabadi essence with contemporary fun.
We understand that today's kids crave more than just balloons and clowns. They desire immersive experiences, and that's what we specialise in. After all, our mission is to make those young smiles even brighter with our unique birthday escapades!
Hyderabad's Top Birthday Party Venues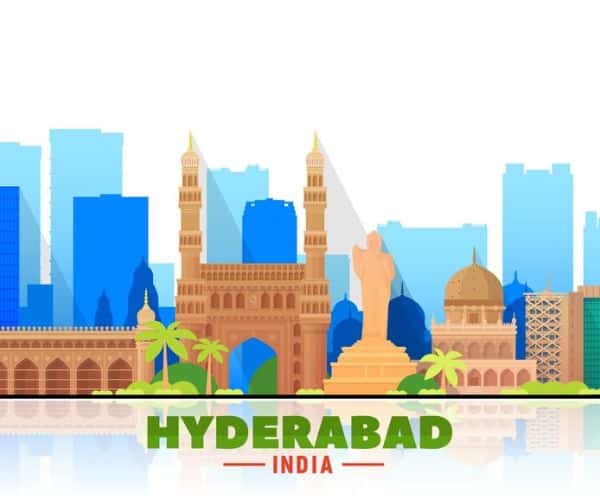 For the more traditional birthday parties, there are venues like the Hyderabad International Convention Centre, which offers a spacious and elegant setting for your special day. If you're looking for something a bit more unique, the Ramoji Film City is a great option. For those who want to keep things more intimate, there are plenty of home-based venues that offer a cosy and comfortable atmosphere.
Below are two of our other favourite locations:
Banjara Hills: The upscale choice for birthdays
Nestled in the heart of the city, this locale is not just about posh addresses. Lock N Escape is not only the best entertainment hub, but it is also the place to be. Whether you're a local or a tourist, if you're seeking some fun-packed hours, look no further! 
Jubilee Hills: A blend of tradition and modernity
Close to the bustling Banjara Hills, Jubilee offers a mix of the old and new – kind of like a perfect biryani.
Lock N Escape, Hyderabad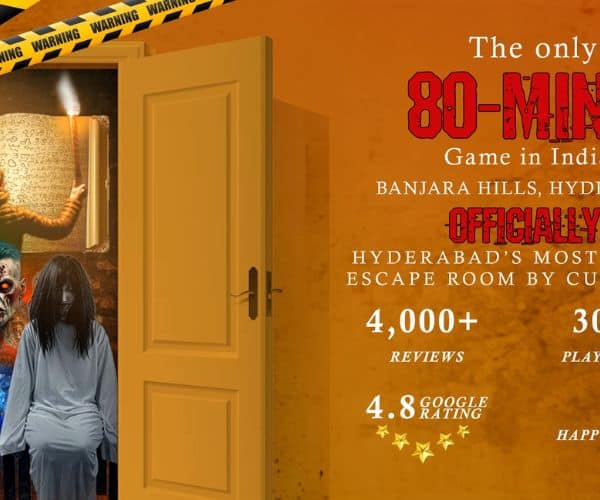 So we're back to Lock N Escape. What's a birthday without a dash of adventure and a sprinkle of mystery? That's where we, Lock N Escape in Banjara Hills, come into the picture. Whether you're a local or a tourist, the appeal of this entertainment hub is undeniable.
Why Lock N Escape Stands Out:
With a total of 10 super fun escape room games and many other fun activities, Lock N Escape Hyderabad is one of the best destinations for birthdays. With games of different themes, birthdays in Lock N Escape are a category in itself.
What makes Lock N Escape stand out from the rest? Glad you asked.
Location: Situated in the plush neighbourhood of Banjara Hills, it offers both accessibility and an upscale ambience.

Varied Activities: Beyond escape rooms, it boasts a café, a foosball table, darts, board games, and more, making it a comprehensive entertainment hub.

Themed Experience: Dive into real-life adventures in simulated environments. Your child and their friends can solve mysteries, find treasures, and more. Explore escape room games at Lock N Escape.

Professional Game Masters: From pre-game briefings to post-game debriefings, the game masters ensure an immersive and memorable experience.

Virtual Inclusions: For those who can't make it physically, Lock N Escape offers live-streaming and VR escape rooms. So, the fun is limitless and boundless!

Top 5 Creative Birthday Themes for Kids in Hyderabad:
Hyderabad, with its rich culture and modern flare, offers a plethora of options for hosting a memorable kids' birthday party. Picking the right theme can make a world of difference. Here's a glimpse into some unique birthday party themes that can turn your little one's special day into a magical experience.
Jungle Safari Theme: Unleash the Wild Side!
Decorations & Props:

Lush green foliage
Amazing Christmas decoration ideas with animal motifs
Tents and jungle setups

Activities & Games:

Animal mask-making
Treasure hunts in the jungle ambience
The classic 'pin the tail' game

Food & Drinks:

Animal-themed cupcakes
Refreshing jungle juice
Delectable fruit kabobs
Underwater Adventure Theme: Dive into the Deep Blue!
Decorations & Props:

Blue curtains reminiscent of ocean waves
Shell and fish motifs
Bubble machines for that underwater feel

Activities & Games:

Fishing games with attractive themes
Mermaid races
Seaweed-themed tug-of-war

Food & Drinks:

Seafood snacks for young adventurers
Blue raspberry punch
Gummy fish treats for the sweet tooth
Superhero Theme: Celebrate the Inner Hero!
Decorations & Props:

Cityscapes showcasing Banjara Hills Hyderabad, Telangana
Superhero masks and capes for all the little champions

Activities & Games:

Exciting rescue missions
Obstacle courses themed around popular superheroes
Villain vs. hero tug of war to amp up the fun

Food & Drinks:

Power punch to keep the energy levels high
Hero sandwiches
Kryptonite jello for that element of surprise
Princess Theme: Every Girl is Royalty!
Decorations & Props:

Royal hues of pink and purple
Tiaras for every young princess
A majestic throne as the centrepiece

Activities & Games:

Graceful tea parties
Crown-making sessions for the little princesses
A royal ball dance

Food & Drinks:

Mini sandwiches fitting for royalty
Royal jelly delicacies
Sparkling cider to toast the occasion
Space Adventure Theme: Explore the Universe!
Decorations & Props:

Stars and planets hanging from the ceiling
Alien props for that extra-terrestrial touch

Activities & Games:

Alien egg hunts
Rocket races to Mars or even Jubilee Hills
Moonwalking dance-offs

Food & Drinks:

Space Dogs for the Hungry Astronauts
Galaxy Punch that's out of this world
Star-shaped cookies for dessert
Crafting the Perfect Celebration
Decorating Best Practices
Opt for attractive themes and decorations. Remember, less can often be more. Focus on quality birthday decoration ideas, such as decoration balloons, to elevate the ambience.
If you're considering birthday balloon decoration in Hyderabad, make sure to consult local birthday decorators who know the area well.
Perfecting the Invites
Whether you're considering digital party invitation cards or traditional paper ones, make them resonate with your chosen birthday party theme.
Double-check for typos and ensure your birthday party invitation cards match the allure of your event.
Setting the Theme – Beyond the Basics
The Baking Birthday Party: Perfect for those budding chefs. Just imagine the joy of freshly baked cookies at a party held in a place as prestigious as Banjara Hills.
The Digital Wonderland: A harmonious mix of tech and fun for the little tech aficionados. Think of hosting a party around digital marketing, perhaps even at a digital marketing agency in Hyderabad.
Embracing Hyderabad's Essence: Dive deep into the culture of the city. Imagine Charminar cutouts, the flavour of genuine Hyderabadi biryani, and games that bring the spirit of Hyderabad to life.
The most crucial takeaway? Whether you're hosting your party at unique birthday party venues or in the heart of Banjara Hills, Hyderabad, Telangana, the essence lies in creating lifelong memories. Celebrate with joy, laughter, and the perfect theme!
Ensuring Fun: Games, Surprises, and Activities:
The soul of a party lies in its fun elements. Make sure you have engaging games lined up. And as for surprises? Think of what your child loves the most and sprinkle it throughout the party.
Frequently Asked Questions
<a href="https://www.freepik.com/free-photo/question-mark-query-information-support-service-graphic_17432024.htm">Image by rawpixel.com</a> on Freepik
What unique birthday themes can I consider in Hyderabad?
Hyderabad offers a range of themes from Jungle Safari, Underwater Adventure, and Superhero to Princess and Space Adventure themes. Dive deep into the essence of the city and explore each theme for a memorable celebration.
How can I blend Hyderabad's cultural essence into a birthday party theme?
Think of incorporating elements like Charminar cutouts, hosting traditional Hyderabadi games, or even including local delicacies like biryani into the party menu. Decide your theme based on whether it's a kid's birthday party or an adult's.
Which venues in Hyderabad are best suited for upscale birthday parties?
Banjara Hills and Jubilee Hills are top choices for upscale birthday celebrations. Notably, Lock N Escape in Banjara Hills offers a unique entertainment experience for both locals and tourists.
Are escape rooms a good idea for kids' birthday parties?
Absolutely! Escape rooms like those at Lock N Escape provide immersive experiences tailored for kids, making birthdays thrilling and memorable. Plus, they offer both physical and virtual formats to suit various preferences.
What's the difference between physical escape rooms and VR escape rooms at Lock N Escape?
Physical escape rooms are actual rooms in Banjara Hills where players solve puzzles on-site. VR escape rooms, on the other hand, are virtual experiences where players from anywhere in the world can participate online.
How can I ensure the best decorations for a Hyderabad-themed birthday party?
Stick to a central theme inspired by Hyderabad's culture and landmarks. Always choose quality over quantity and consider hiring local decorators who are familiar with Hyderabadi traditions.
Any ideas for incorporating technology into a kids' birthday theme in Hyderabad?
The "Digital Wonderland" theme is perfect for tech-savvy kids, merging technology and fun with coding games, tech toys, and even digital escape room experiences.
How do I choose the perfect invitation for a themed birthday party?
Be it digital or physical, ensure your invitation matches your chosen theme. A well-designed invite can set the right tone for the party.
What food and drink suggestions can you offer for different themed parties?
Depending on the theme, you can explore options like animal cupcakes for a Jungle Safari theme, seafood snacks for an Underwater Adventure theme, or even traditional Hyderabadi dishes for a local touch.
Where can I find reviews or examples of successful themed parties in Hyderabad?
There are several success stories, like Arav's "Baking Birthday Party" in Banjara Hills and Anika's modern "Digital Marketing Theme Party." Researching online and asking for local recommendations can also provide valuable insights.
What makes Lock N Escape a unique birthday venue in Hyderabad?
Lock N Escape, located in the heart of Banjara Hills, offers an amalgamation of traditional Hyderabad vibes with modern entertainment. With escape rooms tailored for kids, coupled with amenities like cafés, board games, and more, it guarantees a memorable birthday experience.
Can I host a theme-based birthday party at Lock N Escape?
Absolutely! With options like the "Digital Wonderland" theme or the "Baking Birthday Party," Lock N Escape complements a range of themes with its rich variety of activities.
Is Lock N Escape suitable for both kids and adults?
Yes, Lock N Escape is perfect for all ages. From kids' birthday parties with adventurous themes to corporate events and team-building activities, it caters to diverse needs.
What types of escape rooms does Lock N Escape offer?
Lock N Escape offers three types of escape room experiences: physical escape rooms at their Banjara Hills location, live-streaming escape rooms via Zoom, and VR escape rooms, which can be accessed from anywhere in the world.
How can I blend the Hyderabad cultural essence into a birthday party at Lock N Escape?
By incorporating elements like Charminar cutouts, traditional Hyderabadi games, or even introducing biryani into the party menu. The central theme of the escape room can also be chosen based on Hyderabad's rich cultural history.
How many escape rooms does Lock N Escape have?
Lock N Escape currently boasts a total of 10 escape rooms, each promising a unique experience.
Before You Go
In conclusion, birthdays are special. And in a city like Hyderabad, they can be extra special. So plan well, choose the right theme, and make memories that last a lifetime. And hey, if you're thinking of an escape room birthday bash, you know where to find us!