Planning an epic children's birthday party can be a daunting task. If this is your first experience, you'll soon understand what we mean. Children's birthday parties have evolved over time, and simple a cake, balloons, and candles won't cut it anymore. Thanks to modern technology, kids today are far more advanced than their peers. And their wants and demands have become more elaborate.
If you want to celebrate your kid's birthday so they remember it for a long time, you must go the extra distance. And the most effective way of accomplishing that goal is to spend quality time with them at their favourite sports or entertainment venue. It's not as difficult as it sounds, we promise! Most restaurants, theme parks, and play zones offer birthday packages. So, if you're looking for a suitable venue for birthday party entertainment in Hyderabad, here are the top ten places you must visit.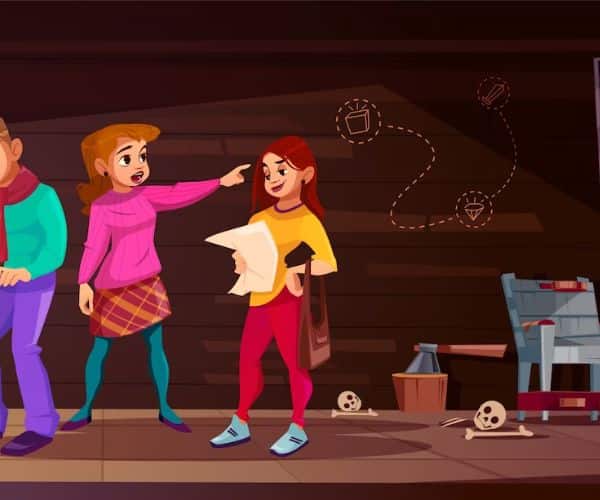 Lock N Escape, Banjara Hill
Escape rooms are the perfect venue for celebrating your child's birthday. Think about it! Your kid spends 80 wholesome minutes with friends as they put their heads together to solve puzzles and emerge victoriously, all under expert supervision in a safe and controlled environment.
Lock N Escape offers a unique opportunity for kids to sharpen their minds, hone their skills, and have fun with friends. With our custom birthday packages, you can throw an epic party. From games and decorations to food and beverages from The Inspire Cafe, our team arranges everything so you can rest easy. Simply fill out this form, and let us handle the rest!
Jungle Bay, Nexus Mall
Jungle Bay is Hyderabad's first kid's play zone and birthday party entertainment venue with an attached multi-cuisine restaurant. Kids will have much fun with interactive games, climbing challenges, and other activities designed to tickle their curiosity. So, if you have a child aged between 1 and 12, Jungle Bay is an ideal party venue.
Apart from the standard list of amenities like decorations and catering, you can hire a professional photographer to capture the moments as you create memories. Other fun activities include nail and face painting, magic shows, theme parties, and more. Visit the Jungle Bay website for details.
Plabo, Gachibowli
One of Hyderabad's most popular kids' entertainment venues, Plabo offers the largest interactive learning space for children between 1 and 15 years old. This one-of-a-kind play zone includes an interactive children's museum to keep the young ones busy and a café to keep their tummies full.
Plabo has two private party halls and three all-inclusive packages that you can choose from. Each 2.5-hour party session includes food and beverages and access to the Playrium and Explorium. So, the next time you're looking for a birthday party entertainment venue in Hyderabad, try Plabo.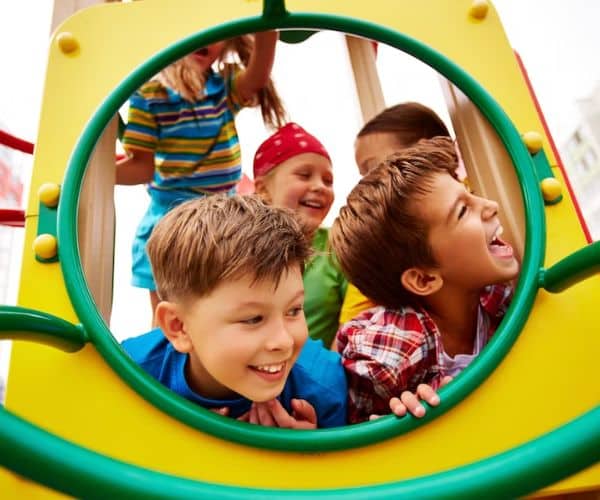 Playoff Entertainments, Nacharam
One of Hyderabad's finest play zones, Playoff Entertainments offers plenty of exciting indoor activities for kids aged 1 to 15. Spread across 7,000 square feet of prime real estate, the facility packs Hyderabad's largest arcade, rides and attractions, exciting board games, and several multi-sensory experiences that will keep your child busy for hours on end.
That's not all! Playoff is an excellent venue for hosting children's birthday parties in Hyderabad. And the trained staff can accommodate your special requests. For more details, please visit their website.
The Jump Zone, Madhapur
Another excellent play zone in Hyderabad, The Jump Zone, has several exciting games your kids will love. Apart from a tide of inflatable obstacles and slides, there is a petting zoo where your child can interact with trained animals and birds under expert supervision. And the staff are super helpful and go out of their way to handle all your special requests.
The Jump Zone offers a long list of amenities and benefits for hosting your child's birthday. And the packages include food and beverage, decor, and access to in-house games and entertainment. Your kids will have a gala time running around the floor, jumping on the massive inflatables, and making new friends.
Smaaash, Inorbit Mall
If you want to experience action-packed birthday celebrations, your search ends at Smaash! Renowned for hosting jaw-dropping, adrenaline-pumping, delicious food-fuelled events, a Smaaash birthday party is unlike anything you've witnessed before. From the widest range of arcade games to the iconic Super Keeper, Smaaash is the gift that keeps on giving.
That's not all! Introduce your kids to the thrill of VR entertainment with a long list of popular games. Smaaash's unique amenities make it the perfect children's birthday party venue. So, if you're looking for unique ideas to celebrate your child's birthday, check out their website here.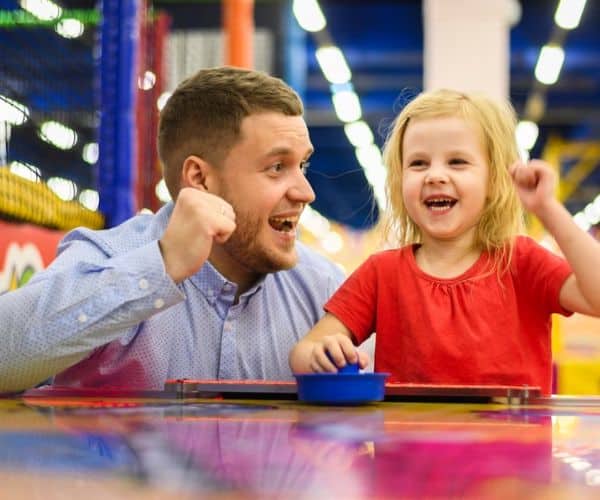 Zero Latency, Rajiv Gandhi International Airport
If your kids love action-adventure, this is the perfect way to celebrate their birthdays. Step into the world of VR-fuelled action at Zero Latency, the home of immersive entertainment in Hyderabad. Choose from an assorted list of exciting VR games from the world's top developers and help your child create memories for life!
Gather your kid and their friends for an exciting gaming session spanning 15 to 45 minutes, and watch them have the time of their lives! You can continue celebrating at a nearby restaurant. There are several popular options nearby.
VR Gaming Café, Kondapur
Take your kids out on a playdate to one of Hyderabad's most popular VR gaming zones. Located bang opposite Sarath City Capital Mall, VR Gaming Café is a top draw among gaming enthusiasts. Hosting a wide range of immersive VR titles, there is something for everyone here. It doesn't matter if you're 10 or 50 years old. You will have fun at VR Gaming Café.
VR Gaming Café has an in-house restaurant to cater to your kid's hunger pangs, which are bound to set in from all the action. Overall, it delivers the perfect package on a special day! So, if you're looking for unique birthday celebrations, give this one a shot!
Timezone, GVK One Mall
The perfect venue for a fun-filled and unforgettable birthday bash, Timezone offers endless entertainment for kids and parents alike! Boasting a long list of exciting adventures that your children will adore, Timezone delivers unlimited excitement with arcade games, gifts and prizes, fun challenges, and much more!
Celebrate your kid's birthday with a grand party they'll remember for a long time. Better yet! Let the expert party planners take over. All you need to do is concentrate on spending quality time with the kids. So, stop stressing over planning the perfect birthday bash and let the celebrations begin!
Laser Shooter, Begumpet
Give your child the perfect birthday surprise at Laser Shooter, previously Laser Ops, Hyderabad's premium laser tag gaming arena. Book a group session and watch the kids have a gala time wearing laser vests and shooting their way to victory. The hosts have various games to keep the kids entertained, and they might even have a few surprises lined up for the birthday boy/girl.
Booking is super easy. Each gaming session lasts between 10 and 30 minutes. Check out the website for pricing and availability. Laser Shooter is one of Hyderabad's most popular birthday party entertainment venues, and the kids will love it!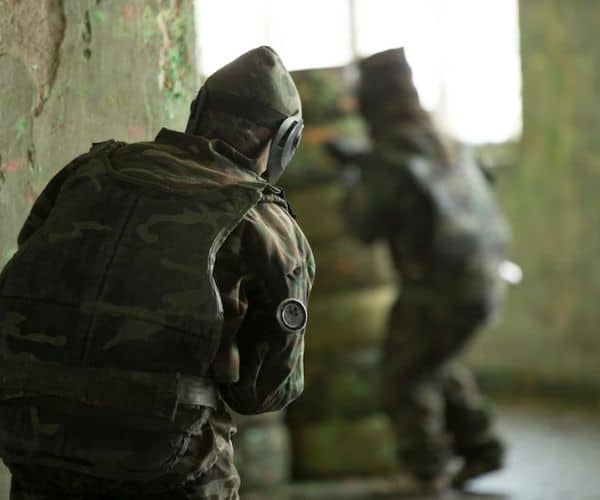 Ready to Throw an Epic Birthday Bash for Your Kid?
Now that you're familiar with the top venues for birthday party entertainment in Hyderabad, it's time to book your unique experience. Drop by Lock N Escape for an exciting birthday bash and help your child create lasting memories. For enquiries, call us at +91-912-103-0033. We look forward to hosting you!