Spending time with family is so important, especially in these times, when many of us move away from home for work or study. But it can be hard to find places of common interest  for everyone in the family. So we've decided to help you out – by putting together a list of ten places in Hyderabad you can hang out with your family!
We've got a good mix of historical places (because who doesn't like being a tourist in their own city sometimes?), activities and just good ol' picnic spots. 
So read on to choose the place you'll be hanging out with your family this week!  
1. The Inspire Cafe at Lock N Escape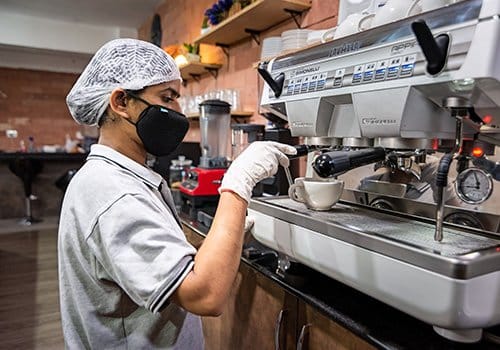 Who doesn't love visiting a cafe with their family and friends? Delicious food and a relaxed atmosphere – both are ideal for some time spent relaxing with your loved ones.! That's why The Inspire Cafe at LockNEscape is our very first recommendation. 
Located at Banjara Hills, the cafe has an international menu with all the evergreen favorites, like pizza, vegetable au gratin, cookie cakes and brownies, cardamom cappuccinos and hot chocolate. 

Lock N Escape also has an escape room – which is the perfect game to play with family! You must find your way out of a safe and supervised locked room, by solving puzzles and playing games. The rooms are both physical and virtual, and some are even streamed live.
Every room is themed differently, and every room is a deeply immersive experience. So you could fight off a poltergeist (!), travel in a time machine, go on a quest to find lost treasure in a forest and enter the tomb of a pharaoh. How cool is that?
And just in case the younger ones get restive – they also have a great selection of board games, magazines, books, and foosball. 
So what're you waiting for? Head there today!
2. Ramoji Film City
We've all heard of this film-studio-slash-theme-park. The Guinness Book of World Record says that it is the largest film studio complex in the world. We believe them, because the complex can accommodate 50 film units at any one time! 
Established in 1991 and spread over a staggering 2500 acres, the park has a vast collection of preserved film sets. You can visit sets on which iconic scenes from films like Chennai Express, Sooryavansham, and Baahubali were filmed. You can also watch live performances, like the Wild West stunt show; carnival parades, and take part in lots of activities. 
And for the young 'uns in the family, there's a kid's park called Fundastan. 
3. Hussain Sagar Lake

This famous heart-shaped lake connects the twin cities of Hyderabad and Secunderabad. It's the  largest artificial lake in Asia and was created more than 400 years ago! 
The area called Tank Bund, which dams the river, also has 33 bronze statues of various popular figures of the state. 
A large monolithic statue of Lord Bhudda, made of white granite, is situated on a massive rock at the center of the lake. Your fam can ride a ferry to the statue, do some boating,or watch the lighting show.
4. Lumbini Park

Situated right next to Hussain Sagar Lake, Lumbini Park is the place to go with the kids in your family. There are fun rides for them, as well as musical fountains and a 3D laser show. 
The giant clock at the entrance of the park, made of flowering plants, is quite famous. We also love the huge variety of plants on display, which includes an unusual collection of cacti.
5. Birla Mandir

This temple's the ideal place to visit for an evening of peace and tranquility with your family. Made of pristine white marble from Rajasthan, It's located on a hill called Kalapahad, and has a beautiful view of the city. 
The temple also houses a tall statue of Lord Lakshminarayana on a carved lotus, with separate shrines for deities like Venkateswara, 'Padmavati' and 'Andal' as well, and a temple of Lord Buddha.
6. Birla Planetarium

The domed Birla Planetarium is in the heart of the city, and it's a great place to visit with the family to learn more about our universe. The daily Sky Show: Wonders of the Universe is our favorite feature there, and there are many different shows about space, such as the most recent 'The Biography of the Universe.'
It has many other sections as well, like the Interactive Science Center, the Archaeology Center and the Nirmala Birla Art Gallery and Dinosaurium. 
What a wonderful way to spend an afternoon!
7. Salar Jung Museum
For a stroll through history, head to this museum – one of the largest in the world. It started out as a private collection that was donated to the country of India in 1951. It houses a huge collection of 43000 art objects, 9000 manuscripts and 47000 printed books spread across 38 galleries. 
This includes sculptures, paintings, carvings, textiles, manuscripts, ceramics, metallic artifacts, carpets and clocks, and furniture from Japan, China, Burma, Nepal, India, Persia, Egypt, Europe, and North America.
It's the perfect place for a family visit, for both fun and learning.
8. Nehru Zoological Park

We think the kids in your family will love this – and so will many of the adults! Nehru Zoological Park is the largest zoo in India, and it's the perfect spot for a winter picnic. 
It houses a staggering 1,500 species of birds, animals and reptiles! You could see the Indian rhino, the Asiatic lion, the Bengal tiger, panther, gaur, Indian elephant, slender loris, python, deer and antelopes, and many, many others.
You and your family could go on tours like the Bear Safari, Tiger Safari, Lion Safari, and Butterfly Safari. There is also a history museum that gives a lot more information about the park and the creatures it's home to. 
9. Shilparamam

This craft village is a great place to go shopping for decor and souvenirs with your family.
Artisans set up their stalls here to sell handmade and hand-woven artifacts, and traditional clothes and traditional jewelry. If you want to know more about how the village was established, you can visit the Crafts Museum, Cultural Museum, Art Gallery & Library all have information. 
There are workshops you can attend to see how the craftwork is done, and a visit to the Research & Design Centers can show you the innovative ways in which traditional technologie are now being used. And every now and again, talks and shows are held in the auditorium. 
And if the family is peckish, there are lots of food stalls around.
11. Necklace Road

And finally, this is the place in Hyderabad we'd recommend for a leisurely stroll with the fam. The Necklace Road connects lots of other destinations your family might want to visit, such as NTR Gardens, Lumbini Park and Sanjeevaiah Park, and it's next to the Hussain Sagar Lake. There's also a great collection of street food stalls – so you know none of you will go hungry!
And that's our list of 10 nice places to hang out with your family in Hyderabad! Whatever your family is fond of,  Hyderabad has an option for you. 
Of course, we recommend Lock N Escape for the most fun your family will ever have. What are you waiting for? Head to Lock N Escape now!